A private lesson with Young:
Money laundering first, wine tasting second!
April Fools' Day was a week ago, so I'm not joking by saying that I've been committing 'money laundry' legally around the world. Sounds suspicious? Read on.
My first 'offence' was in Rías Baixas, Spain. The local quality control committee invited me, along with two French colleagues who were also working in London as the consultants for the region.
After we finished our work, the committee offered to show us around in some red wine-producing estates. We were thrilled at their offer – Rías Baixas is very much similar to Alsace in France as it is also a 'world of whites', with only a tiny percentage of red grape plantings. The most usually seen variety is Mencía.
As we step into the winery and held up a glass each for a sniff, the three of us invariably frowned — the newly produced wines smelled something like rotten vegetable and burnt rubber.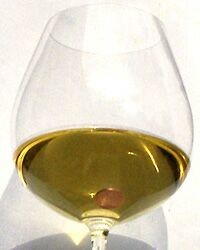 I glanced at the local grower and winemaker (who made this wine) – he had never left the region before, and looked clearly very anxious seeing our reactions.
I gave him a reassuring smile, and opened my wallet to find out 3 penny coins. Immediately I tossed one into my glass, and the other two into my colleagues' glasses.
'Oh my god, look what you've done,' my mischievous French colleague jokingly protested, 'my mum has taught me since childhood that money is dirty and you shouldn't play with dirty things. And most importantly, money laundry is illegal and you shouldn't do it!'
'Deal with it,' I shot back, half annoyed and half amused, 'calm down and try swirling your glass. Give the coin a bit of wash for a few minutes and we'll see.'
The miracle came as promised. The unpleasant smell was completely gone, leaving the healthy and bright scent of fresh red fruit and herbs rising from the glass, allowing us to start the usual tasting routine.
As the good magicians know, there's no real miracle behind the suspense, but only the tricks. The reason behind the effects brought by the wine-washed coins is not complicated at all.
Clearly, the winemakers kept the stainless tanks a bit too 'airtight' during fermentation, which effectively prevented the wine from contacting any oxygen, leading to a reduction reaction.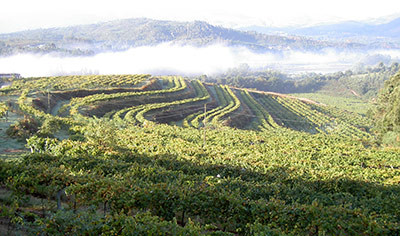 Image: Pazo San Mauro vineyards at Rias Baixas, Spain © Decanter
Both oxidation and reduction can happen in wine, knowing as the mysterious 'redox potential'.
The gene of the grape is another defining factor to this potential. For instance, Syrah, Cabernet Franc and Mencia, as mentioned above, are more prone to reduction than other varieties. Grenache, on the other hand, is extremely easy to get oxidised.
During a reductive fermentation, the sulphide, which is commonly seen in wine, is 'reduced' to hydrogen sulphide (H2S) and mercaptan, emitting unpleasant smells of rotten eggs and sewage. When you toss the coins into the glass, the copper in the coin will react to H2S immediately to form odourless copper sulphide.
So here we are – a simple trick to remove the disturbing smells in your glass.
After reading this, maybe you will start to wish to encounter a seemingly 'flawed' wine like this one, so you can show-off your 'money laundering' skills while enjoying some surprised shrill among your friends. However, before you do that, please remember two things: firstly, keep a close eye on the change in the wine, and take out the coin in time or else the continuous chemical reaction will generate other substances you don't want to see. Secondly, remember to use copper coins – such as the one penny or one cent coins; the one Yuan Chinese coins are made of alumel, not copper, and they won't work. What did you just say? Money is dirty? No problem, a silver spoon will do the trick as well. You can save the money for me…
All rights reserved by Future plc. No part of this publication may be reproduced, distributed or transmitted in any form or by any means without the prior written permission of Decanter.
Only Official Media Partners (see About us) of DecanterChina.com may republish part of the content from the site without prior permission under strict Terms & Conditions. Contact china@decanter.com to learn about how to become an Official Media Partner of DecanterChina.com.