In partnership with the California Wine Institute.
To Kalon Vineyard, Oakville, Napa Valley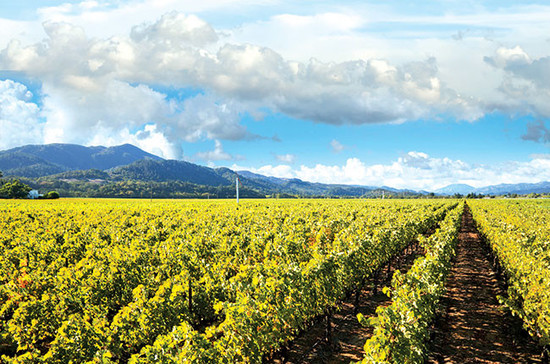 Established in the nineteenth century by pioneering vintner Hamilton Crabb, the To Kalon vineyard's combination of great terroir and historical pedigree lend it a strong claim to the title of Napa Valley's first grand cru.
In Crabb's era it was 'Black Burgundy', better known as Refoscco, which excelled here, but today To Kalon's gently sloping 678 acres are ground zero for Cabernet Sauvignon, producing some of the valley's most valuable grapes.
The site isn't celebrated without reason: Crabb's historic vineyard corresponds almost exactly with a broad swathe of alluvial material deposited by ancient streams that flowed down from the Mayacamas mountains – what geologists call an alluvial fan. These deep, gravelly soils are exceptionally well-drained, forcing the vines to delve deep underground in search of water and creating the stress necessary for optimal ripening.
Cabernet Sauvignon from To Kalon tends to be broad and supple, with a dark fruit profile and considerable structural amplitude. The best of these wines have a track record of developing in the cellar for three decades, and they're frequently among Napa Valley's finest.
A hundred years ago, that potential was already evident to Crabb. 'To Kalon is Greek,' he once explained, 'and means the highest beauty, or the highest good, but I try to make it mean "the boss vineyard".
Notable producers: MacDonald, Schrader, Robert Mondavi Winery, Paul Hobbs, Detert Family Vineyards
Monte Bello, Santa Cruz Mountains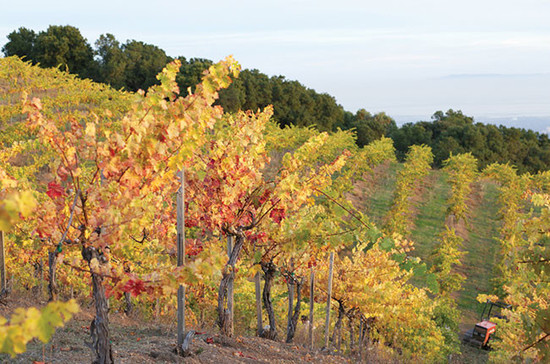 In 1962, from an isolated vineyard perched high above the Pacific Ocean in the Santa Cruz Mountains, four Stanford Research Institute engineers made history, producing North America's first post-Prohibition vineyard designate Cabernet Sauvignon. The wine in question was the inaugural vintage of Ridge Vineyards' famed Monte Bello, justly celebrated for its classical balance and aging potential.
One of the few north American vineyards to boast limestone bedrock, the Monte Bello ridge represents the remains of a Pacific atoll, where dying sea creatures accumulated on the ocean floor. Today, green stone and clay soils are layered over their remains to form Monte Bello's unique terroir.
Climate is critical too. Situated some 15 miles—and several ridgelines—east of the coast, at between 1300′ to 2700′ above sea level, the cooling evening fog that distinguishes so many of California's coastal vineyards is infrequent at Monte Bello. That means the gap between daytime temperature highs and nighttime lows is smaller than, say, in Napa Valley, producing ripe grapes with lower sugar levels and high acidity.
That bright acidity, combined with Monte Bello's characteristically fine but abundant tannins means these wines aren't always showy in their youth, taking some time to reveal the full extent of their depth and dimension: patience is advised. After twenty years in the bottle, however, there are few Cabernets to rival Ridge's Monte Bello.
Summa Vineyard, Sonoma Coast
Six miles inland from the Pacific shoreline and straddling a sandy ridge, Summa Vineyard produces some of North America's most distinctive Pinot Noir. This is an extreme site, often touched by the rolling maritime fog which defines Sonoma Coast viticulture. Vines here seldom set large crops and their grapes rarely accumulate much sugar. Their quality, however, admits no argument.
Summa was first planted in 1979, but it only came to the world's attention a decade later, when Williams-Selyem produced a wine from the vineyard and sold it for the historic sum of $100—a record-breaking price for a North American Pinot Noir at the time. 'I figured if we didn't sell it we'd just drink it ourselves', remembers Burt Williams. The bold statement drew attention to the Sonoma Coast, hitherto widely considered too cold to ripen Pinot Noir.
William-Selyem only produced a vineyard designate Summa bottling four times: in 1988, 1991, 1993 and 1995. Sometimes the crop was too small; sometimes it wasn't sufficiently ripe. But the site's captivating signature aromas of blood orange and exotic spice, fully realized in the good years, kept Burt coming back for more.
When Williams-Selyem sold in 1998, the winery's relationship with Summa lapsed. The fruit went to others, including Ted Lemon's Littorai and Thomas Brown's Rivers-Marie. In 2010, Brown jumped at the chance to buy the vineyard, interplanting to increase vine density and improving farming. Today his two Summa bottlings are consistently among the Sonoma Coast's most complete and characterful wines.
Sanford & Benedict Vineyard, Santa Barbara
Today, Santa Barbara's Sta. Rita Hills rank high on any list of California's most exciting areas for Pinot Noir and Chardonnay, but that all began with the Sanford & Benedict Vineyard. Botanist Michael Benedict and his friend Richard Sanford sought a site which could produce grapes with similar qualities to those they found in the great wines of Burgundy, and after years of research and analysis they began planting here in 1971.
Sanford and Benedict noted that, whereas most of coastal California's mountain ranges run parallel with the coastline, the Santa Ynez Valley opens directly onto the Pacific Ocean, providing unimpeded access to its cooling influence. Indeed, conventional wisdom held that the region was too cold to ripen grapes. What's more, the weather and geology of the Sta. Rita Hills seemed a perfect fit for Burgundian varieties.
The duo's wines immediately created a stir, and soon others were clamoring with Sanford & Benedict grapes. Little by little, most of this sloping, silica-rich and well-drained hillside was planted to grapevines, and though today the site is owned by the Terlato family and home to the Sanford Winery, other producers continue to produce wines from this coveted vineyard. The wines are deep, textured and finely balanced.
Notable producers: Sandhi, Au Bon Climat, Sanford
Eisele Vineyard, Calistoga, Napa Valley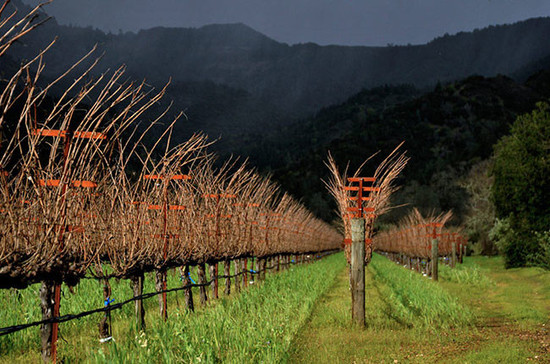 Like the historic To Kalon vineyard, the Eisele Vineyard consists of gravelly alluvium, deposited over millennia by ancient rivers. Both also happen to number among Napa Valley's most celebrated sites for Cabernet Sauvignon. But that's where the similarities end.
While To Kalon faces east, catching the morning sun, the Eisele Vineyard looks to west, basking in the afternoon heat. To Kalon's soils are derived from the ancient ocean crust that dominates the Mayacamas Mountains' watershed; whereas the streams that formed the Eisele Vineyard flowed down from the volcanic Vaca Mountains. At a mere 38 acres, the Eisele Vineyard is also considerably smaller than To Kalon.
Unsurprisingly, the two sites produce notably different wines: To Kalon Cabernet is broader and more powerful, often more rich and plush, its fruit profile dark and brooding; in Eisele Cabernet, red fruits mingle with black in wines which are drier, tauter and more savoury, with less mush amplitude but more definition.
It was in the 1970s, with compelling Cabernet Sauvignons from Ridge Vineyards, Conn Creek and Joseph Phelps, that the site's reputation was made. With the 1991 vintage, the vineyard passed to Bart and Daphne Araujo, who thereafter reserved its grapes exclusively for their Araujo Estate. The Araujo's wines won critical acclaim and concomitant cult status, further elevating the vineyard's reputation—and converting it to biodynamic agriculture. François Pinault's Artemis Group, owners of Château Latour, acquired the site in 2013.
Translated by ICY
All rights reserved by Future plc. No part of this publication may be reproduced, distributed or transmitted in any form or by any means without the prior written permission of Decanter.
Only Official Media Partners (see About us) of DecanterChina.com may republish part of the content from the site without prior permission under strict Terms & Conditions. Contact china@decanter.com to learn about how to become an Official Media Partner of DecanterChina.com.