Speaking of Zinfandel, most people studying wine already know that this is the same grape as Primitivo. But do you know the story behind the variety's revival in the US? From the origin to classic styles and regions, read all about the story behind the 'Zin'.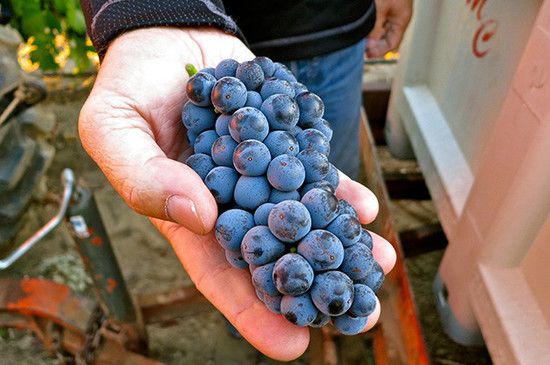 History
Most people studying wine already know that Zinfandel is the same grape as Primitivo, a grape variety mainly found in Puglia, Italy's heel region. What many might not know however is that its cradle is in fact situated on the opposite side of the Adriatic Sea, in Croatia, where it is known as Crljenak Kaštelanski or Tribidrag (you'll actually find the entry about Zinfandel in Jancis Robinson's book 'Wine Grapes' under that name). According to various sources, it was imported to the US neither from Italy nor Croatia, but from Austria in the 1820's. It was first planted not in California, but on the East coast, in the Long Island region. The grape was first planted on the West Coas allegedly in the 1850's, where its high yielding property fitted the needs of the thirsty gold-seekers, and thus quickly became the most widely planted grape variety in California.
During prohibition (1920-1933), Zinfandel remained popular among local home winemakers, but its thin skin made it too sensitive for the long journey to the Eastern states, and many vines were therefore uprooted to the benefit of the thicker-skinned grapes Alicante Bouschet. Zinfandel sank into oblivion for a few decades, most probably relegated into the anonymity of fortified wines, which were then very popular across new world countries.
The pivotal year for Zinfandel's revival is 1972. That year, Bob Trinchero of Napa-based Sutter Home Winery, decided to perform a saignée (winemaking technique which involves draining-off some juice from a fermenting wine to increase the skin-to-juice ratio) on a vat of Zinfandel in order to produce a darker wine. Trinchero made a dry rosé wine from the siphoned juice and called it 'White Zinfandel', a name adapted to the then white-wine-driven market. Three years after, the fermentation of his pink wine got stuck, meaning that yeasts stopped working before all the sugar got converted into alcohol, thus producing a sweeter wine with a lower alcohol content. After a few weeks, Bob Trinchero finally resigned himself to bottle this sweeter version of his White Zinfandel, and this actually became a classic commercial success case: while only 200 or so cases were made back in 1972, Sutter Home now produces over 4.5 million cases of White Zinfandel! Most importantly, White Zinfandel was such a success that it aroused interest among consumers (and therefore producers) in the red wines made from that grape, and saved thousands of old vines from uprooting.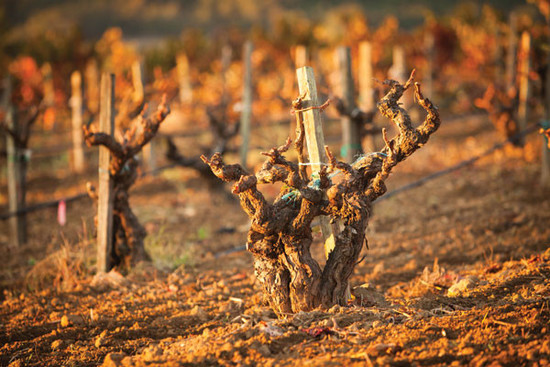 Viticulture and winemaking
There are many bush-trained, old vines Zinfandel in California, some of which over 100 years old. These old vines are generally grafted on a rootstock called 'St George' as those grafted on the other popular rootstock 'AxR1' died from Phylloxera infection in the 1980's.
The grapes borne by these vines tend to reach maturity in September, slightly later than their Italian relative. For the story, Primitivo's original name used to be Primativo, from the latin word primativus, which actually means 'first to ripen'.
As mentioned above, Zinfandel is a thin-skinned grape variety making it quite sensitive to rot and downy mildew. This is exacerbated by the tightness of its clusters, obstructing air circulation between the berries. It therefore performs best in dry regions, such as in California or Southern Italy, or at least on well-drained soils with sufficient warmth. Under adequate conditions, it can produce very high yields, reaching eight tonnes per acre (about 152 hl/ha), but quality-conscious producers will aim at about three tonnes per acre (about 57 hl/ha). As pointed out by David Miles, head educator at Ravenswood in the Sonoma Valley, 'in order to encourage air circulation and to keep the vigour under control, Zinfandel needs constant pruning', implying hours of work in the vineyard.
The main issue with Zinfandel however is the tendency of its grapes to ripen unevenly, meaning that perfectly ripe berries will rub shoulders with over-ripe and under-ripe fruit within the same cluster. Many red wine winemakers will harvest their grapes when fully ripen, implying that concentrated, raisin-like grapes will be mixed into the fermentation vessel, leading to a final product measuring elevated degrees of alcohol (16% abv is quite common).
Read on the next page:
Styles of Zinfandel
Regional characteristics
All rights reserved by Future plc. No part of this publication may be reproduced, distributed or transmitted in any form or by any means without the prior written permission of Decanter.
Only Official Media Partners (see About us) of DecanterChina.com may republish part of the content from the site without prior permission under strict Terms & Conditions. Contact china@decanter.com to learn about how to become an Official Media Partner of DecanterChina.com.