Demei's View - Wine Communication from a Chinese Winemaker
On 16 June, I attended the second edition of the biennial 'Millésimes Alsace wine fair in Colmar, a city in the heart of Alsace. During the event, I noticed a lot of discussion and argument about introducing the 'Premier Cru' AOC to Alsace.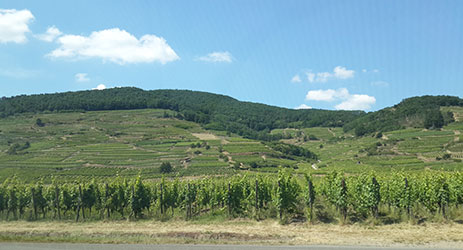 Vineyard area in Alsace has steadily increased to 17,000ha nowadays whilst overall vineyard area in France is descending. With the AOC Alsace being recognised in 1962, Alsace Grand Cru in 1975 and Cremant d'Alsace in 1976, it's not difficult for consumers to identify Alsace wines. And this is also what I learnt about the classification in this region many years ago.
After a few periods of expansion, a new rule was added in 2011. The names of the 51 places where the Grand Cru vineyards were located (the lieux-dits) became individual AOC Grand Crus. This change formed a question in that year's Best Sommelier Competition of French Wines in China, so it is not surprising to hear the current candidates of Master of Wine say: 'If Alsace wants to add Premier Crus, please do it after the exam.' Although it's just a joke, it reflects the potential for confusion amongst consumers and even people working in the wine industry if the appellations are divided too subtly.
'Take the Burgundy AOCs as an example. How many people can remember all those AOCs and classifications? Yet consumers still enjoy Burgundy wines,' said Olivier Humbrecht. As an industry leader, his opinions represent the group that supports the idea of introducing Premier Cru into Alsace.
Of course, there are other producers who don't care about the proposal of Alsace Premier Cru vineyards. These are the large-scale maisons, or the 'star wineries' with high reputation around the world. Their brand is already popular among consumers, so it will not affect their business no matter how the appellation system changes. Some producers may even think that the change would bring them trouble in managing their production.
The 'Premier Cru' system can lift the reputation of Alsace wine in the whole industry, and it should be positive for those small-scale producers who practise intensive farming and carefully make their wines. Even if the region doesn't plan to explore new markets with the new system, the 'Premier Cru' denomination could still raise awareness and interest amongst consumers in the traditional market of Alsace wines.
Any new things will not come up smoothly at the beginning. Even for the winemakers who applaud the idea of Alsace 'Premier Cru', there will be profound disagreements. For instance, winegrowers in Rorschwihr have expressed their opinion that there is too much emphasis on the orientations of the vineyards when deciding the appellations.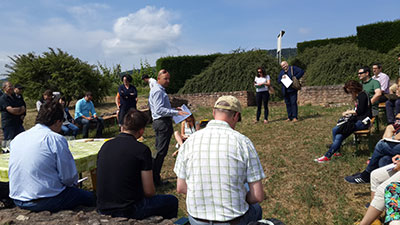 During the wine fair and my visits to estates after that, the most frequently asked question I got was: Do Chinese people know about Alsace wines? In fact, 'Alsace' is quite a familiar name to the young and middle-aged generations in China. There is a novel called La Dernière Classe (The Last Class) in our secondary school textbook by French novelist Alphonse Daudet. In the story, students in Alsace and Lorraine have to stop learning French (and start to speak in German, thus the title 'The Last Class'), and from the same story, we learned that 'French is the most beautiful, most clear and most precise language in the world'. However, I'm sorry to say that there are not many Chinese people that know about the wines from Alsace, except those who work in the wine industry. And 90% of Alsace wines are whites, whilst 80% of the wines consumed in China are reds. You can see the contrast is tremendous.
Another popular question I was asked was which Chinese dish goes well with this wine? Every time someone introduced the region, vintage and flavour of a wine, they would go further to explain what dish we should pair with the wine. Alsace is rich in resources and economically developed, thus the catering industry is prosperous here. Many of the local famous restaurants are perfect places for tourists to experience the Alsace food and wine, but is it going to be equally effective if we use the same method to promote the wines in a rising market? Imagine when we explain that Gewurztraminer is a good match with spicy food. Will there be people who feel they may not like the wine because they don't like spicy cuisines? It's not always a good idea talking about food and wine matching to primary consumers prematurely.
One of the big surprises of the trip was tasting so many Pinot Blancs that I loved. Straightforward and simple Pinot Blancs give us a relaxed and pleased feeling, and so does their price. Aren't wines supposed to make people enjoy them? Furthermore, as a winemaker, I was also moved by some Pinot Noir I tasted in the trip.
Translated by Nina Fan Feng / 冯帆
All rights reserved by Future plc. No part of this publication may be reproduced, distributed or transmitted in any form or by any means without the prior written permission of Decanter.
Only Official Media Partners (see About us) of DecanterChina.com may republish part of the content from the site without prior permission under strict Terms & Conditions. Contact china@decanter.com to learn about how to become an Official Media Partner of DecanterChina.com.