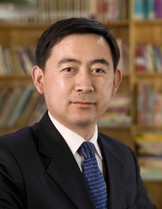 Demei LI, associate professor of Wine Tasting and Enology in Beijing Agriculture College and invited teacher at ESA Angers, France. He obtained Master diploma for Fruit Tree Science, and Engineer for Viti-Oeno-Economie in ENITA de Bordeaux. Demei had his training in Chateaux Palmer, and visited almost all the wine regions in the world. He is aiming to create a dialogue with the consumer with wine.
Demei was the first chief wine maker and technique director for Chinese-French government-joint venture project, Sino-French Demonstration Vineyards and Winery. He consults for several wineries in China, including Helan Qingxue, Leirenshou in Ningxia, and Tiansai, Zhongfei in Xinjiang.
Demei is currently the member of the Chinese Wine Technique Committee, and the member of National Wine Judge Board. Demei is vice-general-secretary of China Wine Association and Vice-general-secretary of Chinese viticulture Society. Consulting for several vineyards in China, and one wine won International Trophy in Decanter World Wine Award in London 2011. He won 2012 Wine Intelligence 10-for-10 Business Award and RVF's Man of the year in Chinese wine industry. He was invited as the judge for several wine challenges in Singapore, HK and in Europe. Demei was invited by the organizer from Wine for Future, wine business international as well as some of French, Italian, Portuguese and New Zealand's wine association to speak on Chinese preference on wine.
Demei started to write for the Wine Review of Singapore 10 years ago, and today he is one of the most famous wine writers in China, wine columnist for several wine magazine and news. He published 'wine-communication from a Chinese winemaker' and 'Wine Grapes Varieties'.