Burgundy, or Bourgogne in French, is the illustrious rival of Bordeaux, most famous for its high quality reds made from Pinot Noir and whites made from Chardonnay.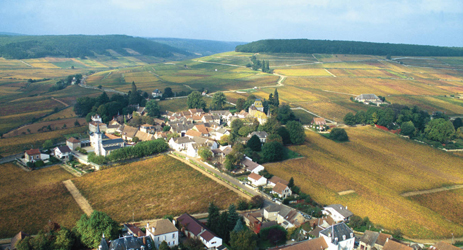 The climate in Burgundy is primarily northern continental, with hot summers and very cold winters. Sometimes the winter temperatures drop so low that even the white wines, which only require cool fermentation, have difficulty fermenting. In these situations cellars need to be heated for the winemaking to progress.
It is worth noting that unlike Bordeaux, where Appellation Controlee (AC) status is associated with individual chateaux, (that may own several vineyard plots), Burgundy defines its AC based on individual vineyards, with each vineyard potentially having several owners. This is largely due to the Napoleonic laws of inheritance which, despite causing fragmented ownership of vineyards in Burgundy, allows the region's vineyards to showcase their true nature.
In Burgundy, vineyard conditions can differ dramatically within small areas leading to the production of wines with distinctive characteristics. The two key grape varieties, Pinot Noir and Chardonnay are especially sensitive to the slightest difference in terroir. Single vineyards that are recognised for producing higher-quality wines are given their own AC status above a Village or a Commune AC status— these vineyards are known as Premier Crus, and for the best 33 vineyards in Burgundy, Grand Crus.
The main wine districts in Burgundy, from north to south, include Chablis, the Côte d'Or, the Côte Chalonnaise, Mâconnais and Beaujolais. Among them Côte d'Or is home to the greatest Burgundy wines, including famous Grand Crus such as Chambertin, Romanee-Conti and Le Montrachet.