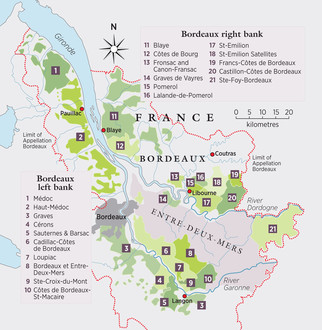 Bordeaux, with its many chateaux and the renowned 1855 Classification, is a leading destination for wine lovers, as well as the bedrock of the fine wine market and a benchmark for winemakers around the world.
Bordeaux is home to a plethora of the world's best known wine estates. But, these prestigious chateaux comprise only a small proportion of the area's 120,000 hectares of vines that stretch right across the Gironde department in Aquitaine, France, and likely trace their ancestral roots back around 2,000 years to when the Romans ruled the area.
Bordeaux is often carved along its rivers, with the Left Bank on the Atlantic Ocean side of the rivers Gironde and Garonne and the Right Bank to the right and north of the Dordogne river, which also feeds into the Gironde. The area in-between the rivers is known as Entre Deux Mers – literally, 'between two seas' in French.
Professional tasters from all over the world gather in Bordeaux for one week every year to taste the new vintage wines from both Left and Right Banks. Known as en primeur week, tasters score the wines – which have yet to be bottled – before a proportion of chateaux offer wines for sale on a futures basis.
Whether or not the Bordeaux en primeur system still represents a good deal for wine drinkers has been the subject of fierce debate around the Bordeaux 2014 campaign.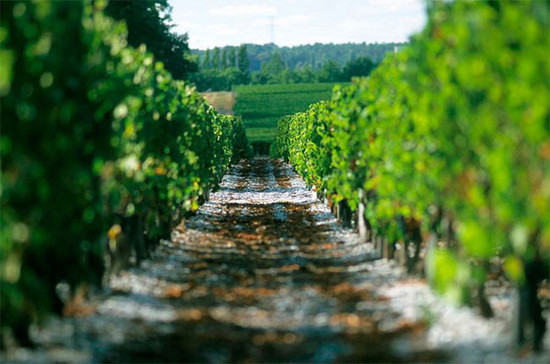 Key appellations:
There are 57 appellations across Bordeaux, which the biggest producer of appellation wines in France. Some of the key Left Bank appellations include Pauillac, Margaux, St Estephe and St Julien in the Medoc, as well as Graves and Pessac Leognan further south, plus the sweet wine appellations of Sauternes and Barsac.
Best known Right Bank appellations include St Emilion, named after the UNESCO world heritage site, Pomerol.
Key grape varieties:
The designated red grape varieties in Bordeaux are Cabernet Sauvignon, Merlot, Cabernet Franc, Petit Verdot, Malbec and Carmenere. In general, the Left Bank is known for its Cabernet Sauvignon dominated wines and the Right Bank for its Merlot, albeit with some producers, such as Chateau Angelus in St Emilion, having increased the proportion of Cabernet Franc in the blend in the past few years.
The main white grape varieties are Sémillon and Sauvignon Blanc, the former being the foundation of Bordeaux's sweet wine areas of Sauternes and Barsac. Bordeaux is also known for producing excellent dry white wines, for example under the AOC Graves or AOC Bordeaux labels, albeit in the shadow of some of the top red wine appellations.