2017 has been a difficult year for the wine world—it is indeed 'one of the most disaster-strewn years since phylloxera,' as Andrew Jefford puts it.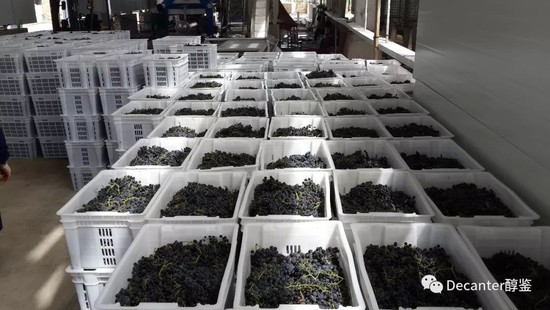 During spring, consecutive frosts in the cooler wine regions in the world have destroyed the harvest for many vineyards; summer hail added more anxiety for the wine growers.
The wild fire in California during autumn and winter sent shockwaves to the wine world. The fire engulfed one of the wineries I stayed during my visit in Napa, making the distant disaster felt more real to me.
According to statistics released by International Organisation of Vine and Wine (OIV), the wine production of the whole world has dropped to the same level of 1960s, an 8% decrease from 2016.
The drop, though may help to ease the tension of overproduction in the wine world, is still a pain for the producers and merchants.
Production-wise, the Chinese wine industry had a sluggish year in 2017. However, quite thankfully, two of China's biggest wine producers, Changyu and GreatWall, have successfully completed the change of leadership, while several new quality producers have started to establish their own identity.
In addition, the climate has been generally ideal and most Chinese producers had a disaster-free vintage in most wine regions.
Shandong province
By the scale, Shandong province is without doubt China's biggest wine producing region, although wine industry only account for a small percentage of the region's economy. Wine grapes are mainly planted in the following regions.
Penglai
Spring pruning started from the end of February in Penglai. Prunning in Spring can, to some extent, protect the vines from late frost.
Similar to an average year, flowering season came at the right time: Mid-May for Chardonnay and Merlot, and end of May for Cabernet Franc.
Fruit set began at the end of May. Due to the dry weather, the fruit set rate was lower than usual, producing berries that were also smaller than usual. The rain at the end of Summer and beginning of Autumn led to difficulties in disease prevention.
Chateau Junding started harvesting Dunkelfelder on 22nd August, Cabernet Franc on 11th Oct; Cabernet Sauvignon and Marselan were picked from 16th Oct, and Petit Mansengs were picked from 1st Nov.
According to the local producers, the 2017 growing season started off dry but ended with heavy rains. This has led to nearly 30% loss in production this year. Chateau Junding harvested better quality white grapes than red grapes. Chardonnay grapes were picked at sugar level of over Brix 20, and pH level at 7.3. Welschriesling were picked at Brix 22 and pH 5.8, perfect for making fruity white wines.
Rushan
Rushan is one of the newly developed wine planting areas in the Shandong Peninsula. Flowering started as early as 23rd May, and fruit set came from 5th June. Rains during the latter half of growing season created some obstacles for veraison, mainly for late-ripening varieties. Early ripening varieties, such as Dunkelfelder and Merlot, were unaffected.
The picking of Chardonnay started on 25th September. This year Chardonnay grapes were less affected by diseases, producing comparatively healthy fruits with lower sugar level than last year (Brix 19). Welschriesling were picked from 1st October.
Red varieties including Cabernet Sauvignon and Cabernet Franc were picked from 20th October, one week later than usual, due to influences from rains and less sunshine. The sugar levels were also lower than usual.
Laixi
With a long history of planting wine grapes, the Laixi region is situated on the high slopes among the hills in the central area of the Shandong Peninsula.
During 2017, the region had a dry and warm May and June, with flowering started 5-7 days earlier than usual. The rain in August has brought some disease risks to thin-skin varieties.
Cabernet Franc and Cabernet Sauvignon entered veraison in mid-August, while the picking of Chardonnay started as early as 21st August. Picking of red varieties started at the end of September.
The year 2017 say more rainfall than an average year. It has been a challenging year which produced a small crop.
Hebei province
Hebei province is the second biggest wine producing region in China, with wine grape plantings concentrated in Shacheng (including Huailai County and Yuxian County) of north-west Beijing, and Qin Huangdao (including Changli and Lulong County).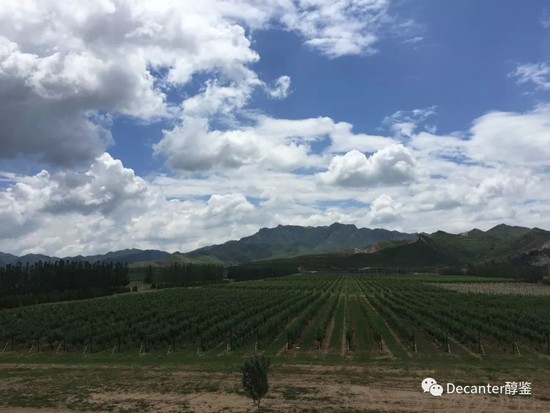 Huailai County
The vines were dug out from the ground from the end of March in Huailai, and the digging was completed near 4th April.
The Huailai region is significantly influenced by the Guanting Lake and the surrounding mountains. Vines planted in the north of the lake, including East Shacheng county and Tumu County, were dug out from 29th March until 10th April. Sanyuan County, which is located south of the Guanting Lake, started to dug out the vines from 5th April and finished the process in mid-April.
From mid to late April, budding began from plots in the north, and moved on towards plots in the west and south. Flowering started in late May and fruit-set began during early June. By mid-July, veraison was welcomed by good weather.
Weather condition has been ideal for Huailai Region during the first half of 2017, with less rainfalls than usual and more heat accumulation, producing equal-sized but loose-bunched berries. On 18th June, hail hit the hilly southern areas, causing damage in several grape vine plots.
Huailai region started picking white varieties during end of August and beginning of September. By mid-September, picking of Merlot began; around the beginning of October, Cabernet Sauvignon grapes were picked. Quality-wise, the region harvested above-average berries.
Winter pruning began in late October, after which growers buried their vines. During the 15-day process, producers had to pay higher wages due to a shortage of labour, resulting in higher costs in producing this vintage.
Qinhuangdao
The beginning of the 2017 vintage in Qinhuangdao wine region was marked by the digging of vines, which began at the usual period of time. Chateau Huaxia started digging out their vines on 27th March and finished by 8th April. Bodega Langes started on 3rd April and finished by 13th.
The Changli sub-region saw a warmer and less rainy budding period, with flowing began in mid-May, 7-10 days earlier than usual. Most varieties began fruit-set by the end of May; veraison came by end of July.
Early-ripening varieties including Pinot Noir and Chardonnay were picked starting from the end of September. Thanks to a dry beginning of the harvest season, the quality of the fruit was better than an average year.
The picking of red varieties began at early October and ended by the end of the month. Several rainfalls at the beginning of October have brought negative influence to the quality of the fruits.
It's worth noting that on 19th June the Qinhuangdao region was hit by heavy and lengthy hail storm, damaging vines in both Changli and Lulong county. Shangri-La Qinhuangdao Winery in Lulong was hit especially hard, with several plots destroyed completely, and the rest yielded less than 800 kilo grams of fruit per hectare. However, sugar levels were significantly higher than usual in these hail-affected plots.
Beijing
Though in small scale, Beijing wine region has a long history of wine production. Thanks to the proximity to the city Beijing, this region is developing in a unique manner as opposed to other wine regions in China.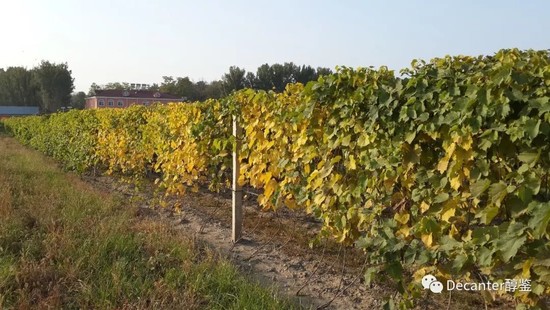 Fangshan
The wine grape plantings are not concentrated in Fangshan, but rather scattered from the flat, close-to-city Changyang County, along the foothills to Qinglongqiao County, Zhoukoudian County and Zhangfang County in the south.
The vine digging began from the plain areas as usual. However, due to a shortage of labour in the area, some producers began digging out their vines at early March, earlier than an average year.
The region saw a cold beginning of spring, but the temperature grew fast. Grape vines saw a dry and sunny growing season; rainfalls came from late July until mid-August. The wet weather has led to vineyard diseases in several areas.
In order to harvest ripe grapes, only a few producers began picking at the end of September, with the majority picked their grapes at the beginning of October. The quality of the grapes was average.
Yanqing
Wine grapes in Yanqing were mainly planted in the south-facing slopes in Zhangshanying County, north of the Guanting Lake. Due to a cold early spring, vines were dug out in two batches, taking longer than usual. The process finished by 10th April. A dry and sunny growing season followed.
Chardonnays were picked from 13th September and Merlot from 28th September; Cabernet Sauvignon were picked form 6th October. The harvest times were similar to an average year.
The berry quality for Yanqing has been above-average in 2017, especially for white varieties.
Ningxia
The Helan Mountain East wine region is without doubt the most lively and active fine wine region in China. 2017 is an exciting vintage, mainly because several new producers have started to produce wine.
From the end of March and beginning of April, the newly dug-out vines in the Helan Mountain East saw a warm early spring. By 4th April, the temperature has already reached 10℃, and the temperature went as high as 20℃ later into the month.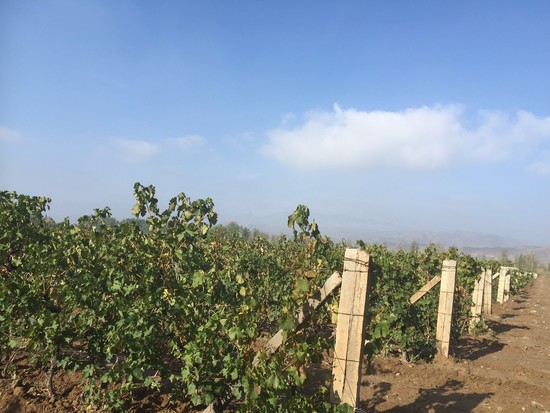 The beginning of the 2017 growing season has been stable without frost. Budding began at the beginning of April, and flowering began at the end of May. The temperature continues to stay higher than an average year, accompanied by less rainfall.
Veraison began at the end of July and early August, several days earlier than a usual year. By mid-August, the majority of late-ripening varieties finished changing colour.
Rainy weather came and go for a month, brining cooler weather and prolonged ripening period than an average year. Producers began picking their grapes from the end of September and early October. The come and go rainfalls have brought some negative influence to some vineyards.
Hit by a cold wave during 7th to 9th October, temperature dropped significantly in Ningxia, bringing rainy snow, frost and strong wind.
Snow hit several regions in Ningxia during the night of 8th until 9th October, especially foothills of the Helan Mountain. Temperature dropped to 0-4℃ in regions including Yinchuan and Wuzhong.
Several wineries have already finished picking and pressing their grapes before the snow. However, there are still several producers haven't finished picking their late-harvest varieties.
Shizuishan
Shizuishan is the most Northerly sub-region in Helan Mountain East. Growers started digging out the vines from 27th March and finished the job by 20th April; a smooth budding and growing season followed.
Veraison came mid-July. Ripening season saw sharp day and night temperature variation, with little rainfall and no windy weather, allowing grapes to ripen steadily.
The picking of Cabernet Sauvignon began at the end of September, 3 to 4 days earlier than a usual year. Local producers reported an average quality harvest; though a few varieties performed less well than usual.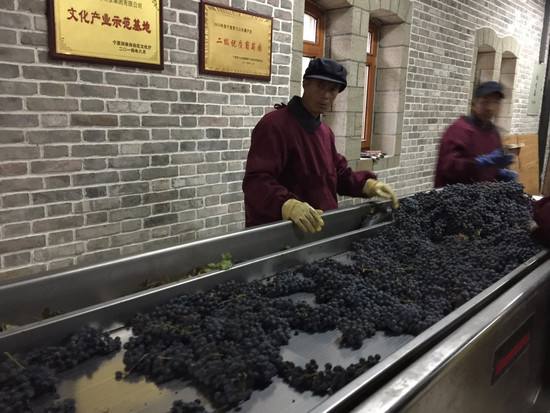 Xixia Area
Vine plantings are less concentrated in the Xixia sub-region. Vines were dug out from early April. Budding began in mid-April, and flowing came at the end of May.
Veraison for Merlot happened from early July until early August. By the end of August the region saw a week of cloudy weather; two rainfalls during the week brought about cooler temperature.
Producers started picking Chardonnay from 4th September and Cabernet Sauvignon from 25th September—4 to 5 days earlier than usual. The fruit quality has been average.
Growers began winter pruning from the end of October, and started burying their vines a few days later. The process was completed by mid-November.
Yongning / Yuquanying
Most vineyards are planted on flat lands in this sub-region, which features sandy soil.
July has been warmer than the previous year with no rainfall, bringing veraison a week earlier than usual. August saw three rainfalls, but the precipitation has been moderate. The rainy days lasted until September.
By mid-August, producers in the Yuquanying sub-region have finished picking grapes for sparkling wine production. White varieties including Welschriesling, Riesling and Chardonnay were picked from mid-August. Producers have reported satisfactory sugar and acid levels on these varieties.
Red varieties were picked from the end of September—an overall early year than usual with better quality fruits.
Qingtongxia
Grape vines are mainly planted on the sandy gravel soil on the rolling hills in the Qingtongxia sub-region.
Merlot grapes were dug out from late March, while Petit Verdot and Marselan were not dug out until early April. By 20th April producers have finished digging the vines and tying them to the trellises.
Flowering came on 25th May; veraison started at the end of July and finished by the end of August. From the 19th August the region saw several rains, which has brought down the temperature.
White varieties were picked from 20th August, followed by red varieties from 20th September. The harvest began slightly earlier than an average year, but has brought in better-quality fruits than usual.
Translated by Sylvia Wu / 吴嘉溦
All rights reserved by Time Inc. (UK) Ltd. No part of this publication may be reproduced, distributed or transmitted in any form or by any means without the prior written permission of Decanter.
Only Official Media Partners (see About us) of DecanterChina.com may republish part of the content from the site without prior permission under strict Terms & Conditions. Contact china@decanter.com to learn about how to become an Official Media Partner of DecanterChina.com.