Demei's View - Wine Communication from a Chinese Winemaker
Recently, I've got more spare time to chat with my friends. The most popular topic for our conversation is still about the Chinese wine market, especially the qualities, characters, value for money of a specific region, style or even a specific wine, and which area in China, which group of Chinese consumers the wines are suitable for, and how to match them with Chinese food etc. However, these are all practical questions and are based on one assumption: there are consumers who want to buy the wines.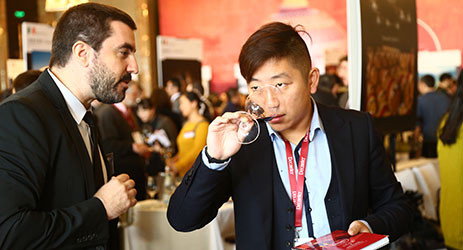 Image: Decanter Shanghai Fine Wine Encounter 2015 Grand Tasting © Decanter
However, the cruel reality is that wine is difficult to sell in China. The level of consumers' recognition of wine and their trust in the wine market is much lower than what the trade expects.
I think consumers' confidence in the products and the market is the core issue that restrict the wine consumption in China.
Here is a real case that happened a few weeks ago: right before the Singles' Day shopping festival (an online shopping festival on 11 Nov created by Chinese e-commerce companies). An importer trumpeted a wine it was selling on an e-commerce platform, hoping to achieve record-breaking sales during the festival. But the promotion was criticised by a wine expert. He pointed out that the wine information in the promotion was wrong, and the wine label was incorrect. Eventually, the wine was taken down from the e-commerce platform. A friend who knows a lot about this e-commerce wine sales' policy said that the importer must have had good sales performance on this platform in the past, otherwise it wouldn't have the chance to run such a large-scale promotion on the website. Also, the advertisement fee the importer paid to the website must be over a million yuan, so it would have been a big shock when they found the wine was taken down.
The case is even more shocking if we think a bit deeper: the importer had spent a huge amount of money to promote this specific product; their stock of that wine wouldn't be small. If the wine was taken down quickly from the website after it was criticised, does it mean that there is actually something wrong with the wine? How would the customers who bought the wine before it was withdrawn feel? Where did the wines go after being banned from the website? I hope they were not the wines that contributed to the increase of Chinese wine imports in 2015. We couldn't find out the answer to the above questions due to lack of information, but it is certain that for the consumers who had bought the wine, their confidence in buying and drinking wine must be hurt. The consumers don't have the power to fight against the whole industry; all they can do is to pinch pennies and to question everything when they think of buying wines next time.
How to build the consumers' trust in the sales? This shouldn't be a topic for market research. Nor is it a problem that can be solved by shouting some slogans.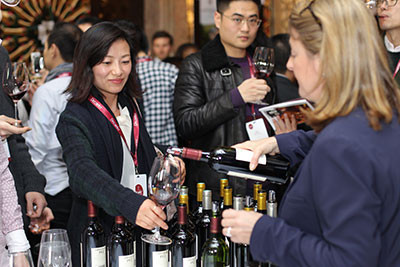 Image: Decanter Shanghai Fine Wine Encounter 2015 Grand Tasting © Decanter
In the past two years, I went on a lot of business trips to wine regions, and rarely went to the urban area of Beijing to see my friends in the wine trade (I live in the suburban district of Beijing). When catching up with those friends recently, I suddenly realised that many of them have started their own businesses of wine trading and distribution. Nick is a wine sales person I've known for a long time. He used to work in a medium-scale importer and worked his way up from the bottom to a regional manager. Last year, he quit his job to start his own company when everyone thought the market was depressed. Although the scale of his company is much smaller than his former employer, his motivation is stronger, because his operation is working well.
Piere used to study in France before coming back to China to work in wine media. When he found out that it was hard for him to develop in paper media, he quit his job to open a wine shop, focusing on wine culture promotion. Lilian opened her wine tasting shop at the beginning of this year whilst working in lifestyle media. Her shop organises regular events such as blind tastings and wine movie nights, and attracts many young wine lovers. All of these cases share common features: the owners have experience of wine promotion and sales, they love wines themselves and their businesses are small in scale.
Because of the scale of the operating platform, the customers of these companies are normally the people in the owners' own social circles. Even if there are new customers, they will eventually become the owners' friends. In other words, within this business model, the owner and the consumer can have direct communication; the professional knowledge allows the owners to provide accurate consultation; and because of the limitation of the business scale, the owners have to try their best to keep their customers, so the communications will be more efficient, the requirements from the customers will be better treated, thus the relationship of the two sides will be more stable.
In northern China, people always pursue 'large-scale' – they want to work on 'large' platforms, and don't pay attention to these small-scale businesses. However, this type of small-scale business doesn't appear by chance: many people would encounter the problem of room for promotion after working at the large wine businesses for a while; at the same time, they will have some new ideas when they are more experienced, but could not realise these ideas on the large platforms. As a result, this group of people will come out to form their independent company. These small companies often have professional and long-term plans as they are established to fulfil the owners' ideals, so they can push the wine consumption in the correct direction. Year after year, the group of these businesses will be bigger, and they probably will be the new power to promote the healthy development of wine consumption.
There have already been many of such wine businesses in Shanghai, Guangzhou and Shenzhen. Simon of Ruby Red in Shanghai said his business has been growing in the past two year despite the government austerity policy. The founder of Wise Monkey optimistically estimates that his business will double in 2015. Marc, who is based in Beijing and used to work in a large family-owned wine producer and importer, left the company to start his wine shop and importing and distribution company nine years ago. His leaving is a loss for his former company, but in such a big company, someone else would soon be promoted to take his position, so it wouldn't affect the operation. As for Marc, his own company can achieve more business than what he could do in the former company, so it actually brought more volume of business for the industry.
People who work at the big companies will not spare a glance for the small businesses. We can't deny that the large platforms play a huge role in industrial reform, promotion and development; their brands have huge influence and guiding force; and they will continue to influence the market in the future. However, the small-scale platforms will concentrate on providing service to consumers who seek for personalised products, and consolidate the consumer market. As we said in China: a single spark can start a prairie fire.
(Translated by Nina Fan Feng)
Translated by Nina Fan Feng / 冯帆
All rights reserved by Future plc. No part of this publication may be reproduced, distributed or transmitted in any form or by any means without the prior written permission of Decanter.
Only Official Media Partners (see About us) of DecanterChina.com may republish part of the content from the site without prior permission under strict Terms & Conditions. Contact china@decanter.com to learn about how to become an Official Media Partner of DecanterChina.com.