Lisbon, Portugal's capital city, is one of the world's great, small capital cities. Outside the city center, you can find amazing wineries and vineyard sights—a short 30-minute drive. It's so close that you can't visit the city and miss the wine region.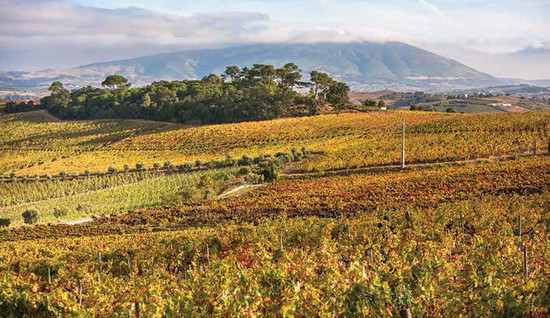 Offering visitors a compelling mixture of heritage, culture, youth, modernism and also great food, Lisbon is becoming a popular destination for short break holidays. The city gives its name to the wine region that thrives to the north and the west, on the northern side of the Tagus (Tejo) River – although it is one of the oldest wine regions in Portugal, the region formerly known as 'Região da Estremadura", only recently changed its name to "Região de Lisboa". This change reflected the renewal the region was facing. Producers, big and small, old and new, began modernizing their vineyards, wineries and tourism services.
This, along with their efforts to improve winemaking techniques making the best out of each terroir and also introducing international grapes and making the best of the indigenous ones, producing amazing blends between them, while being able to breakthrough to some of the toughest markets in the world. All of this (and also to avoid the mistake to the Spanish region "Extremadura") let to change the region's name to what it is today as it also resonates with the actual city.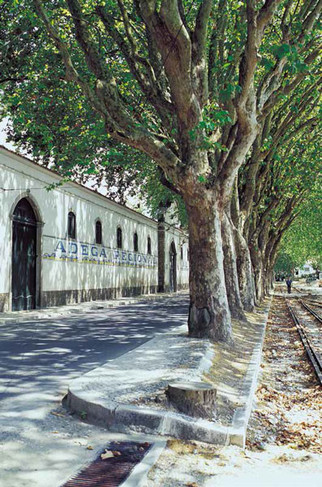 Though it's finally getting the international recognizing it deserves, perhaps because the change is barely ten years old, and although is the second most productive region of Portugal, the Lisboa's wines remains undiscovered by many wine lovers, even locals, meaning the region is still one of the best kept treasures of Portugal that everyone must discover.
The Lisboa Wine Region
Lisbon lies on the north bank of the Tagus estuary just 13 km away from the sea, where the river dramatically widens into a spectacular bay stretching along 11 km. Known as the Mar de Palha, or "Sea of Straw", because of the way its surface catches the light and glistens, it serves as a busy port and gate way into Portugal. The bay is surrounded by hills. Right before the Tagus merges with the Atlantic it is crossed by the 25th of April Bridge, which bears more than a passing resemblance to San Francisco's Golden Gate Bridge.
The wine region starts right in the city where two vineyards make an introduction to what's waiting further north. One of the vineyards is right next to the airport, welcoming incomers. From there, the region takes form, running west along the Atlantic coast, until it takes a northward turn, heading north in a narrow strip along the coast. Proximity to the ocean means that wind is a constant in the exposed coastal part of the area, in comparison with the sheltered areas beyond the Montejunto mountains. Near the coast, in green, rolling hills scattered with villages of white coated houses and terracotta tiled roofs, the vines are frequently cooled by the maritime breeze and the humidity of the sea.
In the morning, mist and fog might roll in but the upside is that freshness and vitality are a distinctive feature of these wines. Running north, more or less down the middle of the region, dividing it in half, is the aforementioned Serra de Montejunto mountain. To the west, vineyards feel the strength of Atlantic breezes and the touch of its minerality; to the east, vineyards are found lying in their lee, where the climate is less windy and slightly warmer, providing conditions for amazing red and white wines. Lisbon is also a region known for producing "Vinho Leve", or "light wine". This is a style of wine with no more than 10% alcohol.
These are light, pale, refreshing wines that sometimes can carry a little natura spritz. Another distinctive wine from this region is the Medieval Wine (Vinho Medieval de Ourém), a unique handmade wine that combines mainly white (Fernão Pires) and red grapes (Trincadeira). Diversity is the main word and as the locals claim "a region where you can always find the perfect wine for the perfect occasion".
A World Within the Region
Within the region there are nine DOC's (Denominação de Origem Controlada). Three of them, known as the "golden triangle" due to their proximity to Lisbon, are among the oldest and most historical of Portugal.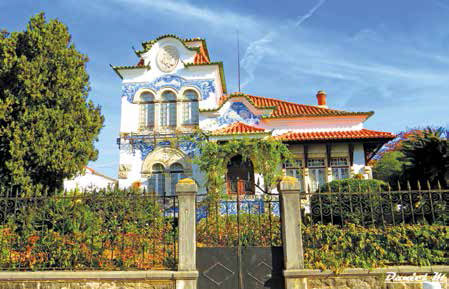 On the west coastal side we have Carcavelos DOC mainly focused on making a unique fortified wine, Vinho de Carcavelos, nowadays known as "Villa Oeiras". Produced as either a red or white from nine grape varieties (the reds mainly with Castelão and Trincadeira and the whites mainly with Arinto), the wines are fortified to 18%-20% with brandy from Lourinhã DOC and sweetened with must. Afterwards, the wines age in wooden casks for up to seven, ten or fifteen years. This fortified wine, first made in the XIV century, is considered a Portuguese treasure.
Colares DOC with its phylloxera- resistant sandy soils – meaning vines can be planted ungraffted – where you find the westernmost vineyard of Europe. Here there's a unique mesoclimate - to the west the cold and open Atlantic Sea, to the east, the Sintra Mountain which acts like a mist magnet, which cools the air and reduces light. Protecting vines from the wind is key: the vines spread low across the ground on sandy soils, closely resembling beaches. The climate here is uite different from Lisbon; it can be 10-12 degrees cooler in summer, or foggy when Lisbon is sunny. The locals like to say "it's where winter comes for the summer."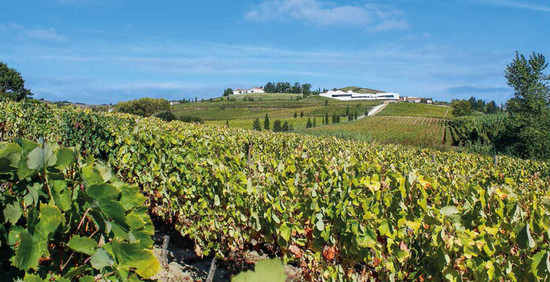 Red Wines from the Ramisco grape require long ageing with a minimum of twelve months in wood and another six months in bottle before release. These are typically described as rustic, though age can round out their edges. On the other hand, white wines have to spend at least six months in wood plus another three in bottle before release.
Moving inland to the last corner of the triangle we find the beautiful small village of Bucelas which gives its name to the DOC. This was the first of Lisbon's denominated regions and to this day still focuses on making crisp, mineral white wines, mainly from the Arinto grape, which is why it is called the capital of Arinto.
North of the city of Lisbon we find another cluster of three DOC's - Alenquer DOC, Arruda dos Vinhos DOC and Torres Vedras DOC, all known for producing fresh and aromatic wines and where the vines landscape becomes the main sight.
The closest to Lisbon is Arruda DOC, a region that lives for the winemaking. Its open valleys bring the sea influence to the wines inland terroir. Alenquer is the DOC that enjoys more protection by the Montejunto mountain and is a little bit warmer than the other two, producing great quality red wines. Torres Vedras is one of the biggest zones to produce wine in Portugal, producing softer but elegant wines. The main cities of this last two DOC's (Alenquer and Torres Vedras) were nominated as European Wine Cities of 2018, an award that translates their the importance and significance within the region and the country.
Further north and up the coast, the cool, moist conditions favor the production of wines like sparkling wine in Óbidos DOC. This is a cool region with ocean influence that produces several "light wines", fresh and aromatic whites and also full bodied, deeply colored reds with structure, thanks to its clay soils in Bombarral. Further up north we find Encostas d'Aire DOC which seems to be the bigger region on the map but is actually comparatively small considering that the vineyards are spread out across all the area. It is a gorgeous area with vines amongst orchards of pears and quinces. The climate produces conditions for drinkable reds, and whites.
Last but not least back to the Atlantic coastline there's DOC Lourinhã, best known not for its wine, but for its brandies, as DOC Lourinhã is one of only three exclusive Brandy appellation zones in Europe, alongside "Cognac" and "Armagnac".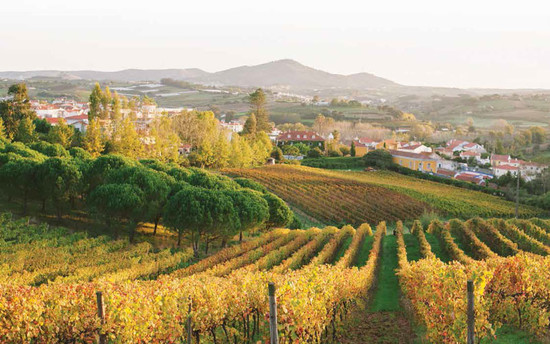 A guide to Lisbon's grapes
Portugal can sometimes seem to have more in common with Italy than its immediate neighbor Spain, when it comes to wine. There are myriad grape varieties, both indigenous and international, and the wines are often full of personality with plenty acidity and tannin. This is certainly true of the Lisbon region.
Some other parts of Portugal which are hotter and drier tend to produce crowd pleasing, big, ripe, rich styles often with high alcohol levels. In Lisbon, the vagaries of climate mean wines are likely to exhibit more modest levels of alcohol, although freshness and structure make them at once very drinkable and also capable of aging and improving in the bottle.
There are least 30 main varieties grown across the Lisbon area. The local Arinto features in many of the best wines, providing freshness, both as a varietal wine and in blends. Northern import Alvarinho seems to thrive, as it does in its native territory, under maritime influence, while Chardonnay and Rhone varieties, notably Viognier and Marsanne, perform well in the more sheltered parts of the region.
Amongst the reds, Touriga Nacional and Aragonês (AKA Tinta Roriz) bring sophistication and breed to many of the top wines, thriving rather than 'overperforming' as they can do in warmer climes.
Alicante Bouschet is an 'adopted native' and, again, seems to perform better in the less hectic climate of Lisbon, its innate fruity generosity, turned down a notch to provide better balance.
Castelão and Trincadeira mostly appear in useful supporting roles, as do Bordeaux varieties Merlot and Cabernet (the later two in particular can contribute with perfume and elegance).
The Rhone shines again with Syrah bringing perfume and backbone to blends with native grapes, occasionally pairing with its white relation Viognier and sometimes as a varietal wine.
Whites
Arinto de Bucelas is popular throughout the country because of its acidity and fresh citrus character. The best examples are found where maritime influence enhances elegance and backbone, producing wines that may age well but drink well in youth.
Fernão Pires is an old Portuguese variety that growers appreciate for its high yields and easy ripening. Winemakers like its distinctive aromatic character – floral, citrus and honey – though low acidity and a susceptibility to oxidation mean it requires careful handling.
Malvasia Fina is another high-quality native variety with many names, which produces wines of relatively high alcohol levels and modest acidity. The best are perfumed and elegant, suit barrel fermentation and age well in bottle.
In cooler regions like Lisbon, wines can be especially elegant. An offspring of Fernão Pires Seara-Nova is often found in western Portugal. It likes Atlantic-influenced climates, producing wines that are lightly aromatic with moderate acidity and high alcohol. Lacking complexity, it's usually blended.
Though tricky to grow and handle, Viosinho has good quality potential in the making of aromatic, full-bodied whites with the potential to age. Typically blended with local Portuguese varieties. Vital is typically low in acid and unexciting, although it thrives in cooler sites with altitude and Atlantic maritime influence. Here it achieves freshness, minerality and some elegance.
Reds
One of the few red-fleshed vitis vinifera varieties Alicante Bouschet is used to boost the colour of blends. As it is increasingly taken seriously by Portuguese winemakers it can produce deepcoloured, soft and fruity, varietal wines.
As Aragonês (Aragonez), Spain's Tempranillo has long been planted in Portugal, where it is also called Tinta Roriz in some places. With plenty of structure, an affinity with oak and the ability to gain complexity with age, its quality is clear and it seems to perform even better in cooler climes, such as those around Lisbon. Widely grown under a variety of names Castelão is Portugal's most common variety. Styles vary from the fresh, relatively pale and light to the dark red, full bodied and age worthy. Wines made from Ramisco are often called rustic, but the high acidity and strong tannins that challenge in youth can, after several years in bottle, become resolved. Thanks to these structural elements, once aged, the wines can become elegant and aromatic, showing a complex range of tertiary flavours that include mushrooms, earth and cedar. Alcohol levels are not usually high.
Tinta Miúda, which translates as "small red one" is known in Spain as Graciano, where it is valued for its deep colour, fresh acidity and tannins, but also or its personality and aromatic complexity. Tricky to grow its quality attributes are restoring its popularity. It thrives on cooler sites, although it can be prone to rot. Touriga Franca produces high quality wines of moderate body, with intense aromas featuring dark fruits and floral notes. Its firm, fine tannins contribute to its longevity. Its success in the Douro, where it probably originates and is the most widely planted red grape, has led to its planting across the country.
The highly rated Touriga Nacional produces tannic, concentrated wines with deep colour, concentration, an affinity with oak and the ability to age. Its likely home is the Dão region, but its shared success with the Douro Valley has led to widespread use in Portugal and in warmer climates abroad. For some, its intensity and character make it more suitable in a blend, rather than as a varietal wine, where it can almost be too much of a good thing.
Trincadeira is another native Portuguese with many names. When yields are restricted it can produce very good, spicy, richly fruity wines with structure and body. Relative soft tannins mean it can be drunk young, although oak aging can provide additional tannins which aid longer life.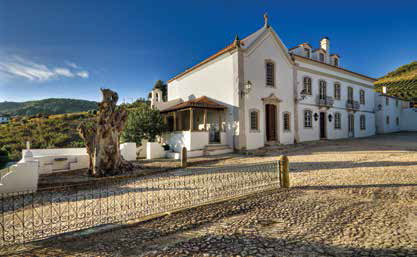 The Lisboa Wine Region
Discover* Visit* Taste
For the wine lover visiting Lisbon, a visit to the city's wine country couldn't be easier. Not every capital city has vineyards on its doorstep but in this case most of the vineyards and wineries are within reach. It is easy to arrange ad hoc visits or plan a route taking in two or three quintas, with a stop for lunch.
Take a trip west to visit Colares & Carcavelos, taking in the castle and its park in Sintra and have lunch near the ocean at the atmospheric Casa da Dizima in Paço de Arcos, or even in Colares, with some seafood overlooking the ocean. Go to Carcavelos and visit the Palace of the Marquis of Pombal, where the beautiful, octagonal stone Casal da Manteiga cellar is used to barrel-age 'new' fortified wines.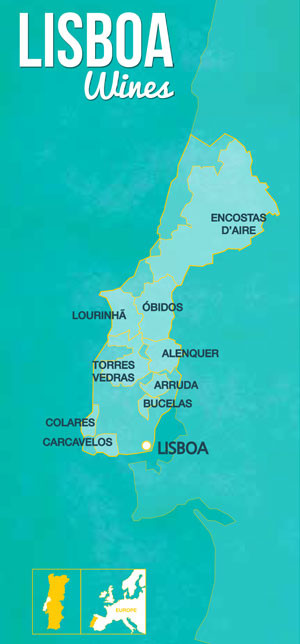 At an hour's easy drive west from Lisbon, Sintra is home to the romantic Palace of Pena. Nearby, close to the ocean is the Colares DOC where a visit to the atmospheric cellars of Portugal's oldest winemaking cooperative Adega Regional de Colares is a must. Ask to see the old chestnut autofermenters with their dramatic, functional beauty and while tasting the distinctive local wines admire the majesty of the barrel cellar with its enormous stone flags and rows of venerable barrels, made from exotic Brazilian hardwoods.
You can also move towards the east side and start in Bucelas with a quick stop by the Museum of Arinto or even tasting wines at Quinta da Romeira, among others, where where you'll experience the range of the Arinto grape. While here, you can have a great meal in the tradicional restaurant "Barreto Saloio" in the heart of the village. Keep going and visit Arruda by dropping by the Quinta de São Sebastião, a place where you can not only taste wines but also enjoy "Dressage" shows.
Up north, only at a forty-minute drive from Lisbon you have an Estate's cluster. You can drive to wineries like the historic estate of DFJ Wines where you get a sense of history and taste an array of different wines. Quinta da Boavista, one of Casa Santos Lima's estates in Alenquer, is a dramatic, modern winery overlooking vineyards planted in gentle rolling slopes. One might even find a dinosaur bone protruding from these ancient soils.
You can always do a whole day and visit the Lisbon Wine Family wineries, Quinta de Chocapalha, Quinta do Monte d'Oiro (both Alenquer) and Quinta de Sant'Ana (Torres Vedras). These are three family-owned estates located less than one hour from the city of Lisbon. They work together and share wine philosophies but are proud of the individual terroirs that make them different from each other.
While you're near Torres Vedras, drop by the modern winery of Adega Mãe, have a wine tasting and lunch where they serve the well known "Bacalhau" dishes.
If you're looking for a more historical drive, go to Óbidos DOC, visit the medieval village within the castle walls and drive to Companhia Agrícola do Sanguinhal, where you can walk the gorgeous gardens, vineyards and even get a glimpse of an old distillery. Alternatively, you can go to Quinta do Gradil, walk the vineyards, do a wine tasting and have an amazing meal at their restaurant.
When staying in the wine country you can plan an overnight at the rustic modern country house hotel of Quinta dos Machados near Mafra, a short 20 minute drive from the airport, perfect for wine lovers.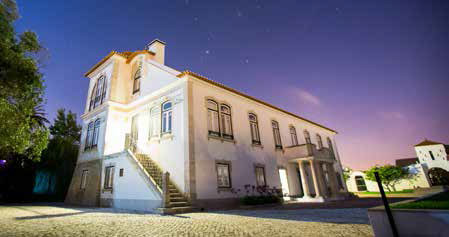 Recommendations
White
Madrigal Viognier Reserva, Quinta do Monte d'Oiro 2016
Pretty perfumes, soft spice and vanilla with a whiff of honeysuckle; quite dry, but soft and round, with a satisfying textural bite of minerality and salinity Sophisticated. 91
Branco Reserva, Quinta de Chocapalha, 2015 (Chardonnay, Arinto)
Subtle use of oak, more evident in mouth, but balanced with subtle fruitiness. In the mouth still youthful, not quite knit yet, textured and dry. Good, but will be better in 12 months. 90
Branco Seleccão, Quinta do Rol, 2012 (Arinto, Alvarinho, Chardonnay)
Golden hued, showing waxy, nutty development, reminiscent of Hunter Valley Semillon. Fruit salad, mango & dried peach) favours and quite dry. Very good. No oak. 90
Arinto, Quinta de Chocapalha 2016
Fresh citrus style with the salty tang of oysters shells; crisp Chablis-like palate, with lovely mouth-watering freshness. Good length. 89
Branco Reserva Quinta da Boa Esperanca 2015 (Fernão Pires, Arinto)
Understated and flinty; creamy textured, lightly fruity, weightless and classy. 89
Rose
Pinot Noir Rose Barrica, Quinta do Rol 2015
Pale pink; quite subtle but intriguing aromas, floral more than fruity. Quite elegant plate, lightly fruity, with gentle grip and finesse. Quite dry and long. Gastronomic. 90
Red
Casa Santos Lima Reserva 2014
(Touriga Nacional, Syrah, Touriga Roriz, Alicante Bouschet)
Very ripe and inky dark, savoury too, with Syrah bringing Rhone-like perfumes. Bags of flavor - plum and mulberry, concentrated and intense. Impressive and backward. Cellar 3 years or more. 96
Entre Nos, Casa Santos Lima, 2015
(Touriga Franca, Touriga Nacional, Cabernet Sauvignon)
Cabernet brings fragrance to the nose, gravel, graphite, herbaceous and loads of black fruit too. A little austere in the mouth at first, but actually pretty good, super fresh, verging on challenging acidity, supported by medium tannins. Serious wine, deserving several years bottle age. 95
CH, Quinta de Chocapalha, 2015
(Touriga Nacional)
Darkly hued; clean, pretty floral spice, fresh black fruits; fresh in the mouth, with more noticeable acid than tannin, though not lacking tannin. Still a touch angular but vibrant and very alive. Despite high alcohol it's not heavy. Very good, needs time. 94
Touriz, Casa Santos Lima, 2013
(Touriga Nacional, Tinta Roriz, Tinta Franca)
Sweet, vanilla oak and dark fruit, mulberry and berries. Solid, chunky mouthful, with substantial tannins and acidity needing to integrate. Very good, but ungiving now. 93+
Pomar do Espirito Santo Reserva, Cheleiros, 2013
(Touriga Nacional, Aragonez, Castelao)
Smoky oak, quite full and rich, with spice and savoury dried herb nuances; weighty not heavy and tannins need time to integrate. Pleasing balancing freshness. Keep. 91
Grande Escolha Touriga Nacional, Quinta de Sao Sebastiao, 2012
Expensively woody & perfumed; dark fruit, quite hefty and there is some astringency, but also freshness, Good length, needing time to soften and integrate. 90
Tinto Reserva, Quinta Varzea da Pedra, 2015
(Syrah, Touriga Nacional)
Smoky Syrah and perfumed Touriga; big ripe, sweet, fruit, with freshness and firmness. Oak still evident now but tannins are fine. Lovely blend with balance and longevity. 90
Reserva, Quinta de Sant'Ana 2014
(Touriga Nacional, Merlot, Aragonez)
Touriga's assertive fruit and spice cut by elegant leaf strewn Merlot; almost Bordeaux like, quite fresh, with pleasing leanness. Restrained and elegant. 90
Reserva Quinta do Gradil, 2015
(Syrah, Alicante Bouschet, Touriga Nacional)
Inky purple; dense & dark; Syrah contributes spiced and perfumed fruit with stuffing and power from the other grapes, nice freshness, sturdy but not coarse tannins. Quite long with good potential. Solid yet elegant. Gastronomic. 90
Grand' Arte Touriga Nacional, DFJ Vinhos 2014
Soft and spicy nose, with roast tamarillo and a sprinkle of dried herbs; generous in the mouth with freshness, smooth tannins and no rough edges. Very drinkable, open and easy, yet with substance too. 87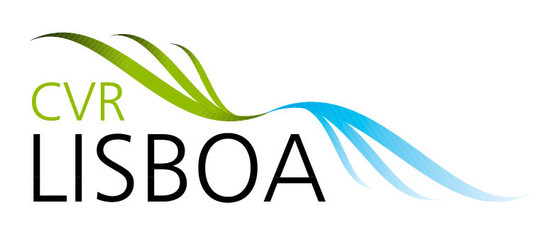 Translated by ICY
All rights reserved by TI Media Ltd. No part of this publication may be reproduced, distributed or transmitted in any form or by any means without the prior written permission of Decanter.
Only Official Media Partners (see About us) of DecanterChina.com may republish part of the content from the site without prior permission under strict Terms & Conditions. Contact china@decanter.com to learn about how to become an Official Media Partner of DecanterChina.com.