In partnership with California Wine Institute
When people are talking about Chinese cuisine, most of them are talking about a dietary culture and style, rather than specific foods.
"Food is the most important [thing] to the people," as the old saying in China goes, and the Chinese are famous as the dainty eaters.
And we are family oriented, so Chinese usually eat communally, and our dishes are presented in the form of sharing. No matter whether it's meat dishes or vegetarian dishes, all are served as communal dishes at the same time.
Rather than a system that has evolved with wine in tandem to develop a natural symbiosis, Chinese dining is more focused on the food itself. When a westerner talks about Chinese food, one should be careful; it is a vague concept.
Scale
It just takes around one-and-a-half hours to fly from Japan to South Korea. Both of them are abundant in seafood production, but South Korean food is often spicy and Japanese food has a light taste. In China, it can take up to seven hours to fly from one city to another, so it's not hard to understand why there is such a diversity of ingredients and cooking in different regions.
At its most basic, China has eight great regional cuisines.
The most delicate Cantonese cuisine emphasises the original taste of food. Instead of using condiments to enhance the flavours, its natural savoury taste lends itself to be paired with wines.
When the famed Michelin food guide launched its first edition in mainland China, almost 80% of the awarded restaurants were Cantonese in style.
There is no doubt that Cantonese cuisine is one of the most recognised Chinese cuisines by foreigners.
Below, I will introduce some pairing tips between several classic Cantonese dishes with California wines as follows:
Dim Sum- Shrimp Dumplings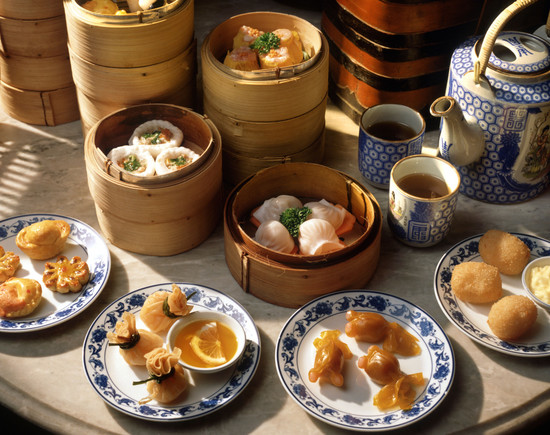 You can find this dish in almost every Chinese restaurant overseas. No matter how good looking it is, or whether it is just out of the fridge, the best shrimp dumplings must have smooth and translucent skin with a springy texture, and you can taste the freshness of the shrimp. Pork meat is added to enhance the flavours.
To pair with this fresh, delicious and light dish, a sparkling wine made with 100% Chardonnay will be a good match. Its fresh acidity enhances the freshness of the dish, and a 100% Chardonnay sparkling wine tends to be crispy and goes well with the texture of shrimp meat. As we know, Carneros AVA straddles both Sonoma and Napa counties with unique topography. Located south of Napa the area is close to bay area, the cooler climate makes it a perfect growing region for varietals like Pinot Noir and Chardonnay. It is vinified for both pleasant sparkling wine and high quality still wine.
Roasted Goose
Roasted Goose is also a classic Cantonese dish, with a thin layer of fat between the crispy skin and juicy meat. Usually it is served with plum sauce to add in a touch of sweetness. It pairs well with a fresh and juicy Californian Pinot Noir with rich aromas of fruits, a smooth texture and good acidity. If it is tasted with the dipping sauce, both the sweetness from the sauce and fruitiness of wine enhance each other. And the great acidity cuts through the greasiness of a roasted dish. Pinot Noir is likely the most suitable mainstream red wine grape, as well as one of the rising stars of California. It is easy to think of sunshine when most people mention California, while but most of them don't notice there are many outstanding cool regions with unique terrain that is perfect for Pinot Noir, like areas located on the North Coast and along the southern coastline - such as Russian River, Sonoma Coast and Santa Barbara in the south. And it is home to many high profile wine producers. Au Bon Climat is one you can't miss.
Stir-fried Beef with Oyster Sauce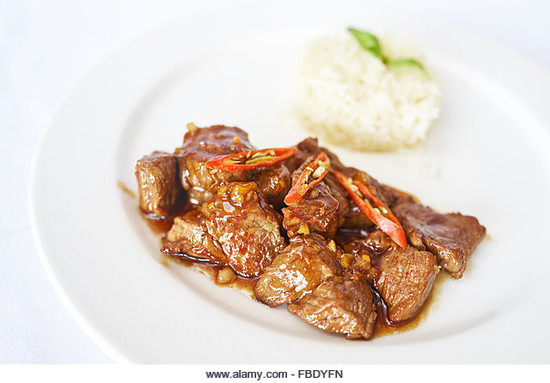 This is a classic Cantonese dish made with oyster sauce, a salty and savoury seasoning made from oysters.
Oyster sauce imparts a touch of sweetness to this salty and savoury dish, and you can smell the rich oyster flavours and taste the tender beef. A delicious and juicy Zinfandel with modest tannin will be terrific with this dish. In California, it is not hard to find old-vine Zinfandel which can age for decades. It is well-known that Zinfandel is an uneven ripening varietal. In the harvest, often you'll have under-ripe and over-ripe berries together on the same cluster, and some berries might even wither.
It will have more red fruit flavours from cooler regions, while there are more dark fruits and obvious pepper flavours from warmer regions. As a whole, Zinfandels offer concentrated fruity flavours and an easy-drinking style. It is not similar to Cabernet Sauvignon, which often has a larger structure and strong tannins. Usually Zinfandel has a good acidity and an approachable price.
It can be a partner to this dish, or a table of dishes with heavier flavours, but not spicy dishes, if the wine is not heavily oaked.
Chardonnay and Cabernet Sauvignon
When we talk about the story of California wines, Cabernet Sauvignon must be the King, and the queen should be Chardonnay.
California is home to some of the best Chardonnay wines in the world. Although it is widely known that most premium Chardonnay wines are made from Burgundy, Californian Chardonnay is outstanding with its full body and rich flavours. It is a good partner to match with most chicken dishes, or seafood dishes with heavier seasoning.
Generally a young California Cabernet Sauvignon has strong flavours, is high in tannin and full bodied with apparent oak flavours. To pair with this, a meat dish with strong and bold flavours seasoned with spice (here it is not chilli) is pretty hard to beat. For example, stir-fried Wagyu beef with assorted mushrooms seasoned in black pepper will be a perfect match.
But, we should not limit our imagination to the light and delicate Cantonese cuisine style. For bold and full bodied wines, we'll definitely need a touch of bold and spicy flavours to make a good match!
Translated by Miya Gu
All rights reserved by Future plc. No part of this publication may be reproduced, distributed or transmitted in any form or by any means without the prior written permission of Decanter.
Only Official Media Partners (see About us) of DecanterChina.com may republish part of the content from the site without prior permission under strict Terms & Conditions. Contact china@decanter.com to learn about how to become an Official Media Partner of DecanterChina.com.