Sommelier Guo Ying gives her insider tips on matching different Chinese foods with New Zealand wines.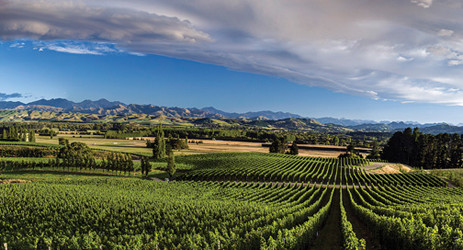 Before we get started
The biggest difficulty in matching Chinese food with wine lies in the countless variations of sauces and seasonings, as I mentioned previously in my Chinese food and Californian wine matching piece. Ginger, spring onions, garlic and other sweet, sour or spicy flavours exhilarate the senses, but they can kill the finesse and elegance of a glass of wine.
The finer the wine, the more challenging it is to find a 'marriage' with Chinese food. Easy-to-drink, bolder, juicier wines may stand more comfortably among a Chinese feast, where you find a mix of meat, fish and vegetable dishes.
That's also true for choosing an everyday bottle, aren't we satisfied with a delicious and simple tipple?
Back to the title
New Zealand sits on the southern end of the world, it's a pure and beautiful country — just like its wines.
This is a country that doesn't run security checks on domestic flights. You can just carry a case of wine with you on board, and fly from the southernmost point of South Island to the far northern tip of North Island.
If you're bold enough, why not uncork a bottle of sparkling wine on board, and drink it while appreciating the view from one of the little low-flying planes.
Sauvignon Blanc and Pinot Noir are the two crown jewels of New Zealand, but that's not all. There are high quality sparkling wines made by traditional method, Syrahs from Hawke's Bay and the increasingly splendid Chardonnays are adding more flair to the country's wine collection. New Zealand wines never lack of clean fruit flavours and beautiful acidity, and the good ones shine with layers of flavours.
This month let me present to you four classic styles of New Zealand wines paired with Chinese dishes.
Pairing 1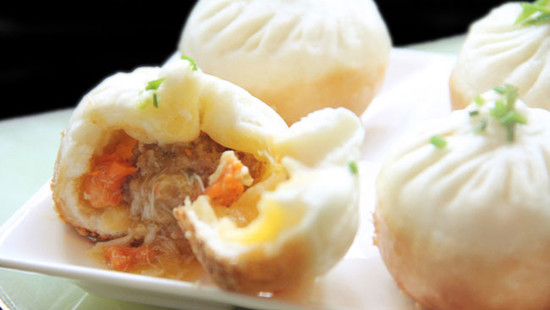 Steamed Shanghainese pork dumplings with crab cream
Matches with: New Zealand sparkling wine (traditional method)
Favourite match: No.1 Family Estate, Cuvée No.1 Brut, New Zealand NV

No. 1 family is one of the representative producers of sparkling wine in New Zealand. My recommendation, Cuvée No.1 Brut, is a quality New Zealand sparkling wine made using traditional method and 2 years on lees.
The steamed Shanghainese pork dumplings are dominated by the delicious flavours of the sensational juicy meat, which is complimented by the crab cream.
It seems to be a simple dish to pair, but the ginger in the meat and the dough make everything more complicated, but the sparkling wine I've chosen is the perfect solution. It's made with 100% Chardonnay, so it can replace the vinegar we use to season our steamed buns to reduce the greasy sensation. Even better, it helps to bring out the light sweetness of the crab cream.
In addition, ageing on lees gives the wine biscuity flavours, which are a great match to the slightly yeasty dumpling skins. However, although ginger sets off the flavours of the meat fantastically, it would be at odds with the pairing.
Pairing 2
Steamed cod fish fillet with Zhejiang preserved vegetables
Matches with: New Zealand new style Chardonnay
Favourite match: Neudorf, Chardonnay , Nelson, New Zealand 2014

The international success of New Zealand Sauvignon Blanc has somehow overshadowed its Chardonnay. However, those who have recently visited New Zealand will tell you that the Chardonnay wines are close to claiming their rightful place on the world atlas of wine. Especially those inspired by the latest winemaking trend.
Compared to oak-heavy New World Chardonnays, the trendy and contemporary New Zealand style is to lower the alcohol level and lessen the use of new oak. They are perfectly ripe, yet balanced with pretty acidity; they keep the clean and bright fruit of New Zealand's cool climate, while being lifted with elegance. Top producers could pose a proper challenge to Burgundy.
Back to the dish—this is a simple one to pair; the light-flavoured sauce, preserved vegetables and the steaming process are all supposed to set off the flavours of the meaty cod. This rich and weighty fish calls for a clean and less oaky, medium-bodied Chardonnay. This is rather easy—just like when we pair fish with white wines in a European restaurant.
The wine I've selected is an entry level Chardonnay from Neudorf, which has lovely layers of perfume.
Pairing 3
Sautéed sliced pork with mushroom in superior soy sauce
Matches with: Central Otago Pinot Noir
Favourite match: Quartz Reef, Pinot Noir, Central Otago, New Zealand 2014

This is another tricky dish to pair. What complicates things is the sauce, in order to add more aromatic touch to the buoyant pork flavours, the chef added some Malaysian Sambal chilli prawn sauce. This sweet, spicy sauce, combined with soy sauce, is absorbed by the pork, instantly adding more weight to the simple light meat. It's not spicy, but it's still rich and complex, and therefore suitable to be paired with red wines.
But the red wine shouldn't have too many mouth-drying tannins. We're looking for a medium-body red wine with sweet fruit flavours to pair with the fragrant and complex sauce.
And the Quartz Reef Pinot Noir, with sweet cherry fruit, silky tannins, juicy mouthfeel and clean acidity, is the perfect choice. The silky tannin won't get in the way of the bouncy texture of the meat, while the sweet fruit flavours are strong enough to match the sauce. Quartz Reef is one of the most influential wineries in Central Otago. Biodynamic and organic winemaking, natural yeast, as well as partial whole-bunch fermentation, gives their delicious, fruit-rich wines more structure.
Pairing 4
Roasted duck with black truffle sauce
Matched with: Syrah from Gimblett Gravels, Hawke's Bay
Favourite match: Trinity Hill, Syrah, "Gimblett Gravels", Hawke's Bay, New Zealand 2012

If you find the word 'Syrah' on a bottle of New World wine, you'll know that this is an Old World, Northern Rhone-style wine. Compared to the oak-heavy and sweet New World Shiraz, they are more vibrant, fresh, with more stand-out acidity.
Duck is on the edges of the red meat family. Overly tannic wine may make the meat taste rusty. Black truffle sauce not only adds extra layers to the aroma of this dish, but also adds more weight to the mouthfeel. The light touch of oak combines well with the typical white pepper spice, reaching a lovely marriage with the truffle sauce in your mouth. The acidity, on the other hand, brings out the umami and savouriness of the juicy duck. A lovely pairing!
Translated by Sylvia Wu / 吴嘉溦
All rights reserved by Future plc. No part of this publication may be reproduced, distributed or transmitted in any form or by any means without the prior written permission of Decanter.
Only Official Media Partners (see About us) of DecanterChina.com may republish part of the content from the site without prior permission under strict Terms & Conditions. Contact china@decanter.com to learn about how to become an Official Media Partner of DecanterChina.com.