In front of us was a heaped plate of razor-thin Proscuitto ham, a springtime risotto flavoured with the local red lettuce Treviso radicchio, and a cheese board offering up a wheel of Venetian speciality Asiago. To the side, a pile of freshly-made crostoli, a crisp sweet treat that is made by frying the same sheet pasta used for lasagne, then sprinkling it with sugar. The recipe dates back to the Romans, and is made in great quantities every year during Carnevale, but we hadn't managed to try them so far, despite admiring them in the windows of every bakery in Venice since our arrival the day before.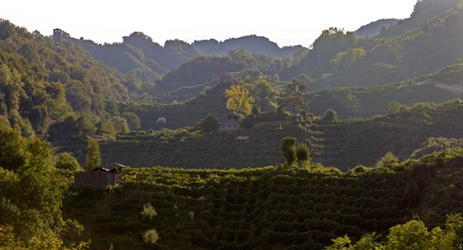 We were in Valdobbiadene, in the mountainous region famous for the production of Prosecco wine in Italy. A few hours earlier, we had left the narrow streets of Venice as they rapidly filled with costumes and masks, and headed up into the steep Treviso hills, where vines grow on terraces, so vertiginous is the terrain, and are almost entirely worked by hand.
In recent years, producers have expanded onto the plains a little lower down, into the Friuli region, to meet the growing demand for Prosecco wine. Prosecco makes around 150 million bottles per year overall, and has big plans to expand that to 500 million. At the same time, alongside the Italian production, various other sparkling wine producers, in countries from Brazil to Australia, have been bottling 'prosecco' sparklers.
All of this new competition inevitably meant winemakers in the original zone of Conegliano Valdobbiadene wanted recognition for the higher quality of their own wine. They finally received this in July 2009, with the creation of the new Denominazione di Origini Controllata e Garantita (DOCG) category, the highest level for Italian wine, for Prosecco Superiore. The new system means the DOCG is no longer just a wine produced from a particular type of grape (Glera is the most typical local variety), but refers to a wine made only from grapes grown on the hillsides of the 15 communes lying between the two main towns of Conegliano and VaIdobbiadene.
This is a wine style that has been getting some attention in the Chinese market. No need to get too carried away, of course; China remains largely a market for still red wines, accounting for 80% of consumption. But there are glimmers of hope for white wine producers, and especially the sparkling wines of Italy.
In recent years, Italian sparkling wines have seen double the volume growth of their French rivals. Italian wines overall were up by 80% between 2010 and 2011, and are the 5th biggest importer of wines into the Chinese market. But when you switch that to sparkling wines, Italy suddenly jumps up to the 2nd biggest importer (yes, still behind France).
And much of this volume has been coming from prosecco, most typically drunk with dim sum, although the idea of sparkling wine as a celebration is slowly gaining ground. For now, it's largely the less expensive, DOC Prosecco that makes its way to China, that lightly sparkling, refreshingly fruity style of wine that responds to much the same market as Spanish cava or French crémant. But producers such as Bisol, along with new arrivals such as Cantinae Clara C', have made great inroads with the DOCG Conegliano Valdobbiadene style, which is opening things up for other producers.
I'm here to visit one of the oldest family firms in the region, Nino Franco, founded in 1919, when Antonio Franco returned from fighting in World War I to find his village had been decimated. Valdobbiadene had been occupied by the Austrians, and then bombed by the Allies to ensure the Austrians retreated. Determined to bring the village back to life, Antonio founded the winery in the town centre, where it remains today, a few minutes walk from the pretty central square with its 18th century campanile bell tower, and plentiful cafés selling deliciously thick hot chocolate.
The firm is run today by Primo Franco, who joined in 1982, and took over in 1993 when his father Nino died suddenly. 'I had wanted to be an architect,' says Primo, with his welcoming, engaging manner, 'but my father said no. He said he needed his only son to carry on the family business, so I came home.' Primo was one of the first winemakers to export Prosecco outside of the Veneto region, and he still travels widely, although he now shares the work with his daughter Silvia.
The older vines in the DOCG give a more robust, profound and minerally experience than the typical DOC Prosecco wine. Nino Franco follows organic viticulture on its own vineyards (the family also buys in grapes, as is usual in the region), and ensures low sulphur, and longer ageing on the lees than was once typical. The best examples, such as the excellent Grave di Stecca, has the aroma of rising bread, set against that crisply aromatic apple-pear zing that gives Prosecco its character. The production method also ensures lower alcohol than many other sparkling wines, usually topping out at between 11 and 12%. We finished the tasting with a 1988 Primo Franco frizzante, which had soft bubbles that were still apparent even 25 years on, and a nuanced, savoury, hazelnut nose, offset by heather and honey. A fascinating reminder that Prosecco is not all about young, fresh wine to be opened and drunk within a year.
It seems clear that the Chinese market is starting to see the appeal. Growth of Champagne and other French sparkling wines grew 40% over the first half of 2012 in the country, while Prosecco and other Italian sparkling wines managed a full 87%. Price-wise, the gap with French sparkling styles remains formidable, but Primo is undeterred. 'We are happy to celebrate the grace and freshness of Prosecco, and the easy pleasure that it gives.'
Translated by Nina Fan Feng / 冯帆
All rights reserved by Future plc. No part of this publication may be reproduced, distributed or transmitted in any form or by any means without the prior written permission of Decanter.
Only Official Media Partners (see About us) of DecanterChina.com may republish part of the content from the site without prior permission under strict Terms & Conditions. Contact china@decanter.com to learn about how to become an Official Media Partner of DecanterChina.com.