Demei's View - Wine Communication from a Chinese Winemaker
This is not an entertaining bonfire. What you see from this picture is just how desperate these people were seeing their homes burnt into ashes...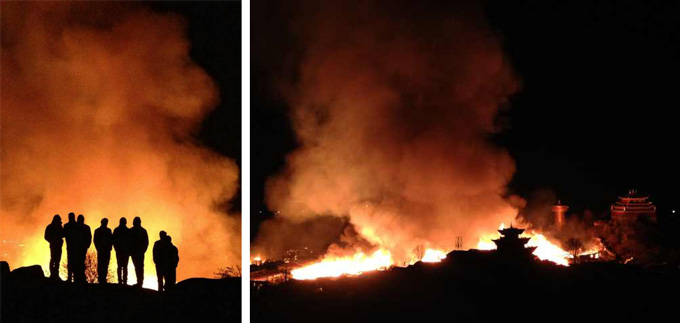 In the early morning of January 11th, a huge fire broke out and soon swept through Dukezong, a thousand-year-old town in Shangri-La County, Yunnan Province. As unbelievable as it sounds, there weren't enough fire hydrants in the small town; and even for these few fire hydrants, water soon ran out (according to CCTV). The helpless local residents had to escape from their homes and hide somewhere safe, while watching their houses and livelihoods being engulfed by the blaze.

Maxence Dulou, a winemaker from France, also fled from Dukezong with the help of his local colleagues. The first time I heard the name 'Shangri-La' was by way of a famous hotel chain in China. It wasn't until later that I learned about the origin of this word—it came from James Hilton's novel Lost Horizon, which depicts a story about a remote, paradise-like land.
Several places around Tibet claimed to be the location of Shangri-La before the government ended the dispute by officially naming Zhongdian County, Yunnan as 'Shanguri-La County' in 2001. Today Shaguri-La has become the name of a specific place, and for those in search of the 'lost paradise' described by Hilton, they have a concrete destination. Business development boomed throughout this area and an airport was soon built. However, it seems the vigour and glamour of the ancient town have also brought about hidden crises…
Shangri-La is in fact also the name of a wine company, I realised later. In the summer of 2008, I finally had the opportunity to visit Shangri-La County, as its airport is the closest to the vineyards in Deqinn County. While wondering in the ancient town, its unique exotic features, the cool breeze from the mountains and a slight dizziness from altitude sickness left a great impact in my memory, and I haven't forgotten it, even today.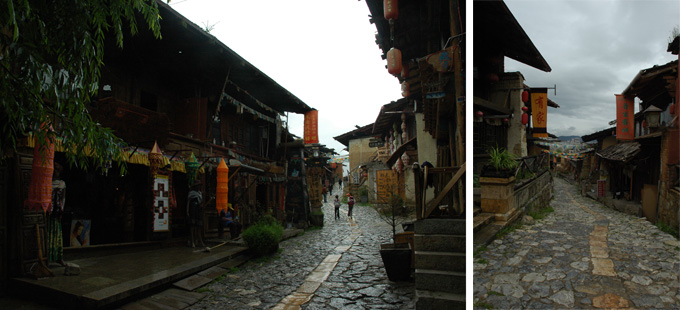 Shangri-La as a winemaking region is also becoming more influential nowadays as people have higher and higher expectations of quality. Although these vines are mainly planted in the Deqin County (northwest of Shangri-La County), people are much more familiar with the name 'Shangri-La', and few have ever heard about 'Deqin'.
Shangri-La also seems to be a heavenly place for some winemakers. Low latitude and high altitude brought about cool and drying air from the valley, giving the vines plenty of time to grow. Unlike vineyards in Northern China, here wines don't need to be buried underground to endure winter. You can also find the only vineyard planted around a church in China. The 150-year-old church, Cizhong, tells a vivid tale about how grape wines strayed and settled in China.

And the tale continues. In 2012, the LVMH Moet Hennessy Group signed a joint-venture winery project with the local VATS Group in 2012, after years of careful research and argumentation. The Beijing-based wine and spirit business is the headquarter of Shangri-La Winery Company Limited, thus the new winery is named as Moët Hennessy Shangri-La (Deqin) Winery Company ltd.
The 20-hector Moët Hennessy Shangri-La (Deqin) Winery is situated in Hedong Village, Deqin County. A trial plantation of Cabernet Sauvignon and Merlot started in 2013 at an altitude of 2350-2600m. By 2016 the planting project will be completed, creating a vineyard of 30 hectares maximum. If you have ever been to this area, you would understand that 30 hectares is by no means small-scale. The slopes are so steep that one hectare of land is usually divided into several plots to cultivate. Some of these plots can't be reached by any modern vehicles - you will have to walk there.
Tony Jordan chose this land, and as the consultant he sets foot in this area from time to time. General manager Stephen Deng told me that the winery building and equipment are under construction, with technical director Maxence Dulou from Bordeaux living on site with his whole family. I was very much intrigued and couldn't wait to go back.
Last summer, when Andrew Caillard and CH'NG Poh Tiong came to visit Skyline of Gobi Vineyards, Xinjiang, I suggested that we pay a visit to Shangri-La this summer. After hearing about the fire, I'm not sure if it's possible any more.
Although an airport was built in Shangri-La County, I hope that no airport will ever be built in Deqin—the pure and natural beauty of the land should be preserved—although that means visitors will have to endure the weariness of a day-long journey to reach the vineyards…
Translated by Nina Fan Feng / 冯帆
All rights reserved by Future plc. No part of this publication may be reproduced, distributed or transmitted in any form or by any means without the prior written permission of Decanter.
Only Official Media Partners (see About us) of DecanterChina.com may republish part of the content from the site without prior permission under strict Terms & Conditions. Contact china@decanter.com to learn about how to become an Official Media Partner of DecanterChina.com.