Jefford on Monday
It looked as if Joaquin and I would meet in Virginia in early October. Happily, that didn't happen. I was on best behaviour, of course, but the windiest Atlantic hurricane since Igor in 2010 would have thrown cars around and squashed the homes of those least able to rebuild them. In the end, Joaquin flayed itself to exhaustion in the Atlantic, though not before causing extensive damage in the Central Bahamas.
That didn't mean Virginia escaped its attentions entirely: hurricanes travel with voluminous skirts - or kilts - of rain. Breaux is one of the state's largest vineyards, with 42 ha planted, and as Joaquin passed it took a foot of rain (305 mm) in a day. Jenn Breaux had put out a 'save our grapes' mayday call the night before, having seen the way the forecast looked; hardy volunteers helped rescue the thin-skinned Merlot from the sheets of water. The thicker-skinned Nebbiolo, Petit Verdot and Cabernet stayed out for further ripening. They looked surprisingly unscathed to me in the languidly sunny days which succeeded the storm.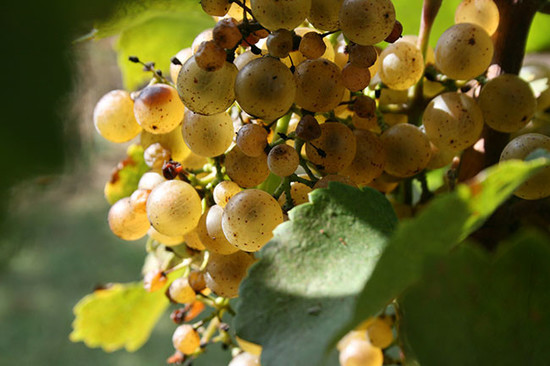 'Rain', says the winemaking sage of Virginia, Jim Law of Linden, 'is our biggest problem. That's why soils matter here. If you've got big heavy clay, it soaks it all up.' (Breaux's soils are granite-based sands and loams.) 'You cannot be organic in Virginia unless you want to lose your fruit,' points out Rachel Martin of Boxwood Winery. The rain comes, moreover, with exasperating unpredictability. 'There's no such thing as a typical year in Virginia,' said Richard Leahy, author of Beyond Jefferson's Vines, the leading book-length guide to the state's wines. 'This is Virginia,' summarised one of the state's winemaking pioneers, Gabriele Rausse. 'She does what she wants.'
In terms of grape varieties, what exactly would the capricious Virginia like to do? The first modern-day plantings of vinifera vines came in 1973, but most of the growth has come since 1980 (there were 12 wineries in the state in 1979; now there are 270). Those first vines were Chardonnay, which still performs well here in certain locations (notably in Jim Law's vineyards), and Bordeaux varieties and blends have been consistently successful since, despite – or perhaps because of - being as far from the Napa style ideal as it is possible to be. Thick-skinned Viognier, meanwhile, was elevated to the status of 'Virginia's signature grape' back in 2011. A brave choice. Is Viognier, I asked Gabriele Rausse, perfect for Virginia? 'Nothing,' he smiled gravely, 'is perfect for Virginia.'
I'll be looking at Virginia's 'classical' wines in a blog later this autumn, but for this week let me just tell you about the romantic alternative. There are two producing clusters in the state (technically a commonwealth, not a state) at present. The first is in its northern tip, close to Washington DC; the second is around the university town of Charlottesville.
OK: Jim Law says rain is Virginia's main problem. Washington DC gets 1,036 mm of rain a year on average, and Charlottesville 1,211 mm. Are there any fine European winegrowing regions which might share similar figures?
Well, Madiran gets around 1,100 mm of rain a year, and parts of Jurançon up to 1,400 mm; both are wetter than Bordeaux, and far wetter than Burgundy. Those French sub-Pyrenean locations are cooler than the American vineyards under the Blue Ridge Mountains (Pau has a mean July temperature of 21˚C compared to around 25˚C for Washington and Charlottesville, though the average annual temperatures are almost identical, at 13.13˚C, 13.15˚C and 13.95˚C respectively); the Pyrenees, meanwhile, are a little sunnier (1877 sunshine hours annually in Pau compared to 1783 in Washington). The fit, though, looks remarkable – and, logically enough, Madiran's thick-skinned Tannat is one of the best adapted grape varieties for rainy conditions, as is the thick-skinned, loose-bunched and small-berried Petit Manseng, as well as its slightly larger berried Gros Manseng counterpart. Might that be what Virginia wants to do?
It's possible. Gros Manseng hasn't got going yet in Virginia, but some of the very finest wines I tasted on my recent visit were made from Petit Manseng and Tannat, especially in the highly skilled hands of Michael Shaps. The sheer intensity of Petit Manseng predisposes it to dessert-wine use at present; better dry table wines will come once Gros Manseng has arrived to lend a hand. It would be great to see some Petit Courbu sail west, too.
Don't forget Nebbiolo, either. This is a variety from a land of warm, humid summers and not infrequent downpours: Alba's average rainfall is 950 mm and its mean July temperature is 23.2˚C. Nebbiolo, too, performs superbly in Virginia, showing every sign of being happier there than it is in more arid climates. Tasting notes for some fine Virginian examples of these varieties can be found below.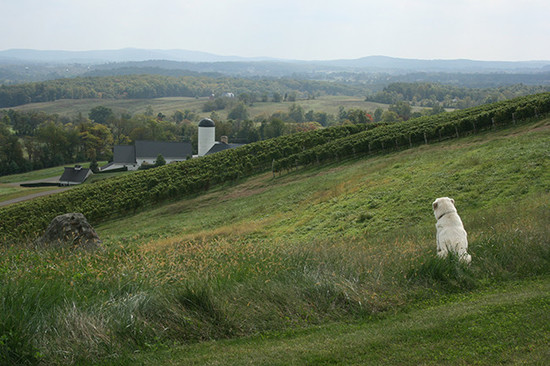 Thirty years is the mere blink of an eye in terms of the revelation of terroir, but finding the right grape varieties for a place is the most important single developmental stage in that process. Nothing may be perfect for Virginia – but Tannat, Nebbiolo and Petit Manseng are beginning to look more assured here than most of their varietal peers.
Petit Manseng
King Family Loreley 2013
An outstanding Petit Manseng made in vin de paille style, and half aged in acacia barrels, this has buttered pineapple scents and a starburst palate of apple, kiwi, mango and apricot. Spellbinding fruit detail here. 92
Linden Late Havest Petit Manseng 2008
Lush, multi-faceted scents (pineapple, mango, apricot, peaches -- and cream) with arresting purity and complexity on the palate. And fresh, too: hard to guess this half-bottle was already seven years old. 91
Lovingston Petit Manseng 2014
A clever dry version where the sheer intensity has been toned down a little by carbonic maceration and the addition of 10 per cent Seyval Blanc: honeyed, crunchy, pithy. A delicious aperitif style. 89
Michael Shaps Petit Manseng Honah Lee Vineyard 2013
Barrel fermentation here both subdues and plumps out the piercing Manseng fruit as you sniff. On the palate, by contrast, it's crunchy, vibrant, dramatic, arresting and very pure: a Virginian dry white of rare authority. 92
Tannat
Michael Shaps Tannat 2012
Classically gruff Tannat scents: slabby clay, spaded earth, blood. A floral note provides a little lift, too. On the palate, this is uncompromising and very true to the varietal ideal: dense, driving and richly textured, with gravedigger scents of earth, humus and leaf mould. An outstanding effort from the quietly spoken Shaps (who divides his winemaking time between Virginia and Burgundy). 93
Nebbiolo
Barboursville Nebbiolo Reserve 2012
Very pale, with scents of mushrooms and earth more than fruit. On the palate, this is almost austerely dry and faintly saline, yet complex and full of intrigue: apple, red plum, tobacco and crushed acorn, with a treacle and raisin note, too. Fascinating. 89
Breaux Nebbiolo
Beaux has a long track-record with Nebbiolo, and in a seven-vintage vertical the stars were the very light, pure and elegant 2002 (89); the more richly flavoured 2006, full of earthy refinement (90); and the sumptuous and deeply fruited 2007 (90). Best of all was the 2010: still freshly fruity on the nose, with cherry, currant and cola nut notes, while the palate was deep, profound, planty and unusually succulent for a Nebbiolo, with classically Italian bitter back notes (91).
Gabriele Rausse Virginia Nebbiolo 2013
Clear and light, with red fruit and roses on the nose. Graceful rosehip and cranberry fruit with vibrant acidity and fine-drawn tannins: elegant, digestible red wine. 90
Translated by Sylvia Wu / 吴嘉溦
All rights reserved by Future plc. No part of this publication may be reproduced, distributed or transmitted in any form or by any means without the prior written permission of Decanter.
Only Official Media Partners (see About us) of DecanterChina.com may republish part of the content from the site without prior permission under strict Terms & Conditions. Contact china@decanter.com to learn about how to become an Official Media Partner of DecanterChina.com.