Jefford on Monday
Have you ever heard of 'spéléoenologie'? Nor had I until recently. Imagine tasting a wine in total darkness and total stillness, in an almost totally odourless environment, not merely deep underneath the soils in which the vines grew, but even hidden inside the rock from which those soils were derived, and accompanied only by the trickling and dripping of subterranean water. The experience – strange, unique, intense and, after a while, very cold and uncomfortable indeed – can be yours by heading to the Grotte de St Marcel d'Ardèche.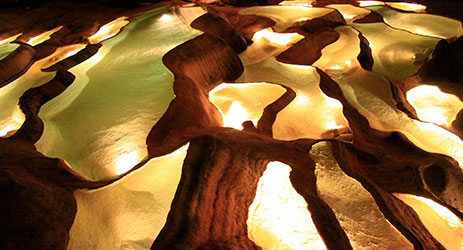 France, as befits a largely limestone land, is stuffed with deep, dramatic and often beautifully illuminated caves. There are dozens to visit, especially in the deeply incised gorges which incise the uplands of southern France. Despite this abundance, French geologists estimate that less than 10 per cent of the national total are known and have been explored as yet.
Some contain exquisite cave paintings, notably the celebrated Lascaux in Dordogne and the more recently discovered Grotte du Pont d'Arc (or 'Grotte Chauvet'), also in Ardèche. The latter has moved the human artistic clock back to 36,000 years ago; and the reproduction site which opened earlier this year is magnificent. The original cave is too fragile, too untouched and too perfect in its details to be visited – it's still littered with the skulls and bones of extinct bears, for example, thanks to the fact that its entrance collapsed 21,500 years ago. It was then entirely unvisited by man or beast until its rediscovery in 2005.
The St Marcel d'Ardèche site has some drawings, dating from around the same moment at which the nearby Pont d'Arc cave entrance collapsed, but it also has lots of space – some 57 km of galleries altogether. Hence the notion of getting together with local wine-growers for a 'subterranean terroir' experience.
The Ardèche is an intriguing wine department, since it lies on the cusp between the north and the south: St Joseph and Cornas at one end, and then (after copious forests) some of the freshest of the southern Côtes de Rhône and Côtes du Rhône-Villages at the other, grown principally on rolled-pebble vineyards on ancient terraces of the Rhône. This is where you find the Grotte de St Marcel d'Ardèche, and nine leading local growers plus the Vignerons Ardèchois co-operative are now ageing wine in the Grotte itself, as well as storing bottled wine there. The enormous cave has a year-round temperature of 14˚C and constant humidity of 86%. I'm sure it will be perfect for unlabelled, bottled wine, though I worry that humidity may get the better of the barrels.
The growers held a recent tasting there – not quite spéléoenologie, since we tasted in the illuminated main hall of the cave, with each grower presenting their wines, and the process took at hour or so. I was chilled, damp and dead-fingered by the end, craving the light and warmth of the surface; speed, I think, will be of the essence for successful spéléoenologie sessions.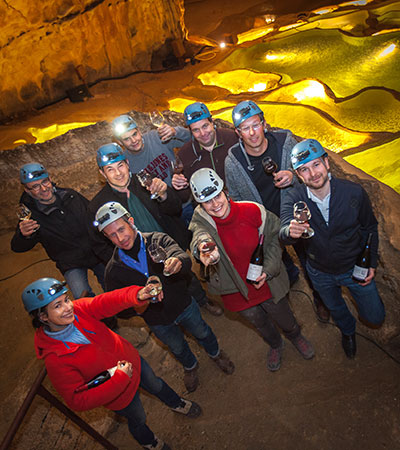 The tasting did, though, demonstrate the uniqueness of wines from this particular neck of the Rhône, and it also suggested that 14˚C has a lot to recommend it as a general serving temperature for both reds and whites – the whites remain expressive at that temperature, while the reds are taut, gathered and vital, but still resonant, especially with a moment or two to warm gently in the mouth.
Leading growers include Frédéric Dorthe of Domaine du Chapitre, whose 2010 Le Cardinale (from Grenache and Syrah) must be one of the region's most ambitious reds to date: it's a little sweet on the nose, but the palate is astonishingly dense, searching, grippy and intricate, with a vividness which sometimes eludes rolled-pebble vineyards further south. Dorthe's classically labelled range also includes the lighter and more floral 2014 Mon Bon Plaisir, which adds a little Cinsault to the mix.
Another outstanding southern Ardèche domain is the biodynamic Mas de Libian. The 2014 young-vine cuvée Vin de Pétanque is the most vivaciously fruited and irresistibly gulpable red I've tried this year, but there are more serious wines, too: the 2013 and 2014 Bout d'Zan (Grenache and Syrah) show the area's vocation for lightness, elegance and purity to classy effect, while the 2013 Khayyâm is concentrated, pure and commanding (mostly Grenache with some Syrah and Mourvèdre, the last variety lying at its northern limit here). Other excellent wines come from Domaine du Couron (the 2012 Côtes du Rhône-Villages is complex and stony); and Domaine Coulange (lively, fresh white wine as well as the vividly fruity 2013 Cuvée Mistral and the chewier, stonier, more herbal 2013 Cuvée Rochelette). The Domaine Saladin range is elegant and airy; Château de Rochecolombe has a 2013 Côtes du Rhône-Villages whose herb-infused fruits and a complex, secondary finish I loved.
While in the area, I also tried the wines of the Côtes du Vivarais, grown further from the Rhône, and in the uplands and gorgelands of the Southern Ardèche: high-country reds and whites which struggle to assert their identity in the teeth of strong IGP competition. There are, though, some impressive domains here too: look out for great value from Domaine de Vigier and Domaine Vigne.
Translated by Nina Fan Feng / 冯帆
All rights reserved by Future plc. No part of this publication may be reproduced, distributed or transmitted in any form or by any means without the prior written permission of Decanter.
Only Official Media Partners (see About us) of DecanterChina.com may republish part of the content from the site without prior permission under strict Terms & Conditions. Contact china@decanter.com to learn about how to become an Official Media Partner of DecanterChina.com.