The last three decades have been traumatic for Jerez. Its vineyard area has collapsed from almost 23,000 ha to around 6,500 ha now. Solar panels, not Palomino vines, which now turn sunlight into energy in a number of the region's great albariza vineyards.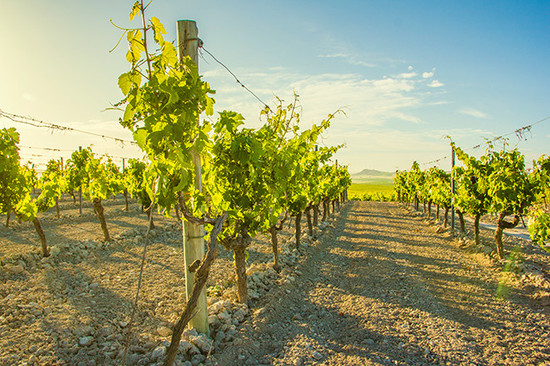 Many of the grandees have departed. Osborne has pulled out of sherry production; Domecq has been dismembered; Sandeman, Croft, Harveys, Garvey and Terry have gone, even though their names linger on, ghost-like, on labels. A number of high-quality Brandy de Jerez brands have been travestied and are now 'spirit drinks' containing no grape-based spirit at all, bottled at 30%. Much of the region's future depends on the Chinese Filipino billionaire Andrew Tan, who not only owns Harveys and what remains of Domecq's holdings in Jerez as well as other sherry and Jerez brandy brands, but who also owns an undisclosed but significant percentage of Gonzalez Byass's assets.
Times of commercial catastrophe, of course, are also times of opportunity. JesúsBarquín and his Equipo Navazos (of whom more in a later blog) have had a huge impact in rekindling global interest in fine sherry and making it gastronomically relevant, even hip. The canny Estévez family now has a peerless sherry portfolio via Valdespino and La Guita. Jan Pettersen of Fernando de Castilla has shown that great sherry, beautifully packaged, can find a thriving market. Gonzalez Byass itself has been admirably creative with its beautifully packaged En Rama and Palma bottlings.
And then … there are the region's youngsters. They too would like a role in saving their region for the future – but how? A benchmark fino like Valdespino'sInocente is literally the work of generations, and financing its ten-criadera solera requires huge resources. Even buying an almacenista (a private stockholder or wholesaler) demands substantial capital. What if you don't have any?
The answer lies in those great vineyards, but outside the DO. It means table wines, and it means terroir.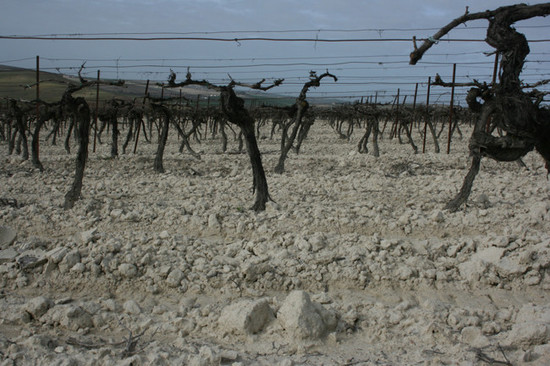 The sherry grape is Palomino, and at first glance it doesn't seem well-disposed to the youngsters. It's a low-acid white of neutral character, and Jerez (which lies south of Tunis and almost as far south as Algiers) has a hot climate. Barbadillo's Castillo de San Diego is the leading local Palomino table wine and sells well nationally, though it doesn't trigger much critical rhapsody. "It's improved," a Spanish friend told me. "It now tastes like wine, whereas it used to taste like water. But it's still mostly drunk by people who don't like wine." You can buy this Vino de la Tierra de Cádiz for €3.58 from Barbadillo's own website. A price like that betrays modest ambitions. It does its job honorably, but it won't save Jerez's soul.
Step forward, into this unpromising scene, Ramiro Ibáñez. He's a deep-thinking, widely experienced consultant who formerly worked for one of Sanlúcar's biggest co-operatives, Virgen de la Caridad, as well as the local viticultural research station. He now has his own little wine workshop down on Sanlúcar's waterfront, within view of the ferry which shuttles to and from the Cota Doñana, working under the Cota 45 name. He gave me a crash course in the region's seven different soil types in the region and their "mouth geometry"; he also explained the differences between vineyards which face the Atlantic Ocean and those which are sheltered from it. And through his wines, sold under a variety of different names and 'editions', he is attempting to lend all of these differences sensorial expression, mostly using Palomino, but calling on other varieties like PX and Uva Rey, too. If your only experience of Palomino table wine is Castillo de San Diego, Ibáñez's wines are a revelation (see below).
Step forward, too, Fernando Angulo and Alejandro Muchada. Both of them have worked in Champagne, and know Anselme Selosse; both are mindful of the similarities between Jerez's chalks and sands and those of distant Champagne. Both have seen and noted the grower revolution in Champagne, too – a region where the hegemony of the large company and its pan-regional blends, once thought absolute, is now at an end. Why not here, too?
From a tiny cellar in the centre of Sanlúcar, they produce a bewildering array or more-or-less natural sparkling wines and one or two still ones, too, under the Alba label. These include single-vineyard releases – since their quest, too, is for the complexity which can, they claim, only come from great sites treated with the maximum of respect.
No debate about maximising the sense of terroir in wines from Jerez would be complete, though, without alluding to the fact that this is palpable in sherry as well, particularly in Fino and Manzanilla styles. When recently in Jerez, I spent some time with the Estévez group's winemaking chief Eduardo Ojeda, tasting young wines and different solera stages for both La Guita Manzanilla (including wines from the gently sloping, consummately maritime site of Miraflores, with its russet lustrillo soils) and for Valdespino's Inocente (from the steeper, more 'continental' site of Macharnudo, with its brilliantly white albariza soils).
It is Ojeda's almost obsessive contention that vineyard origin is just as important in creating the final personality of a sherry as is 'the sherry method' itself – and the comparison between the two sets of raw materials was certainly striking. Macharnudo base wines are masterful, voluminous, concentrated and structured, while Miraflores base wines tend to be supple, fugitive, grainy and saline. The group has set itself other terroir challenges: from 2015, for example, all its fortifying spirit is distilled from local Palomino (a sherry first), while it will have a Macharnudo brandy to sell in due course. "Whether it will be good or not, we don't know yet," says Ojeda "– but we're certain it will be more authentic." That, perhaps, sums up Jerez's future.
Image: Ramiro Ibanez of Cota 45 © Andrew Jefford
Tasting Terroir in Jerez
Ramiro Ibáñez produces the best unfortified wines I've yet tasted from the Jerez region: sensitive, questing wines of great insight and nuance, though quantities are tiny and they require explanation if you are to get the most out of them. They prove firstly that Palomino can be a great vehicle for the non-fruit notes we call mineral; secondly that it can deliver wines of real substance here; and thirdly that marked acidity is not necessary for balance in Jerez table wines.
Best of all were two 2015 wines tasted from cask (one from the Carrascal vineyard of Sanlúcar and one from the Maina vineyard of Sanlúcar), both of which had been given two days of sun-drying after the harvest: truly dense, brimming with allusive richness (dry grass, rice, malt, seaweed). Among the bottled wines the non-vintage Cinque from the Pitijopos 'Volume 1' series was haunting (understated scents of bread, honey and powdered stone, with a mouthfilling, low-acid yet firmly structured flavour evoking, perhaps, quince and turmeric, 91) while the 2013 Palomino Centenario from the UBE range, made from three types of old-vine Palomino grown on grainy Antehojuela Albariza soils showed enticing wild hawthorne scents and had a more pungent, assertive flavour with an almost tannic finish (89).
The Alba wines are variable in quality but the best are unique and compelling, once again proving that Palomino can convey 'minerality' effectively, and that early harvesting for this grape in this place need not mean a raw, unyielding style or hard acidity. Jerez Palomino, remarkably enough, seems able to convey its intrinsic amplitude within an alcoholic spectrum which ranges from 10.5% to 14%. Best of all from Alba is the non-vintage Ancestral: teasing scents of saltmarsh, clifftop grasses and a little grape sweetness, with a poised, well-rounded, tingling flavour in which the flavours of straw, fennel, saffron and peach are expressed with typical chalk elegance and finesse (90).
It's worth noting, too, that the Equipo Navazos range includes the unfortified Niepoort Navazos, pressed from Macharnudo grapes and butt fermented. The 2014 vintage is fresh, softly yeasty, tangy, with subtle, gentle, understated flavours of green malt and chalk dust (89).
Translated by Sylvia Wu / 吴嘉溦
All rights reserved by Future plc. No part of this publication may be reproduced, distributed or transmitted in any form or by any means without the prior written permission of Decanter.
Only Official Media Partners (see About us) of DecanterChina.com may republish part of the content from the site without prior permission under strict Terms & Conditions. Contact china@decanter.com to learn about how to become an Official Media Partner of DecanterChina.com.