Chateau La Lagune
3rd Cru Classe, 1855
Haut-Médoc
+33 (0)5 57 88 82 77
www.chateau-lalagune.com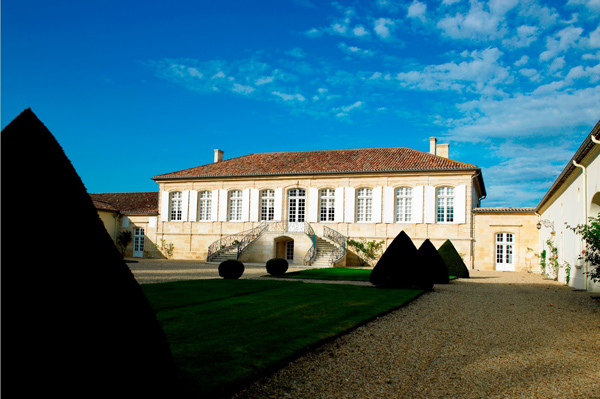 Location: AOC Haut-Médoc, about 20 kilometres from Bordeaux city centre, near to Chateau Cantemerle.
Production: 80 hectares of vines, producing around 20,000 cases per year of the first wine, and around 8,000 cases of the second wine.
Five things you didn't know about Chateau La Lagune
- The same architect as Bordeaux's Grand Theatre, Baron Victor Louis, built the La Lagune chateau in 1730.
- Owner Caroline Frey (pictured) was instrumental in the fight against an unsightly television antenna on Rhone's famous Hermitage Hill (where she also has a wine estate), and was part of the project that has now seen it listed as a national historic monument.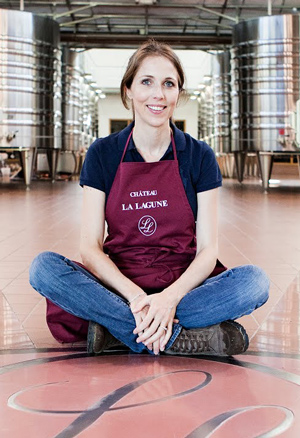 - Part of the vineyard at La Lagune is worked by horses; harvest 2012 was carried out entirely by horses. (Caroline Frey is also a horse lover. She used to be a show jumper at a national level, and you will see photos of horses decorating the walls at the chateau).
- In 1958, when George Brunette bought the estate, there were barely five hectares left in production. He began the replanting programme that has seen it grow to 80 hectares today.
- This is the highest ranked AOC Haut-Médoc estate in the 1855 classification. There are only five Haut-Médocs in the entire ranking (most being in more prestigious AOCs of Margaux, Saint Estephe, Saint Julien or Pauillac); the other four are Chateau La Tour Carnet (4th Growth), Belgrave (5th Growth), Camensac (5th Growth), Cantemerle (5thGrowth). In earlier (local) classifications before 1855, La Lagune had been named a 3rd Growth, so benefitted from a promotion at just the right time – although no one knew at the time of course that it would still be going strong 150 years later.
Current owner: Caroline Frey, who is also an oenologist and winemaker. Her time is divided between La Lagune in Haut-Medoc and Tain l'Hermitage in the Rhone Valley where she oversees all the works in the works in both vineyards, wineries and cellars with her winemaking team. Her father Jean-Jacques Frey is a successful business man with a fortune estimated at €300 million.
Most notable previous owner: The de Seze family, who owned the property for several centuries, were pretty remarkable. Apparently Jean de Seze was the only lawyer of Louis XVI to avoid losing his head during the French Revolution! They were big wine owners in Saint Emilion and the Médoc, right back to 1450. There is a hotel in downtown Bordeaux today named after the family.
Other chateaux owned: Domaine Paul Jaboulet Ainé (and negociant Paul Jaboulet Ainé) in the Rhone Valley, with most famously Hermitage La Chapelle. The Frey family also own a 45% stake in Champagne house Billecart-Salmon (Caroline was born in the Montagne de Reims).
Commercial strategy: 100% négociants, 85% export.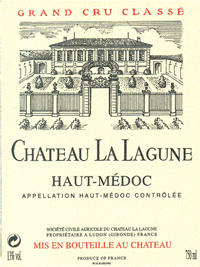 Second wine: Le Moulin de la Lagune. They also make Mademoiselle L, from 30 hectares of vines that are higher up in Medoc and were a former cru bourgeois estate (it now produces around 120,000 bottles per year).
Through the centuries:
A little later than some Médoc chateaux, vines were first planted here in the 16th century, and the first recorded winemaking started in the 1580s by a Monsieur Eyral. But things didn't get really serious until the 18th century, when the politically-powerful de Seze family arrived, and began turning it into a well-known quality vineyard. They did such a good job that La Lagune was awarded 3rd Cru Classé in 1855, the only AOC Haut-Médoc estate to have such a high ranking. In 1958, finally wiped out by the devastating frosts of 1956, descendents of the de Seze family sold up and George Brunette bought the estate, which had just a few hectares left in production – he began an extensive renovation programme which is responsible for many of today's best vines. He sold the property in 1961 to the Ayala Champagne firm – which is how it ended up in the Frey family hands, as they bought La Lagune from Alain Ducellier of Ayala in 1999. He was a friend of Jean-Jacques Frey, and sold both Ayala and La Lagune to the Freys at the same time (they have since sold Ayala to Champagne Bollinger).
Consultant: Denis Dubourdieu (who also works with the Frey family at Jaboulet in the Rhone). Dubourdieu was Caroline Frey's professor during her oenology degree in Bordeaux.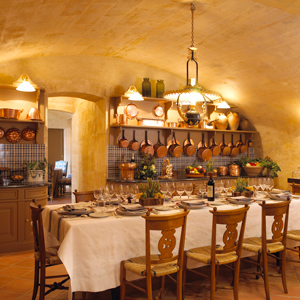 Plantation and vineyard work:Cabernet Sauvignon (60%), Merlot (30%), Petit Verdot (10%) planted to 6,666 vines per hectare. Average age of vines 30 years. Pierre Vital is the vineyard manager. Vines planted in north-south rows. Sustainable agriculture with increasing trials in biodynamic farming. Since 1998 La Lagune has practised massal selection to propagate its vines, to ensure they are preserving the best vines of the estate. Frey has said of this, 'it is a long-term project, very expensive, but we are doing it for the future generations of winemakers here.' Part of the vineyard at La Lagune is worked by horses. Laetitia Julien is Quality Control Manager, responsible for ensuring the vineyard is in line with the ISO 14001 standard – a certificate of environmental excellence. Each harvest, 140 pickers are brought in to bring in the grapes by hand.
Major improvements in the vineyard between 2000 and 2002 include raising the canopy cover and carrying out a study of the soils and subsoils to ensure viticulture is fully adapted. The average yield is 35 and 40hl/ha depending on the vintage.
Organic practice is implemented in the entire vineyard and within 3 years conversion, La Lagune will be fully certified organic. The unique blend in La Lagune is Petit Verdot and has substantially the highest percentage in Medoc - in recent years, up to 15% for some vintages.
Vinification: Each year, Caroline Frey is hands on in vinification together with Technical Director, Patrick Moulin and Cellar Master, Jerome Juhe in one of the most modern cellars in the Médoc (and if you want to delve into the history of La Lagune, head to Patrick Moulin, who has been with the estate since 1971). Covering 2,000m2, the winery has 72 thermo-regulated tanks, laid out in a circular pattern, and using only gravity for moving the grapes. Two elevators take small cagettes holding the grapes up to three separate stages of sorting tables that are on the first level of the winery, and from where the grapes can be emptied into the vats by hand. Two weeks of alcoholic fermentation with gentle progressive extractions in search for fruit and elegance, then malolactic in vats for free run juice, and in barrel for the press wine. Blending takes place in December, before the ageing begins in 50% new French oak barrels for the first wine. Egg white fining. The second wine, Moulin de La Lagune, uses 30% new oak barrels.
Terroir: White pebbles and gravel from the Tertiary and Quaternary eras. Vineyard is located close to the Gironde river.
Recent improvements or changes:
There are some excellent wine tourism facilities at La Lagune, and bedrooms where guests can stay overnight, looked after by a caring in-house team and the first woman chef engaged by La Lagune, Canadian Catherine Negre.
In 2013 La Lagune launched the La Lagune and Paul Jaboulet Aine travel experience, which offers VIP wine and gastronomy trips in Bordeaux and the Rhone, including a visit to Le Restaurant Pic in Valence, managed by France's only female Michelin-starred chef, Anne Sophie Pic.
The programme includes: cellar tastings and verticals of La Lagune, tastings of Domaine Paul Jaboulet Aine wines at the breathtaking Hermitage hill and experience the mythical Hermitage La Chapelle, enjoy an insight into the makings of a grand wine and tour the state of the art winery to meet Caroline Frey and share her philosophy and approach to winemaking at both Chateau La Lagune and Paul Jaboulet Aine.
Recent Decanter scores:
2012 en primeur – 17.25 points/20
2011 en primeur – 17 points
2010 en primeur – 18 points
2009 en primeur – 17.5 points
2008 en primeur – 16 points
Average bottle price in UK: £30-£65
- Follow us on Weibo @Decanter醇鉴

and Facebook

for most recent news and updates -
All rights reserved by TI Media Ltd. No part of this publication may be reproduced, distributed or transmitted in any form or by any means without the prior written permission of Decanter.
Only Official Media Partners (see About us) of DecanterChina.com may republish part of the content from the site without prior permission under strict Terms & Conditions. Contact china@decanter.com to learn about how to become an Official Media Partner of DecanterChina.com.