Classification: 4th Cru Classé, 1855
Contact:
33250 Saint-Julien Beychevelle
+33 (0) 556 73 21 50
www.chateau-talbot.com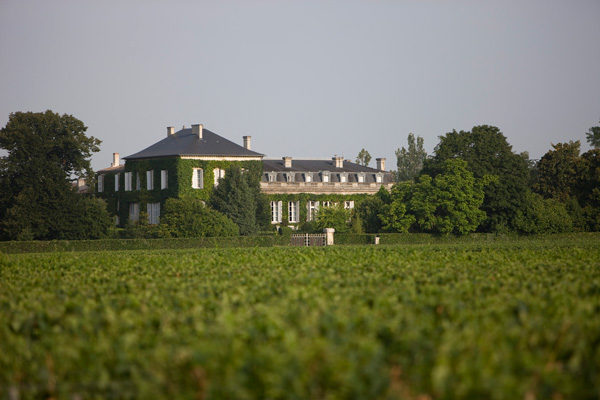 Location: AOC Saint Julien.
Production: 107 hectares, producing around 400,000 bottles of wine, between first and second label, and the dry white.
Five things you didn't know about Château Talbot:
- John Talbot, the man who gave his name to the château, was killed during the Battle of Castillon, the battle that returned Bordeaux to France after 300 years of English ownership that established the modern system of buying and selling Bordeaux wine and enriched many local châteaux. He was also known as Connétable Talbot, which is now the name of the second wine of the estate.
- One of the largest estates of the 1855 châteaux in the Médoc, in the 100 Club of 1855 properties with over 100 hectares/247 acres of vines. Among the few others with this many vines are Châteaux Lafite Rothschild, Yquem, Ducru Beaucaillou and Lascombes.
- One of the strangest innovations in recent years at Château Talbot is the use of Genodics; sound waves in the vineyard to stimulate the production of protein in the plants, and one of a new range of weapons against vine disease.
- Talbot made one of the first white wines in the Médoc, way back in 1930. There had been white wines in the 19th century and earlier, mainly from vines grown haphazardly with white and red vines grown in one plot, but this was one of the first to be made specifically as a quality dry wine. The vines were planted by then owner Georges Cordier, who was a lover of white Burgundy.
- 2017 will mark 100 years of the Cordier family owning Château Talbot. A new winery and barrel cellars are being built to mark the event.
Current owner: The Cordier family, with Nancy Cordier-Bignon and her husband Jean-Paul Bignon as directors, and Jean-Pierre Marty as general manager.
Most notable previous owner: That would have to be John Talbot, Earl of Shrewsbury and Governor of Guyenne (or Aquitaine). He was the last man standing against the French when Bordeaux was English territory, in the 15th century. Well, he would be the most notable owner, except there are no records that he actually owned the château. It may simply have been named in his memory.
Other châteaux owned: The Cordiers were once important négociants in Bordeaux, but today concentrate on vineyards. They also own Château Sénéjac (Haut-Médoc) as well as Domaine Saint Andrieu (Provence).
Commercial strategy: 100% négociants, sold en primeur through the Place de Bordeaux. For a long time, the Cordier family were responsible for 100% of the distribution, but this is no longer true.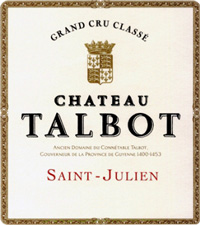 Second wine: Connétable de Talbot. Plus white white Caillou Blanc (75% Sauvignon Blanc, 25% Semillon, fermented and aged in barrels, producing around 27,000 bottles per year).
Through the centuries:
The name of the estate comes from John Talbot, an English general and governor of Guyenne (as this part of France was known as the time). His history is linked to another Médoc château, La Tour Carnet, which was the centre of English resistance against the French during the Hundred Year's War. In 1452, this château was the site of a plan hatched to ask for English help against the French, who had just retaken Bordeaux the year before. A delegation of Bordelais went over to London asking for help from Henri VI, and the King sent John Talbot, his best general. Talbot arrived in Bordeaux with 3,000 men and took the city back for the English (the locals were pretty happy about this, as they had been earning plenty of money through supplying the English with wine).
The French king was clearly not equally thrilled, and sent his troops to retaliate. In July 1453, the two sides met at Castillon. John Talbot rallied his men, but the legends goes that the first thing he uncovered, unfortunately, was a cellar full of wine, which his men reportedly drank with gusto. The next day's battle was essentially a massacre, possibly as a result of a huge hangover on the English side. John Talbot was injured, he fell from his horse, and was finally killed by a dagger through throat. The French won their victory, and Aquitaine returned to the French. Nostalgia for the good times stays in the name of Château Talbot – the last man standing in the battle to keep Bordeaux English.
However romantic this story is, no one is quite sure if he actually owned the estate, but by the 1700s, the name Talbot appears on vineyard maps of the area, when it was owned by a French aristocrat, the Marquis d'Aux de Lescout. He was the owner in 1855, when it was named a Fourth Growth under the name Château Talbot.
In 1917 Bordeaux wine merchant Désiré Cordier became owner, first only of a section of the property, and later of the whole thing, reuniting an historic property that had broken up over the proceeding decades. He was followed by his son Georges, then his grandson Jean, and finally his great grand-daughters Lorraine and Nancy. Lorraine sadly died in 2011, but her sister Nancy continues to manage the estate today with her husband Jean Paul Bignon.
Consultant: Stephane Derenoncourt since 2008 working in the vineyard and cellar, together with Eric Boissenot as oenologist for blending and tastings. The estate's own oenologist is Jean-Pierre Marty, with Jean-Max Drouilhet as winemaker.
Plantation and vineyard work: Cabernet Sauvignon (67%), Merlot (27%), Petit Verdot (4.5%), Cabernet Franc (1.5%), planted to 7700 vines per hectare, with vines an average of 45 years old. Traditional double guyot vine training. Hand-harvesting. Christian Hostein is technical manager.
Vinification: Talbot has a modern winery, with a blend of stainless steel for younger vines and truncated cone-shaped wooden vats for the oldest, most complex plots. The wine is macerated and vinified for around three weeks, and aged in around 50-60% new oak, from eight different barrel makers, for between 14-16 months depending on vintage. Jean-Max Drouilet, cellar manager.
Terroir: Alluvial gravel, a little further set back from the Garonne river than some of its Saint Julien neighbours, with a limestone bedrock. On one of the highest gravel hills, rising up to 23 metres above sea level, about as high as it gets in the Médoc.
Recent improvements or changes:
Prices have been rising in the secondary market for this wine over the past few years, a reflection of the improved quality in the wine itself. Quality has definitely had its up and down moments at this property, but the last 10 years have seen far greater consistency.
A new barrel ageing cellar, able to contain a full 1,800 barrels, has just been completed, and is pretty amazing, with the barrels sitting under a forest of pillars meant to represent the roots of a vine. A new grape reception area is also underway, due to be finished by harvest 2014. Caillou Blanc will have its own vinification room and ageing cellar for 100 barrels.
Recent Decanter scores:
2012 en primeur – 16.75 points/20
2011 en primeur – 17 points
2010 en primeur – 17 points
2009 en primeur – 17 points
2008 en primeur – 15.5 points
Average bottle price in UK: £25-£55, depending on vintage.
All rights reserved by Future plc. No part of this publication may be reproduced, distributed or transmitted in any form or by any means without the prior written permission of Decanter.
Only Official Media Partners (see About us) of DecanterChina.com may republish part of the content from the site without prior permission under strict Terms & Conditions. Contact china@decanter.com to learn about how to become an Official Media Partner of DecanterChina.com.