Students regularly ask me if the WSET will ever cover Chinese wine knowledge. Considering that the courses are delivered all around the world, it makes sense that their content revolves mostly around wines with a global outreach, and thus the inclusion of Chinese wines within the syllabus will greatly depend on the development of their diffusion on the international scene.
That said, with the number of Chinese candidates increasing year after year and the growing interest for what is happening in China, I wouldn't be surprised to see the Level 3 dedicating a couple of pages to it very soon. As I've just spent two weeks in Ningxia, I thought I could try to depict the region according to WSET's structure.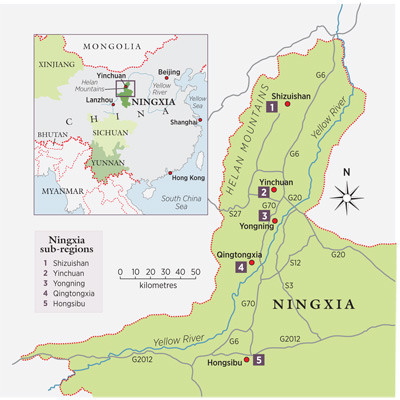 Climate
Ningxia is an Autonomous Region located in the centre of Northern China. Vines are mainly grown in the "Helan Mountain Eastern Foothills" Geographical Indication, situated in the North of the region, between the Helan Mountains to the West and the Yellow River to the East.
Very few rain-bearing clouds manage to pass across the Gobi Desert situated on the other side of the mountains range, making the region extremely arid, with annual rainfall circa 200mm, exacerbated by a strong and dry Siberian wind in areas away from the sheltering effect of the mountains.
Although the absence of clouds implies a wide diurnal range and an increased luminosity beneficial to the vine photosynthesis, it also spells extremely low temperatures during winter nights, with minimal temperatures often reaching below -20C.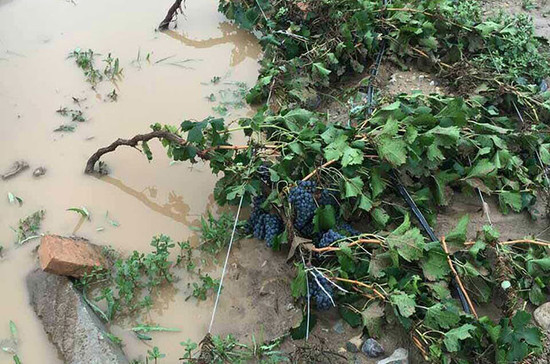 Vineyard Management
Vines are planted on flat poor soil made up of sierozem (a calcareous soil with low organic content), sand and/or clay with varying amounts of stones depending on the vineyards' distance to the mountains (the closer the more stones).
In older vineyards, grapes are grown along a single vertical cordon (a system locally called "du long gan"), leading to uneven ripeness between clusters close to the soil and those situated higher along the vine. Recent vineyards are mainly trained into a semi-horizontal cordon fashion ("Chang character [厂] system"), allowing for a more even ripening of the grapes, but also facilitating the bending down of the vine for winter-burying.
Burying the vines during winter is essential to avoid winter-frost and desiccating-winds from killing the plants, considerably increasing vineyards' management costs.
The extremely dry weather and the absence of phylloxera and nematodes allow vines to be planted ungrafted, despite a very salty and alkaline ground nature (between 8 and 9pH).
Besides cold and dry winters, high salt content soils, another natural hazard often disastrous for the region are the recurrent floods which can wipe-out entire vineyards within a few minutes, especially when heavy rains fall after weeks or even months of total drought. Hail is another threat local winegrowers regularly have to face.
Irrigation is widespread, with traditional vineyards using the flood or furrow method (many pumping the water from the Yellow River), but more and more vineyards are opting for the water-saving drip irrigation system.
Winemaking
Relatively low labour costs together with a particular training system mean that grapes are manually-harvested.
Red wines fermentation is often preceded by a cold-soak of a few days in order to extract more colour and aroma precursors.
Fermentation temperatures are generally kept low to retain the aromas' freshness, and malolactic fermentation is generally avoided in white wines in order to preserve acidity.
Wineries' top wines are generally aged between 12 and 24 months in partially new French oak barrels. While modern wineries tend to favour medium-toast barrels, more traditional ones still age their wines in heavily toasted barriques, producing wines with pronounced empyreumatic aromas (coffee, chocolate, charred wood…).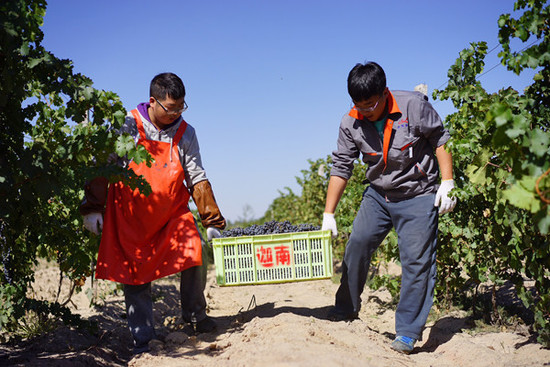 The Wines
Cabernet Sauvignon is king here, making up to 70% of red grapes plantings! Most red wines show a deep colour and the nose is often marked by a mix of ripe red fruits (raspberry, strawberry) intertwined with dry fruits (prune, date), oak-derived aromas (coffee, chocolate) and some medicinal notes (licorice, roots), especially when the dubious Cabernet Gernischt (thought to be the same variety as Carmenere) is blended-in. The palate is often marked by a sweet sensation, sometimes due to some residual sugars (often between 2.5 and 4 g/l) coupled with a medium to low acidity and a relatively high alcohol (often up to 14.5% and more).
White wines are dominated by Welschriesling, locally called Italian Riesling, and Chardonnay. The former is mainly used to produce simple, light-bodied, unoaked dry white wines made for early consumption. Chardonnay is used to make more ambitious wines, often aged in oak barrels following a fermentation at low temperatures in stainless steel vats, giving medium-bodied wines with quite pronounced stone (peach, nectarine) and tropical (banana, passion fruit) fruit aromas accompanied by toasty flavours.
The industry
Estates' sizes range from a mere 5 hectares for the more artisanal ones to over 1,000 ha for the bigger players. Although most wineries grow their own fruits, most buy-in grapes from local growers in order to fulfil their needs.
Distribution methods vary significantly between wineries: smaller ones favour direct sales, while the bigger ones have set up marketing subsidiaries, distributing their products through a network of regional wholesalers or retailers. A few boutique wineries rely on the well-established networks of foreign wines importers.
It is also worth mentioning the action of the Ningxia Government which has been strongly supporting winegrowers, by sponsoring the establishment of irrigation systems or by substantially rewarding wineries getting gold medals at various wine competitions.
These are only a few key facts about Ningxia, and much more could be said about the region's wines (not to mention the other regions such as Xinjiang, Shandong, Yunnan, etc.). Nonetheless, if even half of it could integrate an internationally provided course, wouldn't it be great for the Chinese industry?
Editor's note:
Ian Harris, WSET Chief Executive, told DecanterChina.com yesterday,
"Our research and development team are constantly monitoring changes in the wine and spirits market to ensure we offer the most relevant, up-to-date education. Many new emerging regions are producing outstanding wines in unique growing conditions which are making their way on to the global market, so as we work towards a newly updated WSET Diploma in 2019 we are looking at incorporating them into the syllabus. China is one of these regions which is under review."
Translated by Sylvia Wu / 吴嘉溦
All rights reserved by Future plc. No part of this publication may be reproduced, distributed or transmitted in any form or by any means without the prior written permission of Decanter.
Only Official Media Partners (see About us) of DecanterChina.com may republish part of the content from the site without prior permission under strict Terms & Conditions. Contact china@decanter.com to learn about how to become an Official Media Partner of DecanterChina.com.