Surrounded by France, Italy, Germany and Austria, Switzerland receives huge influence from these major wine producing countries.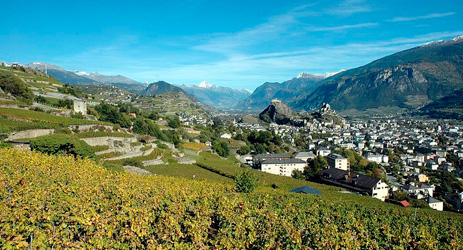 In the 19th century, downy mildew, powdery mildew and Phylloxera destroyed about 60% of Switzerland's plantings, worse any other Old World country. Since then, Swiss winemakers have strived to maximise production on their limited vineyards (mostly situated on steep slopes), which is still reflected in Switzerland's viticulture today.
The generally high altitude of Switzerland limits suitable planting areas for grapes. Most Swiss wines are produced from areas close to its western border with France – the flatter area at the southwest side of Lake Geneva (the area is also called Geneva), Vaud at the northern shore of Lake Geneva, and the Valais, which is the upper valley of the river Rhône.
There are also plantings along Switzerland's southern border with Italy (Ticino) and north-east border with Germany.
The distinctive style of Swiss wine lies in its low acidity. Largely different from German and Austrian wines, acidity is considered a less desirable characteristic in Swiss wines, and is usually softened by malolactic fermentation and chaptalization.
The white grape Chasselas is the specialty variety in Switzerland. It accounts for almost half of the plantings and is responsible for many ripe, full-bodied white wines which are usually very low in acidity. It is known by different names (Gutedel, Fendant, etc) in different producing areas. Other important white grapes include Sylvaner, Aligoté, Müller-Thurgau, Pinot Gris and Pinot Blanc. Pinot Noir and Gamay are the most important red varieties, responsible for not only excellent red wines, but also some outstanding rosés.