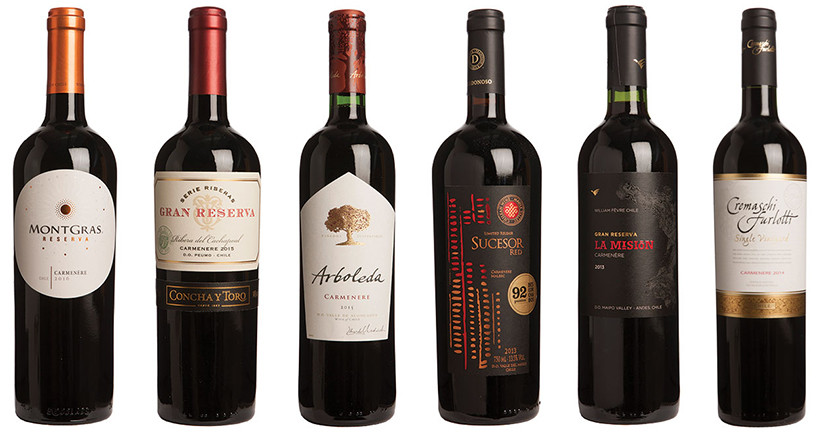 Carmenere is the James Bond of wine grapes. It's mysterious, with a past shrouded in conjecture. No one knows how best to handle or contain it. It's often been on the ropes – for instance, when phylloxera virtually wiped it out in Bordeaux – but it has proved a dogged survivor, popping up in unexpected places. It goes under many pseudonyms, from 'Shelongzhu' (China) to 'Merlot Chileno' and (the best) 'Black Bordeaux' (Italy).
But it's Chile where the variety has made itself at home. After phylloxera, Bordeaux growers proved reluctant to replant Carmenere, because it was finicky, late-ripening and tricky to graft. But Chile was (and has remained) ostensibly phylloxera free and has the kind of warm, dry climate in which late-season reds can thrive. When Carmenere arrived in the mid-19th century, mixed plantings were the norm and somehow it was subsumed into the 'Merlot' category, known by growers as 'Chilean' or 'late' Merlot, and sold under the same moniker. Hence the distinctive, peppery style of Chilean 'Merlot'.
These days, Carmenere tends to be grown, made and promoted as a separate cultivar. Plantings have increased. And yet opinion within Chile remains divided. Many still believe Carmenere to be fundamentally limited, tricky to grow and good only for blends. Others point to Chile's short track-record with it and advise patience.
Rapid progress
Research has shed more light on the subject. Yerko Moreno at Talca University has provided answers to the long-standing questions about Carmenere's poor fruit set and clonal diversity. Casa Silva's micro-terroir project has provided guidance on Carmenere's most propitious microclimates (warm but with moderating influences) and soils (well-drained but not too fertile). Other growers are taking Carmenere out of what were traditionally deemed the best sites for it (hot, central valley sites on deep alluvial soils) and experimenting in markedly different terroirs, often with exciting results.
Central Colchagua and Cachapoal have long been Carmenere heartlands. Now though, it is spreading into cooler eastern (Andean) or western (Pacific-influenced) extremities. The likes of Elqui, Limarí, Aconcagua and Curicó are all finding success – while Maipo and Maule lead the field. Winemaking is increasingly nuanced, with less heavy-handed use of oak and extraction.
For now Carmenere remains a bit-player, but it attracts disproportionate interest and has many fans. For a country that often complains about lacking identity and narrative, Carmenere offers an intriguing back-story and potential for uniqueness.
Chilean Carmenere: know your vintages
2016
Late season hit by torrential harvest rains gave lighter reds of variable quality that are approachable now.
2015
Hot, dry growing season gave effusive, engaging wines for early drinking. Drink to 2021.
2014
Spring frosts sent yields plummeting. Best wines are juicy and lifted. Drink to 2022.
2013
Late, rainaffected vintage. Bright, fresh wines of moderate concentration. Drink through 2019.
2012
Torrid heat. Drink up.
2011
A coolish year gave well defined, often excellent wines that are drinking well now.
2010
A long, dry growing season that gave some outstanding results. The best wines drink well now.
2009
Warm year, resulting in generous
Peter Richards MW is a wine writer, broadcaster and consultant, as well as DWWA Regional Chair for Chile
Chilean Carmenere: the facts
Chile national wine vineyard 141,918ha
Carmenere plantings 10,861ha (8% of overall Chilean vineyard)
Growth in Carmenere 2005-2015 +59% Volume produced (2016) 101 million litres
Key regions for Carmenere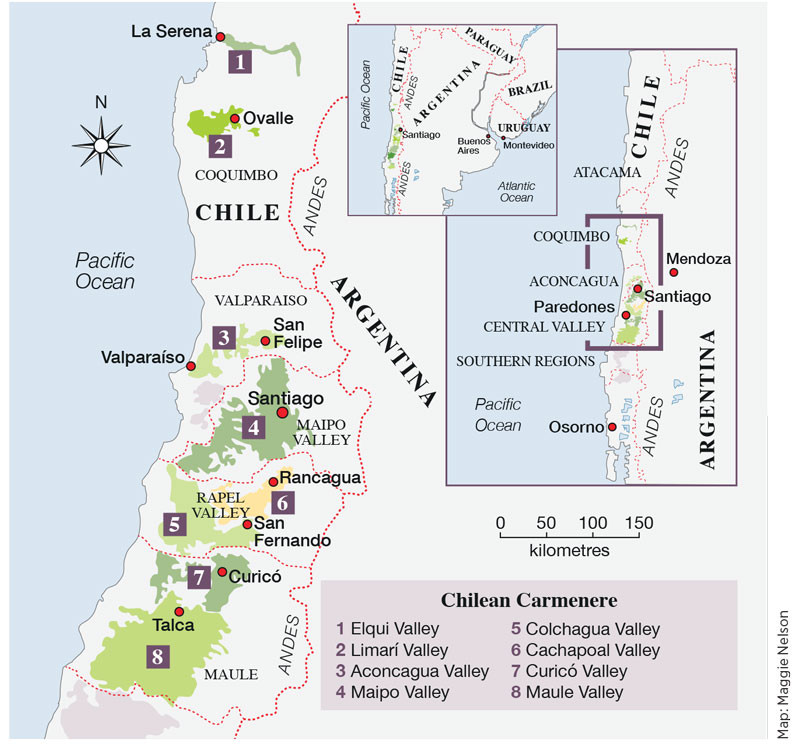 Colchagua (4,145ha), Maule (2,348ha), Cachapoal (2,102ha), Curicó (1,238ha), Maipo (991ha)
The results
Disappointed with the quality on show from Carmenere's Colchagua heartland, our panel found plenty of promise and much to discuss in other regions, says Tina Gellie
The scores
129 wines tasted
Exceptional: 0 Outstanding: 4 Highly Recommended: 23 Recommended: 66 Commended: 25 Fair and Poor: 11
The judges
Alistair Cooper, Peter Richards MW, Patricio Tapia