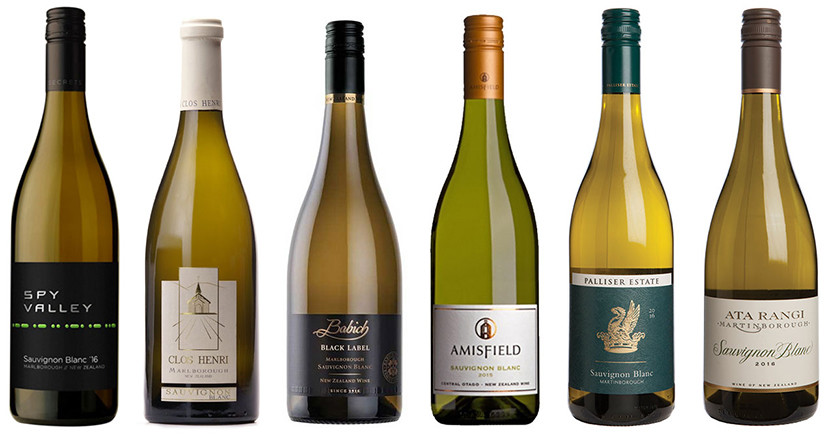 NZ Sauvignon Blanc: the facts
Vineyard area (2016) 21,016ha (58% of national vineyard)
Harvest (2016) 303,711 tonnes (72% of national grape harvest)
Area of Sauvignon Blanc planted in five major regions (2017)
Marlborough 18,380ha;
Hawke's Bay 935ha;
Nelson 559ha;
Wairarapa 318ha;
Other 824ha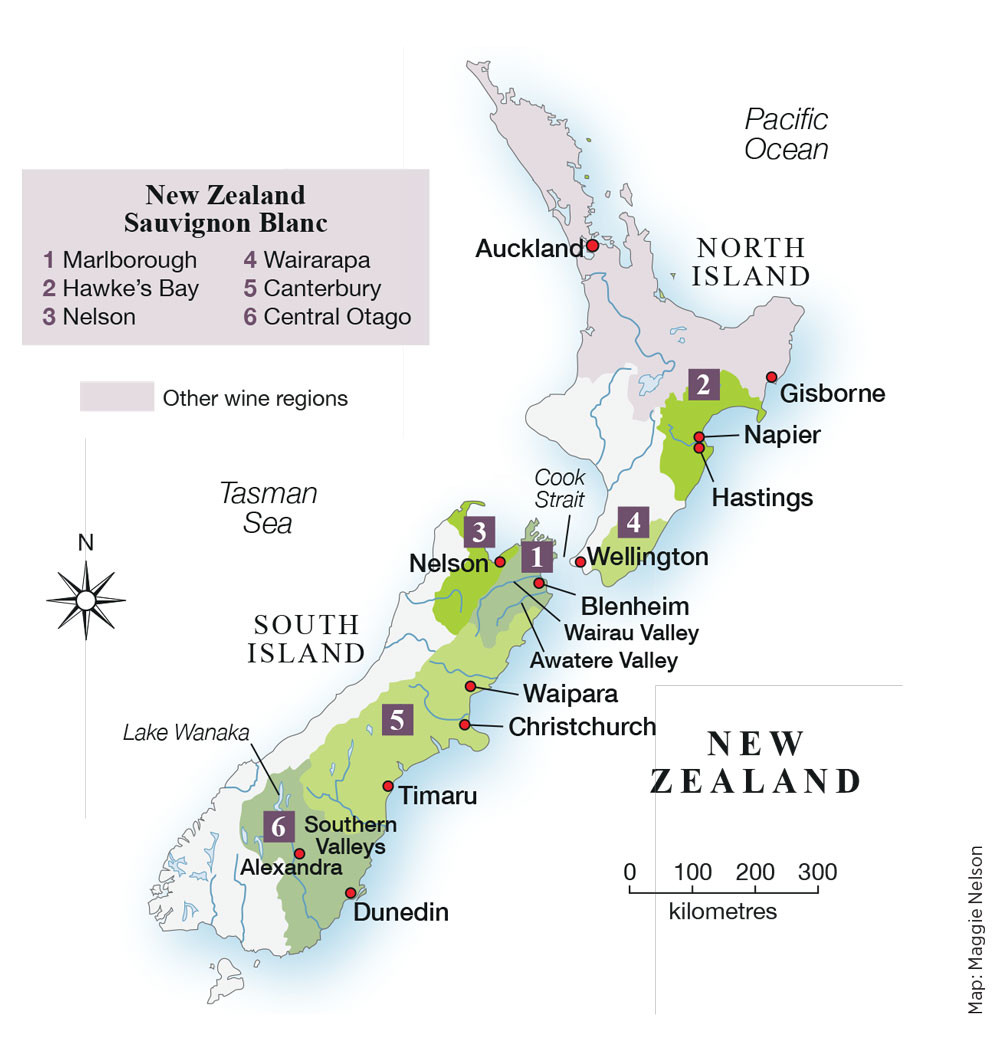 NEW ZEALAND SAUVIGNON Blanc can be divided into two parts. The larger and indeed more commercial portion is consistent and distinctively fruity, with pungent, crisp gooseberry, capsicum and passion fruit flavours. Marlborough is by far the major source, although other regions produce similar styles. This is distinct from the 'fine wine' side of NZ Sauvignon Blanc – typically more intense, while often showing a greater sense of place and a stronger winemaker signature. A group of Marlborough winemakers are in the process of registering a distinctive logo that they hope will differentiate superior wines from others.
Marlborough Sauvignon Blanc is distinguished by a contrast of tropical fruit with grassier, more herbal flavours. If you are able to visit a Sauvignon Blanc vineyard in Marlborough shortly before harvest, find a bunch of golden grapes that are well exposed to the sun. Pluck a grape and pop it into your mouth. It will taste quite sweet, with passion fruit and other tropical fruit flavours. Now turn the same bunch over to its shaded underside and taste another grape. It's likely to be less sweet, more acidic and have grassier, greener flavours such as gooseberry, green capsicum and tomato leaf. When that bunch is picked and pressed, those contrasting flavours give it a distinctive fingerprint that I call the 'yin and yang' of Marlborough Sauvignon.
Extra dimensions
Flavours can be manipulated by plucking the leaves to allow more sun exposure on the shaded side of the bunch – a technique that helps to explain the growing number of top wines with a narrower range of flavour profiles as winemakers chase greater individuality.
Wines from a single sub-region can also achieve a narrower band of flavours and a stronger statement of style. An increasing number of Marlborough Sauvignon Blanc are being labelled as sub-regional wines (Awatere Valley, Wairau Valley and Southern Valleys), adding diversity particularly at the upper end of the market.
The number of wines with an oak influence is now growing. A small proportion, say 10%, of oak-fermented and -matured wine can add richness without compromising the wine's intense varietal aroma. Wines with overtly oaky characters, such as Cloudy Bay Te Koko, are a small but growing subset. Similarly wines with funky, reductive, struck-flint characters such as Dog Point, Section 94 add extra interest to the category, although they still make up a minority.
If you enjoy diversity it's worth trying the lusher wines of Hawke's Bay and the Wairarapa, and the sleeker, tangier wines from Nelson, Waipara and Central Otago. Anyone claiming New Zealand Sauvignon Blanc is boring simply needs to taste a wider range of wines.
Bob Campbell MW is the DWWA Regional Chair for New Zealand and is New Zealand editor for Gourmet Traveller Wine
The Judges
Melanie Brown, Bob Campbell MW, Cameron Douglas MS
The scores
93 wines tasted
Exceptional - 2
Outstanding - 3
Highly Recommended - 25
Recommended - 38
Commended = 10
Fair - 11
Poor - 0
Faulty - 4
The results
There was plenty of lively, crunchy fruit in evidence to keep palates refreshed, along with engaging styles and high scores from beyond Marlborough, reports Tina Gellie, acting editor of Decanter
This week try eight NZ Sauvignon Blanc recommended in Decanter panel tasting.