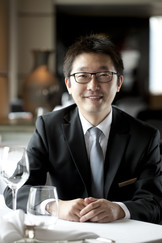 LU Yang is Corporate Wine Director for Shangri-La Hotels and Resorts, overseeing the group's wine program and sommelier team. Lu graduated from Viticulture and Winemaking Degree from Niagara College in Canada. Previously he spent 3 years as sommelier for Peninsula Shanghai where he profoundly raised the status of local sommeliers, and became the most important and influential sommelier in Greater China.
Lu is the champion of Best Sommelier Greater China (2014), and has won all 3 major sommelier competitions in China. He is the first Advanced Sommelier from Greater China, and holds WSET Level 4 Diploma. He is also regarded as one of the finest wine educators in the country. Lu writes, judges and speaks about wine regularly.
In August 2017, he became China's first Master Sommelier.