Every time I attend a wine event – be it a tasting or a wine dinner – I always meet people with the title 'sommelier' printed on their business cards. I would grab their hand tightly and ask earnestly, 'so you are a sommelier too, aren't you?' In most cases, their answer would disappoint me: 'actually, I'm working for X wine merchant', 'I'm a journalist at Y magazine', 'I'm an educator at Z wine school', 'To be honest, I don't really work in the wine industry…' Whenever this happens, I can feel the grey clouds gathering above me and I would think, 'so why do you print "sommelier" on your card…'
But to be fair, I shouldn't blame them. Sommelierie is such a new occupation in China that not just the consumers but also sometimes people working in the wine trade, even the sommeliers themselves, couldn't tell the definition, responsibilities and obligations of this job.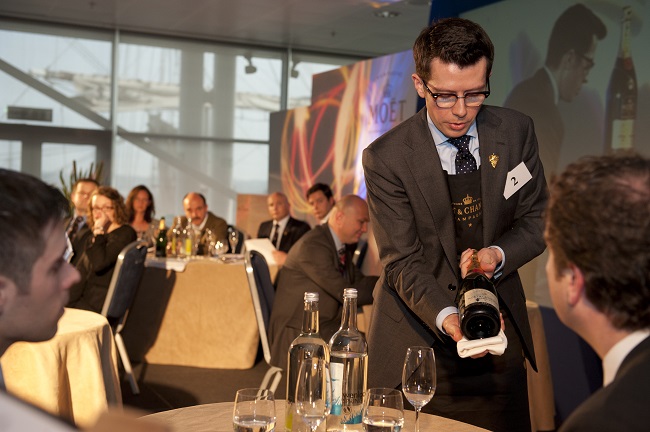 The history of sommelierie
Sommelierie have a long history in Europe: from the lowest position that in charge of wine transportation and storage for the noblemen in the 16th century, to the restaurant beverage manager and waiter in 19th century after the concept of contemporary catering was formed, to the increasingly more important role that serves the social celebrities and courtesans in the high-end restaurants during Belle Époque (a period of Western European history from late 19th century to early 20th century). In the past 30 years, sommelierie as an occupation developed rapidly in the emerging wine countries like the US and Japan, and not only became critical in the catering industry, but also gained a place in the wine world. The definition and responsibility of a sommelier were constantly changing and improving along the way. The sommeliers have their own associations and organisations in the developed wine consuming countries; their work was recognised by the consumers and whole society.
Early days for Chinese sommeliers
Although the best of the first generation of Chinese sommeliers – such as LI Meiyu in Beijing and GUO Ying in Shanghai – have become the stars in the wine and catering industries and good examples to the rest in the trade, the industry as a whole is still at the initial stage, and the overall level of Chinese sommeliers is no better than beginners. However, like any other occupation in China, the development is rather swift once started, and will more or less attach some 'Chinese characteristics'. Some educational institutions and media describe sommelierie as a 'golden profession', over-exaggerate the bright side of the job, and depict it as a high-income occupation. This image, plus the novelty value of a new thing to the society, results in growing interests of sommeliers; many young people set their career goals as 'being a sommelier', and more people want to have the title 'sommelier' with their names. Optimistically speaking, it is definitely a good thing having more new people to join this industry, more attention from the society, and more support from the wine trade. I believe the first generation of Chinese sommeliers all look forward to a more professional, more powerful, more influential and broader future of the sommelierie industry.
More importantly, we need to clearly explain to the public what a sommelier is, and the nature, responsibilities and obligations of this job, to make sure our colleagues in the wine and catering industries, the media, the consumers and those young people who want to become sommeliers all have correct understanding of this job.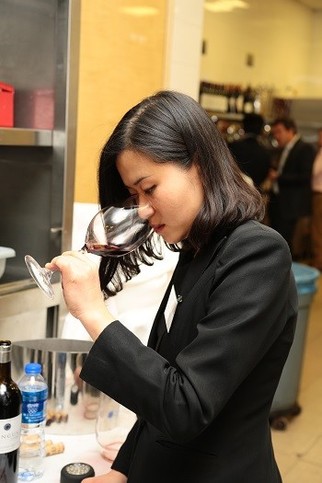 The word SOMMELIER consists of nine characters. It seems to me that each character stands for an ability or quality of a professional sommelier.
S – Salesmanship
O – Operation (front of house)
M – Management (back of house)
M – Modesty
E – Education
L – Leadership
I – Innovation
E – Ethics
R – Respect
S – Salesmanship
How can you tell if a sommelier is a 'good' one? Is it because of the glamorous certificates he/she holds? Or the trophies he/she won in the sommelier competitions? Or the high media exposure and popularity? These are some of the indicators, but not the most decisive one. The best sommeliers are those who can stably and constantly generate profit for the restaurants and hotels. And most of the young sommeliers lack of this understanding. After all, hotels and restaurants are businesses, and the ultimate responsibility of the sommeliers is to assist their employers to achieve success; to put it in a more straightforward way, the sommeliers need to know how to be a successful salesman and sell a lot of wines. Surely a man of noble character would acquire his wealth by honourable means. Delightful service, professional knowledge, integrated team, balanced yet characteristic wine list, innovative yet rational food and wine matching, trendy marketing methods and unique personality are the elements making a sommelier a successful businessman. Many fellow sommeliers may not like the idea of sommeliers being salesmen, but as Gérard Basset OBE MW MS once said, 'salesman is a noble job.' The sommeliers have to understand the importance of sales.
O – Operation (front of house)
The Chinese translation of sommelier (侍酒师, literally means people who serve wine) is very accurate, because it tells the nature of this job – 'to serve'. Thus, the work in a restaurant (front of house) is a significant part of a sommelier's job, and providing service (not just serving wines), or the operation of a restaurant is the basic of a sommelier's ability. Many young people who want to become a sommelier ask me how to find such jobs, my first question to them is always, 'do you have experience working in a restaurant?' 'No, I don't, but I have an ISG certificate and passed the WSET Level 3 exam.' Being a sommelier doesn't necessarily mean you have to remember the 33 Burgundy Grand Crus, or know every sub-region in Central Otago. But you must have the ability to please your guests, and to communicate with them articulately. If you don't know the basic service etiquette of Western-style food, how do you know the correct procedure of serving wines? If you don't know how to quickly and gracefully clear the table, how can you support your colleagues during the busy hours at the restaurant? If you don't have the experience of communicating with guests, how can you understand the guests' preferences in a short time and recommend wines correspondingly? If you don't have observational ability, how can you interactive with different guests? Most of the sommeliers in other countries started their careers from taking orders and serving dishes. Service experience cannot be taught from the books, but it is the basic ability of a sommelier, and is vital for a sommelier to form his/her own style in the future.
M – Management (back of house)
A sommelier's job used to be recommending and serving wines in a restaurant. Nowadays, their responsibilities are more complicated, including cellar management, stock control, cost-profit analysis, event planning and promotion, staff training and more. These are called back of house management. Currently in China, each hotel or restaurant normally can only afford one sommelier, so the management capacity of the sommelier is significantly important. A sommelier needs to spend a lot of time to build a suitable stock, and arrange time to manage the cellar; he/she needs to organise various wine events, such as tastings and dinners, and to promote them to more guests; he/she also needs to attend many internal meetings, communicate with chefs and restaurant managers, and staff at accounting, purchasing and receiving departments. Apart from these, a sommelier also needs to deal with a lot of emails, organise regular staff trainings, and even manage the glassware. If working in a hotel, a sommelier will have to do quite a lot of reports, so the ability of handling paperwork is also essential. He/she should have outstanding oral and writing skills, and be able to master computer softwares like Word, Excel, PowerPoint, and professional management system like CheckEAM, InfraSys, Micros and MC. These works sound boring, I know, and I can tell you that they are time-consuming, and make the time you spend in the restaurant to serve wines account for just 35% of your total working hours. However, these are the essential skills for a contemporary sommelier, and are the tools to help making the maximum profit from the wines.
M – Modesty
Sommeliers need confidence: confidently recommend wines to the guests, confidently working with the team, confidently communicate to other people in the trade. But confidence doesn't mean being arrogant. Humility is a must-have quality for the sommeliers. When talking to the guests, a modest sommelier will not stress out the guests who just started drinking wine, and give more confidence to the experienced guests. This will in return help the sommelier to recommend wines because the guests will trust him/her more. At the same time, humility can push one to keep studying in the wide world of wine, practising better in tasting, and having a deeper understanding of wines. It can also make one a good model among his/her colleagues, so that the sommeliers can be accepted and trusted by more consumers, and be promoted to more people. I think humility is a virtue of Chinese people, please don't forget it when you become a sommelier.
To be continued...
Translated by Nina Fan Feng / 冯帆
All rights reserved by Future plc. No part of this publication may be reproduced, distributed or transmitted in any form or by any means without the prior written permission of Decanter.
Only Official Media Partners (see About us) of DecanterChina.com may republish part of the content from the site without prior permission under strict Terms & Conditions. Contact china@decanter.com to learn about how to become an Official Media Partner of DecanterChina.com.