New research to discover how some of the world's greatest wines develop sweetness without the presence of sugar has pinpointed specific types of oak ageing as key, writes Jane Anson in her weekly column.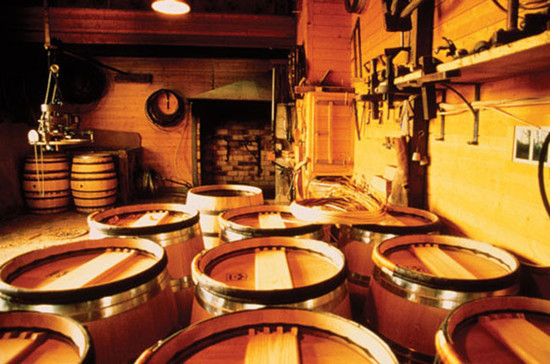 Jean-Baptiste Lécaillon of Louis Roederer has been working with upcoming Bordeaux oenologist Axel Marchal on a groundbreaking new project on oak ageing that has flowed out of that simple question of sweetness without sugar.
He has just taken delivery of three new oak vats in his cellars in Reims that will be used with Chardonnay grapes for Louis Roederer Cristal and Blanc de Blancs.
The inside of the vats have seen only the lightest of toastings to limit their aromatic imprint on the crisp minerality of the Chardonnay.
But what the new vats should do instead is to subtly impart a series of taste molecules.
The two most dominant of these, first discovered during Marchal's PhD research project, are called Quercotriterpenoside I and II (or QTT). These vats are the first worldwide to be guaranteed to contain these molecules in every stave, as each one has been examined and approved by Marchal prior to delivery.
'What we have found is that almost all commercial barrels are made from a mix of two different species of oak; pedunculate and sessile,' says Marchal, who has been working alongside professor Denis Dubourdieu at Bordeaux's prestigious wine research institute ISVV.
'Most coopers are not doing this consciously. They tend to source oak by origin – so forest location – and by the width of the grain, with tighter grain seen as the most desirable. But even the highly prestigious forests such as Tronçais in France have a mix of both species of oak growing naturally within them.
'What we have uncovered is that it is the species of oak that makes the greatest difference to taste. The research uncovered that oak contain naturally-occuring compounds that impart sweetness (the QTTs), and others that impart bitterness (there are several, but one of the key molecules is Glu-BA). Peduncular was richer in bitter compounds and sessile in sweet.'
Sessile oak has always been privileged for ageing wine. It contains many of the aromatic molecules such as vanillin and whisky-lactone that imparts the patisserie and coconut smells typical of oak-aged wine, but the discovery of the QTT molecules deepens our understanding of why. Taste is intensified by molecules of aroma, so a sweet taste will 'taste' sweeter if it is imprinted with the smell of vanilla. In this way, sessile oak wins on both counts.
Marchal's work goes further than simply identifying the molecules. Out in the forest, an expert can (probably) tell the difference between the two species visually. But once they have been cut into staves, all bets are off.
Marchal has developed a fool proof technique that takes just seven minutes to give a definitive answer, and can be used on staves, finished barrels or even wine. It's a technique he has used to guarantee the prototype 100% sessile oak barrels that have been assembled for Louis Roederer by Seguin Moreau cooperage, co-financers of the research.
Back in the lab, Marchal found that to pursue his particular area of interest, he had to start from scratch using liquid chromatography for isolating and identifying non-volatile substances (so picking out tastes not smells, a term coined gustatometry by the ISVV team). Much of it was technology that to date had been used more typically to identify tiny traces of illegal substances in athletes. At each stage of isolating the molecules, Marchal carried out a tasting with Dubourdieu and colleague Valerie Lavigne, painstakingly relating the molecules to their effect in the glass.
You can't yet buy a 100% guaranteed sessile oak barrel commercially. The ones in the Louis Roederer cellars in Champagne are the first, and remain at an experimental stage. But the future potential is clear, and a patent was granted in July 2014.
'The intention is to harness this knowledge to develop barrels that will respect the nature of wine,' says Marchal.
Translated by ICY
All rights reserved by Future plc. No part of this publication may be reproduced, distributed or transmitted in any form or by any means without the prior written permission of Decanter.
Only Official Media Partners (see About us) of DecanterChina.com may republish part of the content from the site without prior permission under strict Terms & Conditions. Contact china@decanter.com to learn about how to become an Official Media Partner of DecanterChina.com.