CH'NG Poh Tiong's column: Zuo Wang
Did you know the peach has been around for more than 4,000 years. And that it originates from China?
From there, it found its way to Persia. And after that spreading to Europe. In fact, the Western scientific name for the fruit is 'Persica' because Europeans had mistakenly believed peach had come from Persia.
Ancient Romans were equally wrong, and referred to it as 'malum persicum' or 'Persian apple'. English being the most widespread Western language in today's world, their word for the succulent fruit comes from the French which is 'peche'.
Last month, when I was in the south of France, peaches were in full bloom.
There were several varieties in the supermarket that I regularly patronised. One varietal was dark maroon with a thick fuzzy skin. Another was the more common varietal and had shades of pink, red and yellow all over. The rarest, and most expensive, were the white peaches.
When I saw the lightly coloured fruit, I immediately thought of peaches one sees on the streets in China when they come into season (including the flat varietal). The light hue of these elegant peaches also reminded me of girls blushing when they are embarrassed or excited. What a beautiful sight.
Last month in Provence, something else was competing with peaches for my attention. Actually, wine and fruit also competed to be as light in complexion as possible.
I am, of course, referring to the rosés of Provence.

My friends and I were very fortunate to visit not just a very beautiful estate, we were doubly lucky because the harvest was also taking place. In order to preserve the freshness in the grapes, they were picked just before sunrise. This meant that by the time we arrived around noon, the harvesters had already worked many hours and were just finishing work.
Although my friends and I did not help in the picking, we were generously invited to join the harvesters' lunch.
The tomato, olive and green vegetable salad and the lamb stew were paired with what is now arguably the most famous and certainly the most expensive rosé on our planet. Considering that it is just eight years ago that the wine first became known, it surely has to be one of the most remarkable success stories of the 21st century. (Imagine, for example, that the first vintage of Chateau Lafite-Rothschild was 2006).

Chateau d'Esclans is perched atop the hilly terrain of La Motte, a commune in the Var department in the Provence-Alpes-Cote d'Azur region in south-eastern France. When you look around the verdant Provencal countryside there, it's unbelievable to think that the lush landscape is just 30 minutes to Saint-Tropez.
Playground to the rich, famous and infamous, visiting billionaires to Saint-Tropez competes for attention not with fast cars (those are just the toys of poor millionaires) but with super yachts the length and breadth of several swimming pools.
Saint-Tropez is where Petrus, Cristal, Dom Perignon and Garrus party the night away. The last is the top cuvée of Chateau d'Esclans.
Although only about 18,000 bottles are produced a year, Garrus is in the pink of health as it fetches around 100 euros a bottle. Until it arrived, no other rosé commanded anywhere near that price. In fact, if five years ago, you had suggested that a Provencal rosé might put you back 50 euros, your audience would laugh himself a silly red in the face.
Garrus smashes rosé records like some cars can reach 60 mph in 4.5 seconds. Garrus is the Aston Martin Vanquish of rosés!
Sacha Lichine is the proprietor of Chateau d'Esclans which he and some partners acquired in 2006. Son of the late Alexis Lichine (owner in his time of Margaux Fourth Growth Chateau Prieure-Lichine), Sacha was raised in Bordeaux, the United States and, for two years, lived in Singapore until he recently re-located to Boston.
When he acquired Chateau d'Esclans, the wine was hardly known. Lichine had g-force ambitions. He was out to make the best possible rosé in Provence. To do that, he enlisted the help of Patrick Leon, previously Chief Winemaker of Chateau Mouton-Rothschild until he retired in late 2003. That was a very dramatic year indeed.
Vintage 2003 was a heatwave in Bordeaux. It was the hottest year in Europe since 1540. Over 70,000 people died as a result. France was perhaps hit the hardest and in some places in the country recorded seven consecutive days of temperatures over 40° Celsius. As anyone who has visited France will know, the French do not usually have air-conditioners in their homes. As a result, nearly 15,000 French people, mostly the elderly, died (The French Health Minister at the time of the crisis was holidaying in the south of France and only returned to crisis management in Paris after too many casualties, and had to resign).
At Chateau d'Esclans, Sacha Lichine and Patrick Leon know only too well how important it is for grapes in the south of France to retain freshness. That's the reason they harvest just before sunrise and stopping at noon. After being hand-picked, the grapes travel through a conveyor belt where watchful eyes on both sides pick up and discard leaves and undesirable bunches, for example, affected by rot. The bunches are then destemmed. They now pass through another vibrating belt where a scanner using laser optic technology sorts the berries one by one (you programme pre-determined information – such as size, shape, weight, etc., – what berries you wish to discard).
The name Garrus comes from the Latin word for 'bear'. Garrus is also what the Romans refer to as the hilltop. Garrus the wine comprises 75% Grenache and 25% Rolle (in Italy, this white varietal is known as Vermentino). Only gently pressed free-run juice is used. The obsession to freshness is not restricted to when the grapes are picked.
Whereas in Bordeaux and Burgundy you merely see barrels neatly arranged in a cuverie; at d'Esclans, there are tubes descending from above into the 600-litre barrels (known as demi-muids) where Garrus is fermenting. Patrick Leon refers to them as 'umbilical cords'. Very cold water runs into the tubes to help control the temperature of the fermenting juice. The whole place looks like the intensive ward of a hospital. The pampered patient, in this case, is Garrus.
The oak barrels notwithstanding, wood is not the taste that is sought after in Garrus. About 50% new, what is looked for with the oak is to give backbone, structure and complexity to the wine. Garrus is aged about 10 months in the 600-litre demi-muids.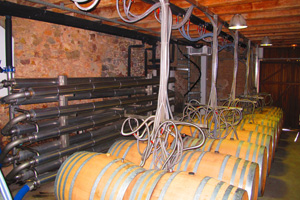 There are four rosés produced at Chateau d'Esclans. The entry level wine is Whispering Angels. That's followed by Chateau d'Esclans. And then Les Clans. Top of the summit is Garrus.
Garrus possesses minerality, a whiff of vanilla, a hint of red fruits – but barely – and stone fruits. There's intensity and persistence and an elegant creaminess on the finish. Very appropriately, as with the colour, there's also a suggestion of white peach on the palate.
Garrus has become an iconic Provencal rosé.
Don't take my word for it, go into their website - www.chateaudesclans.com - and watch what is surely one of the most engaging wine videos in the wireless universe.
Apart from the wonderful cinematography, the editing is superb. And since when did Frank Sinatra sing in a wine video? Not to mention the classic 'Whispering' song striking the perfect pitch for Whispering Angels, Chateau d'Esclans best-selling rosé - a million bottles a year and counting ...
*Caption:
1a.The main building at Chateau d'Esclans is a 19th century mansion in the style of a Tuscan villa. The estate has a history going back to the 12th century and was gifted by the Count of Provence to an aristocrat from Marseille.
1b.Chateau d'Esclans is perched atop the hilly terrain of La Motte, a commune in the Var department in the Provence-Alpes-Cote d'Azur region in south-eastern France. The lush landscape is just 30 minutes to Saint-Tropez.
2.Sacha Lichine (top) and his golden retriever. His former dog, also of the same breed, died four years ago. It was called Garrus.
Patrick Leon is the winemaker at Chateau d'Esclans. The former Chief Winemaker of Chateau Mounton-Rothschild retired from the Pauillac First Growth in late 2003.
3.A network of tubes descend into the 600-litre barrels (known as demi-muids) where Garrus ferments. Very cold water runs into the tubes to help control the temperature of the fermenting juice.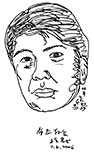 Columnist Introduction
A lawyer by training, CH'NG Poh Tiong also holds a Postgraduate Certificate with Distinction in Chinese Art from the School of Oriental & African Studies, University of London. He is an Honorary Ambassador of TEFAF – The European Fine Art Fair – Maastricht. CH'NG works principally as a wine journalist and is publisher of The Wine Review, the oldest wine publication in Southeast Asia, Hong Kong and China since 1991.
Click here to read all articles by CH'NG Poh Tiong>>
- Follow us on Weibo @Decanter??

and Facebook

for the latest news and updates -
All rights reserved by TI Media Ltd. No part of this publication may be reproduced, distributed or transmitted in any form or by any means without the prior written permission of Decanter.
Only Official Media Partners (see About us) of DecanterChina.com may republish part of the content from the site without prior permission under strict Terms & Conditions. Contact china@decanter.com to learn about how to become an Official Media Partner of DecanterChina.com.