CH'NG Poh Tiong's column: Zuo Wang
The horse is a very noble animal. It works hard, never complains (admittedly, if it does we wouldn't know), and doesn't harm others.
The horse is also a very strong animal.
If we ever needed living proof that you don't need to eat meat in order to be strong, just think of a horse, which is a vegetarian.
This Friday 31 January 2014, the Year of the Horse will charge into our lives whether you are in Beijing or Brisbane, Shanghai or San Francisco.
The most memorable wine I have ever had in my 58 years happens to be a Year of the Horse vintage. Romanee-Conti 1966 was unforgettable. Yet, even this great wine cannot compare with the time I saw – and touched – Han Gan's 'Night Shining White', Tang Emperor Xuanzong's (685–762; reign: 712–756) favourite horse painted about 1,250 years ago.
ROMANEE-CONTI 1966
It was a cool, starry night in Paris on 8 September 1997.
There was great expectancy that night as the car picked me up from the hotel to ferry me to La Tour d'Argent, one of the most fabled restaurants in Paris. Indeed, the world. The dinner was hosted by Champagne Louis Roederer to celebrate their owner and Managing Director Jean-Claude Rouzaud's 30 years at the helm of his family business.
Guests were seated at separate tables which would all serve the same vintages of Cristal Roederer, Chateau d'Yquem and two red Bordeaux. These were the five First Growths under the 1855 Medoc Classification. There was also Chateau Petrus, Ausone and Cheval Blanc.
There was however one exception, Burgundy's Romanee-Conti.
When we first arrived at La Tour d'Argent, we gave our names at the reception table which would then inform which table we were to be seated. When I announced myself as 'Ch'ng Poh Tiong', I was given the name to my table on a little card. I stared at it like someone completely drunk with unbelievable good luck. To make sure it wasn't a dream or practical joke, I pinched and boxed myself red.
I looked at the card again and the same name was still there: 'Romanee-Conti'.
I wanted so much to punch the air with my fist and to say "Yes! Yes! Yes!" But as I looked around, I realized that it was a very classy gathering. Better, I thought, to appear a bit more serious.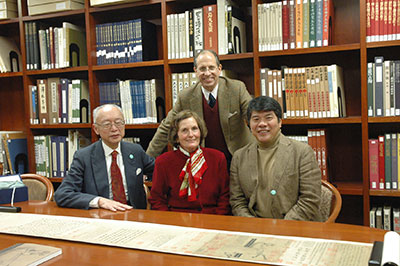 When I got to the table, I discovered that my good fortune was still with me. The other guests included the great wine writer - and friend - Hugh Johnson. And Aubert de Villaine, proprietor of Domaine de la Romanee-Conti. And seated next to me was the charming and beautiful Anne-Claude Leflaive, owner of the highly respected Domaine Leflaive in Burgundy.
When I inspected the menu to see which other red wine was to be served apart from Romanee-Conti, I pinched and boxed myself all over again. You would too if you read what I saw: "Chateau Petrus 1990". Yes! Yes! Yes! Yes! Yes!
But the night belonged to Romanee-Conti 1966. It completely overshadowed the Petrus1990 and the Mouton-Rothschild 1982 (offered by the table next to us).
Romanee-Conti Year of the Horse 1966 was pure, unafraid strawberry fruit. Silky, elegant and magnificently fine, when we drank that unbelievable wine, the world stoppedrevolving for a while. In order to salute its greatness. The wine was magical.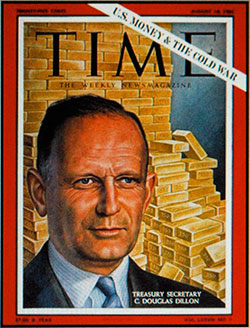 HAN GAN'S NIGHT SHINING WHITE
In January 2010, with the invaluable help of Prince Robert of Luxembourg, Vice-President and Managing Director of Domaine Clarence Dillon and whose family are owners of Chateau Haut-Brion, La Mission Haut-Brion and Chateau Quintus, I visited New York's Metropolitan Museum of Art for a story on his illustrious grandfather.
Douglas DILLON (1909-2003) had an eventful political career. He was the United States of America's Ambassador to France (1953–1957) under President Dwight EISENHOWER and the 57th Secretary of the Treasury (1961–1965) under President John KENNEDY and President Lyndon JOHNSON.
Dillon was also a member of the country's Executive Committee of the National Security Council during the Cuban Missile Crisis. His father, Clarence DILLON, had bought Chateau Haut-Brion in 1935.
Together with his first wife, Phyllis Chess Ellsworth, Douglas Dillon collected impressionist art. He was also a long time trustee of the Metropolitan Museum. And its president from 1970-1977 and then chairman. One of America's wealthiest men of his time, Dillon personally donated US$20 million to the museum and raised another US$100 million spearheading a fundraising campaign.
Dillon's greatest personal stamp on the Metropolitan Museum is perhaps its Chinese galleries. His many gifts included 'Night Shining White'.
HAN Gan (c 706-783) was a court painter and served Emperor Xuanzong (685–762; reign: 712–756) of the Tang Dynasty (618-907). Night Shining White was the emperor's favourite charger. Considered the most important painting attributed to Han Gan, this is arguably the greatest horse painting in Chinese history.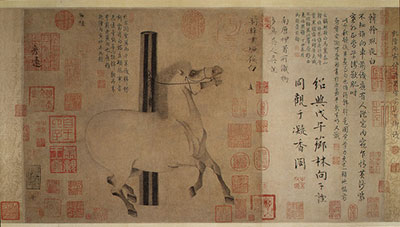 "With its burning eye, fiery nostrils, and dancing hoofs, the fiery-tempered steed epitomizes Chinese myths about Central Asian 'celestial steeds' that 'sweated blood' and were really dragons in disguise." From 'How to Read Chinese Paintings' by Maxwell K. Hearn, Published by Yale University Press.
Night Shining White is a 20-foot long scroll containing inscriptions by eight of its previous owners (three of whom were emperors), and 17 ownership seals, including that of the Qianlong Emperor (1711-1799) of the Qing Dynasty (1644-1911). About 1,250 years old, the painting is still in excellent condition, a great tribute to Chinese paper.
This Year of the Horse, may I wish you and your family the strength of what it means to be Chinese, Happiness, Good Health and All Your Heart's Desires. Happy New Year!
*Image captions:
Image 1: In the presence of HAN Gan's 'Night Shining White', from left, Professor FONG Wen, Phyllis COLLINS (elder daughter of Douglas DILLON), Maxwell HEARN (Head of the Asian Art Department, New York Metropolitan Museum), and CH'NG Poh Tiong.
Image 2: Douglas DILLON personally donated US$20 million and helped raised another US$100 million for the New York Metropolitan Museum. He was highly instrumental in building up the museum's famous Chinese galleries.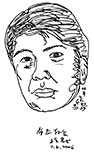 Columnist Introduction
A lawyer by training, CH'NG Poh Tiong also holds a Postgraduate Certificate with Distinction in Chinese Art from the School of Oriental & African Studies, University of London. He is an Honorary Ambassador of TEFAF – The European Fine Art Fair – Maastricht. CH'NG works principally as a wine journalist and is publisher of The Wine Review, the oldest wine publication in Southeast Asia, Hong Kong and China since 1991.
Click here to read all articles by CH'NG Poh Tiong>>
- Follow us on Weibo @Decanter??

and Facebook

for the latest news and updates -
All rights reserved by TI Media Ltd. No part of this publication may be reproduced, distributed or transmitted in any form or by any means without the prior written permission of Decanter.
Only Official Media Partners (see About us) of DecanterChina.com may republish part of the content from the site without prior permission under strict Terms & Conditions. Contact china@decanter.com to learn about how to become an Official Media Partner of DecanterChina.com.