CH'NG Poh Tiong's column: Zuo Wang
Century eggs are quintessentially Chinese. Some people believed they were first created in Hunan during the Ming Dynasty (1368-1644).
What is not in doubt is that no other cuisine has anything close to the century egg.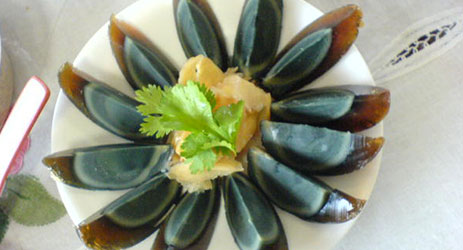 The yoke becomes an ash grey/black colour and has an intense aroma that reminds of sulphur and ammonia. As for the texture, that is wonderfully creamy. The taste – admittedly not to everyone's liking – is rich, intense, complex and long. The egg white is transparent and jelly like. The taste of the egg white is not very pronounced but the light pu–erh colour is very beautiful.
Century eggs are usually presented as a little dish on their own and placed on the table even before the customer is seated.
If you've ever wondered what wine may pair with century eggs, allow me to offer the benefit of the expertise of Eric Li, Sommelier of Jin Mao Grand Hyatt Shanghai and Justin Quek, a famous French trained Singaporean chef whose "Sky on 57" is arguably the most popular restaurant at Marina Bay Sands Casino in the business district of Singapore.
On separate occasions when having dinner with me and other friends, both have recommended champagne. How wonderful that Eric and Justin made their wine matching discovery separately. Champagne really works very well with century eggs. The fact they are eaten before dinner begins – the same time when bubbly is offered – makes the pairing and arrangement a perfect one.
The next time you have century eggs, have a sip of bubbly after you bite into the creamy yolk and discover a new taste dimension.
Incidentally, Eric Li is from Hunan and until he joined Jin Mao Grand Hyatt Shanghai this year was Head Sommelier at the Raffles Singapore where he worked from 2010 to 2013.
'Forty Years of Pairing Wine with Chinese Cuisine: Dos, Don'ts, Nevers & Maybes'
The above is the title of my speech at this month's ProWine China Forum in Shanghai on 14 November 2014.
Pairing wine with food may not be an exact science but it is also ridiculous to say "Anything Goes" when it comes to marrying food with wine.
So, for example, if you hear someone announce that "Everything pairs with champagne" you will know that the person has never had champagne with a piece of steak or tried bubbly with Roast Goose. Maybe the speaker's job is to sell champagne but it's common sense that a red wine will make the beef and goose taste so much more delicious.
And have you also tried a full-bodied Barossa Shiraz with Raw Oysters or Chaozhou Steamed Promfret? Help!
Wine pairing may not be technical science but there are guideliness, good common sense and "rules" that can ensure when you match the right wine with the appropriate dish, the two will become a match made in Paradise (or Heaven if you believe in a god).
After 40 years of pairing wine with Chinese cuisine (and other foods) I have come up with three guiding principles in wine pairing.
The first is what I refer to as a 'Clash or Accident'. Examples of such a calamity include, as I have mentioned above, trying to drink champagne with beef or a full-bodied red with raw oysters.
'Co-Habitation', on the other hand, occurs when although wine and food do not pair, their respective tastes do not clash with each other. The taste of the wine stays independent of that of the food. The tastes remain side by side with each other even as you switch from food to wine and vice versa. But while they co-exist and co-habit, wine and food also do not enhance each other's taste. The best we can say about this situation is that at least wine and food do not hate each other and clash.
'Blissful Marriage' is the ideal in wine matching. What happens here is that when wine and food are paired with each other, the wine draws out desirable new flavours in the food which were not there when the food was eaten on its own. The wine, therefore, enhances the food. The food does the same for the wine and the two enter into a new relationship.
On 14 November 2014 in Shanghai, I will also be talking about why soya sauce adds a new dimension to the matrix of matching food with wine. And discuss about the challenges in pairing an 8-course Chinese banquet. How do we even begin to arrange the wines in such an elaborate scenario?
The forum is not a clinical, analytical discussion but will actually include tasting several dishes with six wines. Learning about wine pairing cannot be done from reading an article or a book. The same goes for dancing. Sooner, rather than later, it's better to get onto the dance floor and boogie away. So it is with the subject of wine pairing.
Rather than hold a book with your hands, it's much better to hold a glass of wine with one and a pair of chopsticks in the other. Ready, steady, go.
Join me at ProWine China in Shanghai on 14 November 2014 from 10.30 to 12 noon. When 90 minutes are over, you will be transformed into a more informed expert of pairing wine with Chinese cuisine. For details of all the forums at this year's exhibition, go to http://www.prowinechina.com/channels/360.html#1.
Looking forward very much to meeting you.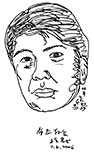 Columnist Introduction
A lawyer by training, CH'NG Poh Tiong also holds a Postgraduate Certificate with Distinction in Chinese Art from the School of Oriental & African Studies, University of London. He is an Honorary Ambassador of TEFAF – The European Fine Art Fair – Maastricht. CH'NG works principally as a wine journalist and is publisher of The Wine Review, the oldest wine publication in Southeast Asia, Hong Kong and China since 1991.
Click here to read all articles by CH'NG Poh Tiong>>
- Follow us on Weibo @Decanter醇鉴

and Facebook

for the latest news and updates -
All rights reserved by Future plc. No part of this publication may be reproduced, distributed or transmitted in any form or by any means without the prior written permission of Decanter.
Only Official Media Partners (see About us) of DecanterChina.com may republish part of the content from the site without prior permission under strict Terms & Conditions. Contact china@decanter.com to learn about how to become an Official Media Partner of DecanterChina.com.