Demei's View - Wine Communication from a Chinese Winemaker
On 6th March, Michel Bettane and Thierry Desseauve, together with their China team and a few China-based wine experts, have completed their tastings of 173 Chinese wines. These wines were produced in a variety of Chinese wine regions.
'The style of these Chinese wines is not exactly like that of the New World wines,' said Michel Bettane after the tasting, 'the balance is more similar to the Old World; these wines have lower alcohol levels (compared to the New World), with good acidity and fresh fruit.'
China's wine market has enjoyed a continuous growth in recent years. Even with slowed-down consumption in the previous two years, the volume of wine imports in the Chinese market have still increased year by year (Image 1). For this reason, Chinese local wines have widely drawn the attention among the international trade. Many have visited China to invest in vineyards, or to taste and purchase wines.
Meanwhile, Chinese wines have also attracted the interest of many wine critics. Robert Parker has tasted and rated some Chinese wines. Jancis Robinson has visited a few Chinese wine regions and extended the section about China when updating the World Atlas of Wine. Together with other wine critics, Robinson also publicly tasted and commented on some Chinese wines at the beginning of 2014.
Michel Bettane & Thierry Desseauve went even further—they established a local team in China, and made great efforts in rating Chinese wines. The recent tasting they organised was perhaps one of the very first international-level tasting of so many Chinese wines.
To create the style of a wine region, the producers need to complete a few basic tasks. They need to firstly learn about the local climate and soil conditions, then find out the appropriate variety (and rootstock), planting methods and suitable product type, as well as the matching production methods.
This fundamental research have been conducted and accumulated for a long time in many historic wine producing countries, hence the distinctive wine styles that wine lovers are so keen to discuss today.
Unfortunately, the wine industry in China hasn't yet fully completed this basic research, so perhaps it's still too early to make a judgement on the style of Chinese wines.
Although, as some may say, the history of winemaking in China can be traced back more than 2000 years, when the diplomat Zhang Qian was sent to visit Central Asia by Emperor Wu of Han Dynasty.
The more the Chinese wine trade talk about ancient history, the more evident it is that they are not fully devoted to the job in front of them. The history of industrialised modern winemaking in China, is in fact, only just over ten years old.
The 2015-2016 La Guide de Bettane+Desseauve will, for the first time, include Chinese wines. The purpose to the tasting they conducted recently was to select wines to be included in the yearbook.
The Chinese domestic wine industry is developing at such a high speed that the practitioners are very keen on communicating with the international trade, and consider gaining international recognition as an important element of their job.
The samples collected for the Bettane-Desseauve tasting were sourced from 59 wineries, from almost every single wine region in China. After the tasting, a media session and public tasting was hosted.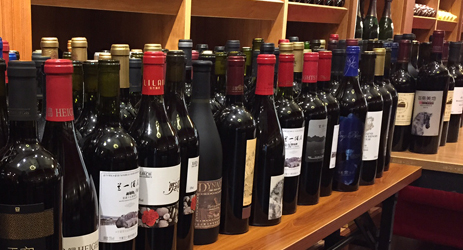 During the media session, Michel answered the questions posed by the journalists in a frank and sincere manner.
'15%-20% of the samples we have tasted today are of very good quality, even reaching the quality level of wines from France and other European countries,' Michel said, 'however, the style of some of these Chinese wines is as yet "unclear", with plenty of space to improve.'
He also pointed out that there's a significant problem faced by the Chinese wine industry; the lack of high-quality grapes, a problem caused by the lack of training among growers.
Thierry agreed saying that he has high hopes for the potential of Chinese wines. 'This [shortage of quality grapes] is indeed a challenge for the wine industry in China. However, thanks to the rapid development of winemaking technology, among the upcoming wine producing regions in the world, China is growing at the fastest speed. We need to give them some time.'
Other wine critics at the tasting included Jean Marc Nolant, who is in charge of selecting non-French wine samples for the B&D team. He was born in Champagne and has worked in the wine industry for over 20 years; he used to work as the sommelier in some of China's top hotels. Currently living in China, Jean Marc has a good understanding of China's wine & dine culture.
On choosing the most suitable varieties for various Chinese wine regions, Jean Marc gave his suggestions as well. 'Many wine regions in China have sufficient accumulated heat,' he said, 'but the growing season is comparatively short. Therefore indigenous varieties from Southern France will perhaps perform better in these regions.'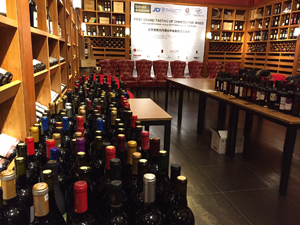 Other critics also mentioned that 70% of the wines tasted were Cabernet Sauvignon, or Cabernet-main blends. Though commercially speaking there's nothing wrong about it—obviously Cabernet Sauvignon is one of the most well-known varieties among consumers—under the various climate conditions in China, there must be other varieties that are more suitable to each individual region than Cabernets.
Though wine yearbooks like La Guide de Bettane+Desseauve are mainly designed for wine distribution and consumption, they are also useful for winemakers. Working behind closed doors is not enough—you have to compare your products against others', which is how you can truly learn and improve.
If more wine critics can speak to winemakers directly and point out the pros and cons of their wines, it would benefit the production side even more, said many Chinese winemakers at the tasting, in response to the critics' comments.
Besides the quality of the wines, unreadable labels are another barrier for Chinese wines, as noted by the organiser.
The labels of many samples presented at the tasting didn't properly show the type and style of the wine. For wineries that had submitted several samples, the staff had to carefully examine the labels to tell the difference between them.
Since we all agree that wine is a product enjoyed internationally, these labels, which are almost impossible to recognise for those who don't read Chinese, should perhaps be avoided.
Translated by Sylvia Wu / 吴嘉溦
All rights reserved by Future plc. No part of this publication may be reproduced, distributed or transmitted in any form or by any means without the prior written permission of Decanter.
Only Official Media Partners (see About us) of DecanterChina.com may republish part of the content from the site without prior permission under strict Terms & Conditions. Contact china@decanter.com to learn about how to become an Official Media Partner of DecanterChina.com.