The world's largest organic wine fair gets underway in two weeks' time (Millésime Bio at Montpellier's Exhibition Centre), amid signs that the rapid growth in organic cultivation seen in the first decade of the century is slowing.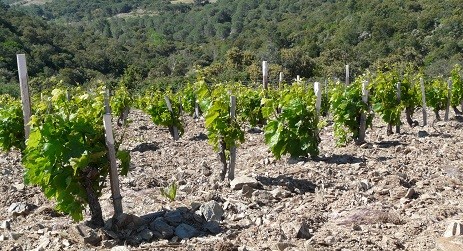 Image: vineyard of Chateau Wiala in Fitou © Andrew Jefford
Between 2002 and 2011, according to Eurostat figures, Spain's area of vineyards under organic cultivation ballooned from 16,000 ha to almost 80,000 ha, while France's share went from 15,000 ha to 61,000 ha and Italy's from 37,000 ha to 53,000 ha over the same period (these three countries account for 73 per cent of world organic production). Since 2011, though, the growth in organic vineyards has been slower, and in some areas the number of organic grape growers has dropped.
For all that, organic wine still seems to be an attractive proposition for consumers, with around 35 per cent of regular European wine drinkers drinking organic wines, according to a September 2015 survey prepared for Millésime Bio from data gathered in France, the UK, Germany and Sweden.
The main reason for choosing organic wine in France and Sweden is that it is 'better for the environment' (or so over 70 per cent of organic-wine consumers in each country believe). In the UK, by contrast, some 46 per cent of organic-wine consumers said their main reason for purchase was that 'organic wine tasted better', outscoring any other motive, and over 50 per cent believe this in Germany.
It's not hard to make a case for the environmental benefits of organic production by comparison with the crass use of herbicides and pesticides formerly common in many European vineyards, but it always strikes me as innocent of consumers to expect a blanket taste benefit for organic wine. Analysis of the results of Decanter's 2015 World Wine Awards showed organic wines, in fact, obtaining a lower medal rate than the average for all wines (64.9% compared to 70.02%), though biodynamic wines managed to match the average (70%). (These figures are based on self-declaration of organic or biodynamic status by producers.)
I'd love to think that an organic approach might, one day, become a possible norm for wine production, and I'm always impressed by efforts and practical ingenuity of the organic growers I meet. By way of example, I chatted recently to Alain Voorons and Wiebke Seubert of Château Wiala in the inland zone of Fitou. Here's a little of their story.
He was a former film-maker and she was an interpreter who met when, later in life, they both decided to study viticulture. They bought their domain together in 2001 – and quickly discovered that the vineyards were in what Wiebke called a 'pitiful state: big thick trunks but tiny shoots; growth like a spider's web, without room for the bunches; a lot of disease susceptibility; dead soils.' They decided on dramatic action, so reduced the domain from 21 ha to just 8 ha, so that they could do all the work on bringing the vineyards back to life themselves, beginning by spraying the soils with bacteriological and fungal cultures.
They learned to 'read' both plants and soils to discover what they needed, and studied and travelled widely to find out how organic producers elsewhere were working. 'We tried lots of different things; I became a kind of Professor Calculus of the local vineyards,' said Alain. After a visit to Australia, they began using a whey solution to spray against powdery mildew; it worked well. A more recent refinement is to incorporate an emulsion of the essential oil of sweet orange peel, since this intensifies the anti-fungal properties and also acts as an insecticide. They also use plant decoctions based on slurries of nettle, yarrow, chamomile and horsetail, all of which prove effective.
They grow green cover where they can, but in stony Languedoc vineyards the water supply is sometimes just not adequate to allow them to impose that amount of competition for water on the vines. Alain is very keen on the Canadian cover technique known as BRF (bois raméal fragmenté) to create a soft, forest-like soil structure and preserve water, though he says it is hard to put it into practice on a large scale. They use as little copper as possible – none at all, for example, during the 2015 growing season.
The biggest challenges the couple face are the grape berry moths Lobesia botrana (known locally as Eudémis) and Eupoecilia ambiguella (Cochylis) which they combat by spraying Bacillus thurengiensis. The spraying has to be done by hand since otherwise the penetration into the plant is inadequate. 'It's a plague,' says Wiebke. 'Ceaseless work, otherwise you could lose the whole harvest.'
What about certification? It was impossible for the couple at first, since their parcels were small and scattered and therefore uncertifiable, and since whey wasn't officially recognised for vineyard use. Following changes to the regulations, they are now in conversion towards Ecocert organic status.
They say the results of all of these efforts have been dramatic improvements in the vineyards, in the vineyard soils and in the quality of the fruit and the wine, attested in part by gold medals from the Concours Générale in Paris as well as silver from the Decanter World Wine Awards.
Will, though, organics ever become the standard cultivation technique for wine vineyards? 'That would be difficult,' suggests Alain Voorons. 'One of the principles of organic cultivation is biodiversity, not having a monoculture. But to make agriculture work at a large or industrial scale, you need monocultures. You can only create a true ecosystem at a small scale.'
And what about their own bottom line? Did organics improve profitability, or have they had to subsidise their vineyard work? 'We've subsidised it,' admitted Wiebke, after a very short pause. 'It's not that easy to make a profit in any way, but with organics it's even harder. We don't find there's any organic bonus for the time being. Perhaps there will be in the future, as people drink less but better.'
The benefits, in fact, lie elsewhere. 'It's meant a lot to me,' she continued, 'to work in this kind of way. I can go into my vines anywhere on the estate, at any time of year, and never have any fear for any side effects for my health. If you get to be very close to your plants and know them all individually, you know how they will react, it is something very joyful. That's what I'd stress most of all about organics. It's joyful.'
Translated by Nina Fan Feng / 冯帆
All rights reserved by Future plc. No part of this publication may be reproduced, distributed or transmitted in any form or by any means without the prior written permission of Decanter.
Only Official Media Partners (see About us) of DecanterChina.com may republish part of the content from the site without prior permission under strict Terms & Conditions. Contact china@decanter.com to learn about how to become an Official Media Partner of DecanterChina.com.