Chateau Belgrave
5th Cru Classe, 1855
33112 Saint-Laurent Médoc
+33 (0)5 56 35 53 00
(Vignobles Dourthe)
www.dourthe.com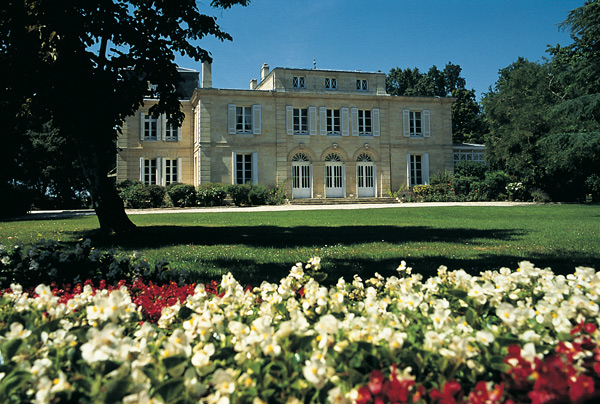 Location: AOC Haut-Médoc, in the commune of Saint-Laurent, bordering the Saint-Julien appellation (literally – a few more feet and they would have been in this neighbouring and more prestigious appellation).Production: 59 hectares planted.
Five things you didn't know about Chateau Belgrave:
- This estate was called Chateau Coutanceau until the early 20th century, when it was renamed Belgrave (not Bellegrave, which is a separate non-classified estate in Pauillac) after its gravelley terroir. On the 1855 listing, where it is awarded a Fifth Growth ranking, it is known by its former name.
- One of three 1855 chateaux that lie just to the west of Saint Julien, right next door to Chateau Lagrange. The other two are La Tour Carnet and Camensac.
- The second wine, Diane de Belgrave, is named after the goddess of hunting because this estate was a former hunting lodge of the Coutanceau family.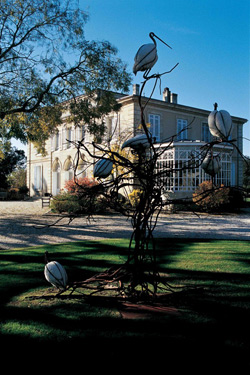 - When current owners Vignobles Dourthe took over in 1979, the vineyards were in a very bad condition. Although the size has remained fairly constant (fluctuating between 50 to 61 hectares), they have fully renovated and reworked the vines.
- Many of the chateau's centuries old trees were torn down in the 1999 storms. On the bright side, there is still a fine park here, and the vines stretch out in an uninterrupted plot around the chateau, something that is fairly rare in the Médoc, as many chateaux have bought and sold plots over the centuries and are today owners of vast patchworks of vines spread across wide areas.
Current owner: Vignobles Dourthe since 1979. President of Dourthe is Patrick Jestin. Dourthe Estates director or Dourthe Headwinemaker is Frédéric Bonnaffous; François Laura : Belgrave estate manager.
Most notable previous owner: Well, the Coutanceau family were owners here for several centuries, but perhaps we should give the nod to Marcel Alibert, who gave the chateau its current name. Also worth mentioning is Jean Marie Chardonnier, who is now retired but was heading up Dourthe Vignobles when they bought the property, and should also be acknowledged for his work in restoring the estate.
Other chateaux owned: Vignobles Dourthe has 500 hectares of vines in Bordeaux: Essence de Dourthe, Chateau Belgrave, Chateau le Boscq ( Cru Bourgeois Saint Estephe), Chateau La Garde (Pessac Leognan), Chateau Rahoul (Graves), Chateau Grand Barrail Lamarzelle Figeac (Saint Emilion Grand Cru), Chateau Haut Gros Cailou (Saint Emilion Grand Cru), Chateau de Ricaud (Cadillac), Chateau Reysson (Cru Bourgeois Haut Médoc). And Château Pey La Tour ( Bordeaux &Bordeaux Supérieur).
Commercial strategy: 100% sold by Dourthe (en primeur around 70%).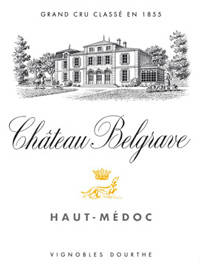 Second wine: Diane de Belgrave, since the 1987 vintage.
Through the centuries:
Belgrave first saw life as a hunting pavilion during the reign of Louis XIV, when it was owned by the Coutanceau family. They were responsible for planting the vines here, and continued to enlarge the property, overseeing it until the 1840s. The 'Bellegrave' (at the time with two 'l's) was first used by Bruno Deves, a négociant in Bordeaux, in 1845, when he was owner and busy remodeling the property. This is almost certainly because he was replanting the vineyard and putting the majority of his vines on the best gravel locations, so no doubt wanted to draw attention to the fact. He also built the winery, and had the current chateau built on the site on the former hunting lodge. The Belgrave name was formally adopted by Marcel Alibert in the early 1900s. He was also the founder of the Syndicat of Cru Classés, and owner for almost 30 years.
Consultant: Michel Rolland has been consultant here since 1986.
Plantation and vineyard work:Cabernet Sauvignon (41%), Merlot (51%), Cabernet Franc (5%), Petit Verdot (3%), average age 25 years, planted to 10,000 vines per hectare. Trellising levels have been increased in recent years and leaves spread out to ensure aeration and maximum exposure to sunlight. Manual debudding and leaf/crop thinning through the growing season as needed. Vineyard mapping has means these decisions around canopy cover and density of bunches and so on is now very detailed, and changes depending on plots and even rows within plots. It also means during harvest (which is carried out by hand) pickers are careful to only collect grapes that have reached similar ripeness, even if in different parts of the vineyard.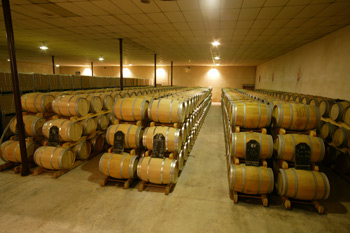 Vinification: Stainless steel tanks and new winery since 2004. Gravity-fed winery to avoid use of pumps, and 14 of the 33 tanks use 'pigeage' (punching down) of the grapes rather than the more usual pumping over during maceration. Cold soak before vinification. This is a technique used more typically in Burgundy. Underground barrel ageing cellar, renovated in 2007. New oak barrels used for 30 to 40 % of the ageing process, with the rest of the wine aged in one-year old barrels.
Terroir: Deep gravel on a clay subsoil. The vines are spread over two small outcrops which stand at 23 metres and 26 metres high, both made up of gravel over a bed of clay, and offering excellent drainage. At the base of the outcrops, the soil becomes more sandy, making it suitable for the planting of Merlot.
Recent improvements or changes:
Serious investments over recent years, including mapping the vineyard to better understand the different terroirs within the property and to adapt proper vines/rootstock/clones to each terroir or micro plot. They have also carried out a study of the correlation between vine growth and the profile of the sub-soil and water supplies that has led to a highly detailed mapping of the vineyard that identify rows or parts of rows of vines that ripen at the same time. Work in the vineyard and sustainable plant protection is then tailored to the mapping ; a new sorting system for the grapes ; a new gravity-led cellar with stainless steel vats, a half-underground barrel ageing cellar, a restored chateau building... you name it.
As most of the serious on going improvements at this property have taken place since 1993, this remains one of the best value for money classified wines in the Médoc.
Recent Decanter scores:
2012 en primeur – 16.25 points/20
2011 en primeur – 16 points
2010 en primeur – 17 points
2009 en primeur – 16.5 points
2008 en primeur – 16 points
Average bottle price in UK: £20-£40, depending on vintage.
- Follow us on Weibo @Decanter醇鉴

and Facebook

for most recent news and updates -
All rights reserved by Future plc. No part of this publication may be reproduced, distributed or transmitted in any form or by any means without the prior written permission of Decanter.
Only Official Media Partners (see About us) of DecanterChina.com may republish part of the content from the site without prior permission under strict Terms & Conditions. Contact china@decanter.com to learn about how to become an Official Media Partner of DecanterChina.com.