3rd Cru Classe, 1855
33250, Saint Julien
+33 (0)5 56 73 38 38
www.chateau-lagrange.com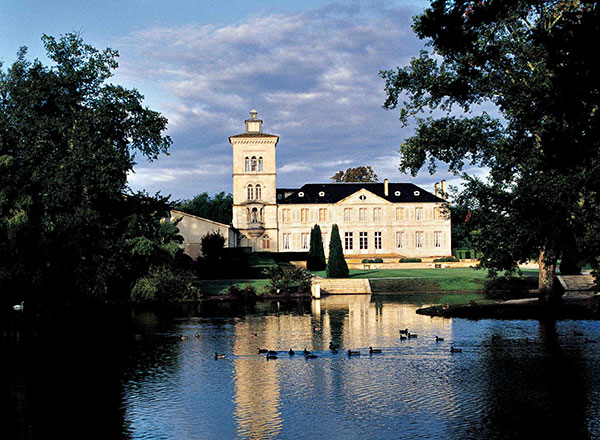 Location: AOC Saint Julien, located near to Chateau Gruaud Larose.
Production: 115 hectares of vines, with 157 hectares in total, including the parkland. Production around 25,000 cases of first wine, and 35,000 cases of the second wine. And around 20,000 bottles of a dry white wine are also produced each year from 6 hectares of vines (up from 4 hectares as of the 2012 vintage).
Five things you didn't know about Chateau Lagrange:
- Japanese owners Suntory – led by Keizo Saji, and now new president Nobutada Saji – invested three times the purchase price of the property within three years of buying it, in general improvements to the vineyard and chateau.
- As befits the owner's Japanese nationality, Lagrange has a wok station within their (otherwise French) kitchen.
- The restoration of Chateau Lagrange is credited largely to Marcel Ducasse, who ran the estate from 1993 to 2007. Among his achievements was a vast replanting programme in the mid-1980s of vines that are now at full maturity. He also enlarged the general vineyard area, from 48 hectares to 138 hectares. Replanting programme in 1985 and 1986 : 60 hectares in total.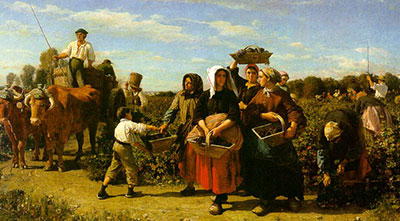 - Painter Jules Breton, the 19th century French realist and naturalist painter, spent time at Chateau Lagrange in the 1860s, where he painted the harvest (entitled Vendanges au château Lagrange, Bordelais, 1864). Today in the cellars, Breton's painting is displayed alongside a modern-day photograph by Christian Braud recreating the scene. Breton's original painting is on display in a small museum, the Joslyn Art Museum, in Omaha Nebraska.
- The chateau building of Lagrange was built at various different times, some dating from 18th century, and some from the early 19th. The tower was built by Parisian architect Louis Visconti, one of the later wings was designed by him as well. He was the designer of La Fontaine aux Trois Graces in Bordeaux and Napoleon's tomb in Les Invalides, Paris. He also prepared the decorations of Paris for the return of Napoleon's ashes, something that the then-owner of Lagrange had lobbied for.
Current owner: The Japanese Suntory Group since 1983, with Bruno Eynard as managing director (he took over after Marcel Ducasse's retirement, after having worked alongside him for 17 years).
Most notable previous owner: Count Charles-Marie Tanneguy Duchatel, who bought Lagrange in 1842. Duchatel was at various times in his career Minister for Trade & Agriculture, Finance Minister, and a member of the Academy of Fine Arts. Painter Jules Breton described him in a letter to his wife: 'I was most graciously received by Count Duchatel, whose kindness I have already mentioned to you, and Madame Duchatel who I think to be the kindest lady on earth'. During his time as owner of Lagrange, Duchatel doubled the size of the chateau building, added the square Romanesque tower and the large lake that stretches in front of the chateau building. When drawing up his daughter's marriage contract in the 1860s, the Count declared his fortune to be 22 million francs, an unbelievably large sum at the time. Breton also described how Duchatel would hum as he walked with short, jerky steps, how he was a little temperamental, prone to boredom and didn't care for solitude, and that when in a good mood, he liked to sing.
Other chateaux owned: Since 1988, Suntory co-owns Weingut Robert Weil in Rheingau, Germany with Wilhelm Weil. It also jointly owns (with Castel Freres in a 50/50 partnership) both Chateau Beychevelle and Chateau Beaumont in Bordeaux, along with négociant company Barriere Freres – Suntory Group also own other drinks-related companies such as PepsiCola, Orangina Schweppes, Morrison Bowmore distillers and ASC wine merchants in China. Back in Japan, Suntory owns Akadama Sweet Wine, and vineyards in the Tomi no Oka region of Yamanashi Prefecture.
Commercial strategy: 100% négociants, selling en primeur through around 150 Bordeaux merchants. All bottles sold are marked with codes to ensure full traceability.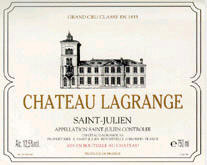 Second wine: Les Fiefs de Lagrange, made from the younger vines. White wine is Les Arums de Lagrange.
Through the centuries:
The estate dates back to the Middle Ages, when it was known as the Noble House of Lagrange Montei. The first known owners can be traced back to 1631, and by 1824 Lagrange was producing 120 barrels (12,000 cases) per year. In 1842, the ex-Home Secretary to King Louis Philippe and a respected politician, Count Duchatel, bought the estate and introduced a drainage system of ceramic pipes in to the vineyard (he even sold similar pipes to surrounding estates). He also exchanged vineyard plots with neighbours, and bought new land, so created one single expanse of vines. By 1855, it had become sufficiently well-known to be named a Third Growth in the famous classification. Duchatel died in 1867 at the age of 64, leaving Lagrange to his wife and his two children Charles-Jacques and Marguerite Eglé. When their mother also died, the two heirs decided to sell up. Things turned a little sour after this, and the end of the 19th century saw several changes in ownership, from British financier de Muicy-Lonys, then a collective of Bordeaux wine merchants, then in 1925 a pair of Spanish industrialists José Azpeitia and Menuel Cendoya. Inevitably with these frequent upheavals, the quality of the vines suffering. Over time, parts of the vineyard were sold off, down to 48 hectares at its lowest point. After German occupation during World War II, a fire destroyed the chateau in the 1950s, and investment in vineyards and machinery dropped even further. So it's fair to say that there was quite a challenge facing Suntory when it bought Lagrange from the Cendoya family in December 1983.
Consultant: Eric Boissenot.
Plantation and vineyard work: Cabernet Sauvignon (65%), Merlot (30%), Petit Verdot (5%) planted to 7,500-10,000 vines per hectare. There are also white-grape vines planted, with 60% Sauvignon Blanc, 30% Sémillon and 10% Muscadelle. The vines are trained in the traditional Médoc way over three wires, with sustainable viticulture meaning traditional ploughing, minimum intervention, and leaf thinning in July. Highest point of the vineyard is 24 metres (also the highest point of the Saint Julien appellation). Hand-harvesting. They compost both pruned vine branches and the pressed skins after fermentation to reduce the amount of fertiliser needed in the vines. Ultra modern harvest station with two sorting lines equipped with optical sorters.
Vinification: Stainless steel tanks are used sized from 66 to 220 hectolitres, with a maceration time of 15-20 days. Alcoholic and malolactic fermentation are carried out at the same time – a technique known as co-innoculation, with the temperature not exceeding 28°/30°. Ageing is carried out in Bordeaux oak barrels, usually 60% new per vintage for the first wine, 20% new oak for the second wine, and 80% new oak for the white wine. Egg white fining is carried out in the traditional method, using a candle to check for the clarity of the wine – Lagrange is one of a handful of estates that still do this in the traditional manner (for the First Wine only).
Terroir: Vines are planted over two gravelly hills – some parts large and coarse gravel and other parts finer, or gravel combined with sand or iron-rich clay.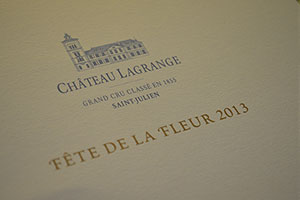 Recent improvements or changes:
The 2013 Fete de la Fleur was held at Chateau Lagrange to mark the 30th anniversary of the Suntory purchase.
Chateau Lagrange received Terra Vitis certification in 2005 for its sustainable farming methods – one of 30 estates in Bordeaux to have this certification.
Recent years have seen Lagrange work towards reducing its water use, so taking a full audit of what is used where, and engaging in conservation and recycling efforts. It was also one of the first wineries in France to measure CO2 emissions, and reduce emission of greenhouse gases. In 2007 it modified its fermentation process to reduce electricity consumption by 8.5%.
In 2011 the team stopped using plastic packaging to wrap new oak barrels during shipping to the chateau.
Other new developments have included investments in serious wine tourism facilities, a new tasting room and new reception areas, as the chateau receives over 5,000 visitors per year.
Recent Decanter scores:
2012 en primeur – 17 points/20
2011 en primeur – 16.5 points
2010 en primeur – 17 points
2009 en primeur – 17 points
2008 en primeur – 15.5 points
Average bottle price in UK market: £25-£60, depending on vintage.
All rights reserved by Future plc. No part of this publication may be reproduced, distributed or transmitted in any form or by any means without the prior written permission of Decanter.
Only Official Media Partners (see About us) of DecanterChina.com may republish part of the content from the site without prior permission under strict Terms & Conditions. Contact china@decanter.com to learn about how to become an Official Media Partner of DecanterChina.com.