Chateau Gruaud Larose
2nd Cru Classe, 1855
33250 Saint Julien
www.gruaud-larose.com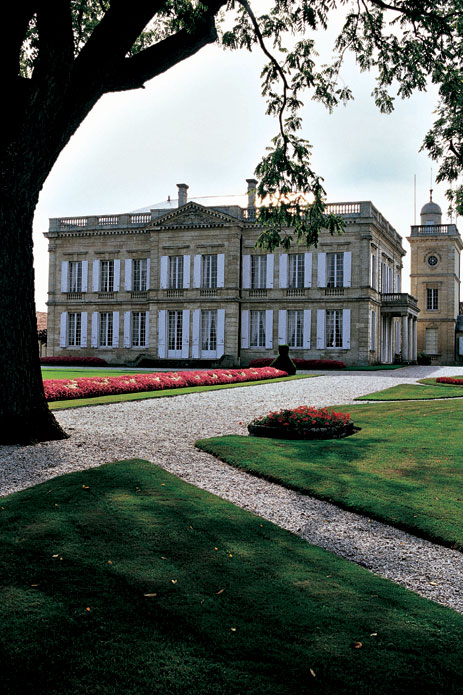 Location: AOC Saint Julien, next to Chateau Lagrange and Chateau Branaire Ducru.Production: The vineyard extends over 82 hectares in one single block, something that is surprisingly rare in the Médoc. Usual production is 300,000 bottles of the first wine, 190,000 bottles of the second wine.
Five things you didn't know about Chateau Gruaud Larose
- The Taillan Group (headed by Denis Merlaut, brother of Jean Merlaut, owner of Gruaud Larose ) also own a 100-hectare vineyard in China, called the Beijing Taillan Winery.
- Gruaud Larose has unchanged in size since the 1855 classification. In fact, it has been unchanged in size since 1781.
- In 1992, a shipwreck called the Marie-Therese was discovered in the Gaspar Straits, between Borneo and Singapore near North Jakarta, which contained (a good number of the) 2000 bottles of Gruaud Larose 1865, which has been on its way to Saigon for delivery to the Emperor of Vietnam.
- Every year before the en primeurs, Gruaud Larose holds a 'tasting clinic' where they assess older vintages in the presence of key oenologists, sommeliers and journalists. For example in 2010 they focused on '0' vintages from 1950 to 1840. The chateau's cellars hold some of the oldest vintages in the whole of Bordeaux.
- Owner Jean Merlaut bought last year a majority shareholding in Les Abatilles, a quality mineral water that comes from Arcachon Bay, on the Atlantic coast around 30 minutes from Bordeaux. Like the vineyards, Merlaut said he was happy to be investing in a piece of local heritage. He is also mayor of Baurech, a village in the Cotes de Bordeaux region.
Current owner: Jean Merlaut (first bought by his father Jacques, also owner of the Taillan Group) since 1997, with David Launay as managing director.
Most notable previous owner: There have been many, but one that made the most lasting impression was Baron Jean-August Sarget, who came up with the motto 'king of wines, wine of kings'. He put it on the label, and it's still there, going strong today.
Other chateaux owned: Jean Merlaut owns Chateaux Chasse Spleen, Chateau Haut-Bages-Libérale, Chateau Ferriere, Chateau La Gurgue, Chateau de Camensac, Chateau Dudon, and also has his own eponymous négociant company.
The wider Taillan Group (separate to the Merlaut family properties) has 300 hectares of vines in Bordeaux, under the name Vignobles et Terroirs, Chateau Bel Air, L'Esperance and Noble Meynard, Carillon (Fronsac), Dupeyrat Plouget (Cotes de Bourg), Menaudat (Cotes de Blaye), Carcanieux (Medoc), Broustet (Sauternes). Plus Chateau Quattre (Cahors), négociant company Ginestet (run by Franck Lederer), Desacs (Gironde), Joseph Verdier (Loire), Compagnie Rhodanienne (Rhone), Grand Sud Vins (Languedoc). Plus an investor in CashVin, chain of wine shops in southwest France.
Commercial strategy: 100% négociants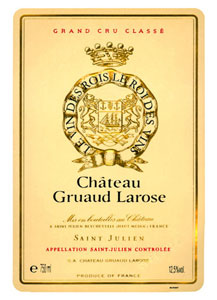 Second wine: Sarget de Gruaud Larose
Through the centuries:
The Abbé Joseph Stanislas Gruaud (a knight as well as a priest) was the first owner of the property, and by 1755 his wine was already being spoken about for its quality. His son in law, Joseph-Sébastien de Larose, was the next to take over in 1771, meaning that within two generations, the name was set – Gruaud-Larose (the name first appeared in 1791). In 1812 two men, Pierre Balguerie-Stuttenberg (a wine merchant who has given his name to one of the main streets in the Chartrons district of Bordeaux) and Jean-Auguste Sarget (another wine merchant) bought the property at auction, but ended up splitting the property into two. The two halves officially became Chateau Gruaud-Larose Sarget and Chateau Gruaud Larose Faure in 1862 (the Faure name came through marriage). It was reunited by the Cordier family, who bought the Sarget section in 1917, and Faure in 1935, gradually merging production into one estate, with a first and second wine (introduced in 1979). In 1983, the Cordiers sold out to the Suez group, then in 1993 it changed hands again, to Alcatel-Alsthom, and finally it found some stability in 1997, when the Merlaut family (at the time Jacques Merlaut) bought Gruaud Larose – and held on to it. Stability was also ensured by Georges Pauli who was cellar master and oenologist from the 1970s.
Consultant: Eric Boissenot, with Georges Pauli as the estate oenologist since the 1970s until 2007. Philippe Carmagnac has now taken over from Pauli.
Plantation and vineyard work:Cabernet Sauvignon (61%), Merlot (29%), Cabernet Franc (5%) and Petit Verdot (5%), planted to 10,000 vines per hectare. Average age of vines 40 years. Pesticides and insecticides have not been used since the 1990s, and today the green philosophy under technical director Philippe Carmagnac and vineyard manager Patrick Frederic extends to all areas. This means organic compost, water recycling, homeopathic treatments for any vineyard diseases, and vineyard workers who follow their own specific plots throughout the year, meaning they get to understand what the vines need, and treat them accordingly. There are also hail cannons on standby in case of need.
Vinification: In the cellars, a mixture of stainless steel and concrete vats are used. The oak regime across both is fairly restrained, with between 30-50% new oak for most vintages.
Terroir: Located on the highest point of the Saint Julien plateau (18 metres above sea level), the gravel heads down over 5 metres in some places, and drainage is particularly effective. 19th century pottery drains have been found in the vineyard of Gruaud Larose, assisting the already excellent natural drainage that comes from the poor-quality gravel soils, and the height of the Saint Julien plateau.
Recent improvements or changes: The estate has just spent €100,000 on a year's study into the inner workings of their vineyard – soil structure and composition, water regulation, vine growth and so on. Gruaud Larose also has some of the best wine tourism programmes of any classified Médoc property, and offers not only visits, harvest lunches, grape variety tastings and old vintage tastings (back to 1983), but also tasting courses and cooking courses.
Recent Decanter scores:
2012 en primeur – 17.5 points/20
2011 en primeur – 17 points/20
2010 en primeur – 18 points
2009 en primeur – 17 points
2008 en primeur – 15.5 points
Average bottle price in UK market: £40-£80.
- Follow us on Weibo @Decanter醇鉴

and Facebook

for most recent news and updates -
All rights reserved by Future plc. No part of this publication may be reproduced, distributed or transmitted in any form or by any means without the prior written permission of Decanter.
Only Official Media Partners (see About us) of DecanterChina.com may republish part of the content from the site without prior permission under strict Terms & Conditions. Contact china@decanter.com to learn about how to become an Official Media Partner of DecanterChina.com.