Chateau Margaux
1st Cru Classe, 1855
33640 Margaux
www.chateau-margaux.com
+33 5 57 88 83 83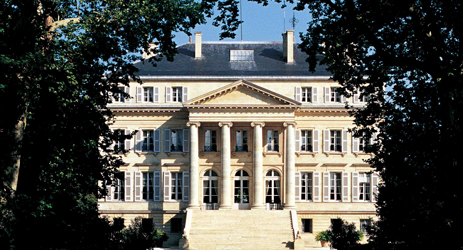 Location: AOC Margaux, next to the pretty St Michel church (where former owner Bernard Ginestet is buried).
Production: 82 hectares of red grapes, producing around 11,000 cases of the first wine and 9,600 of the second wine and and 12 ha of white grapes producing a highly regarded white wine, Pavillon Blanc. There is also a third wine, Margaux du Chateau Margaux.
Five things you didn't know about Chateau Margaux:
- The estate is increasingly following biodynamic and organic viticulture. They have been practicing almost entirely organic winemaking for the past 10 years, and made only one chemical spray in the 2012 growing season, despite several rainy moments.
- British architect Lord Norman Foster will complete renovations on the cellars at the estate for summer 2015. This is the first time important transformations / changes have been made since the original celebrity-architect, Louis Combes, built the Palladian-style chateau and buildings in 1810.
- Chateau Margaux held a gala dinner on the Great Wall of China in 2011, prepared by Michelin-starred chef Guy Savoy and attended by 73 guests. It was organized with auction house Acker, Merrall & Condit to raise funds for the China Great Wall Society, and took place at Juyongguan, a restored section of the wall around 50km from Beijing.
- In 1855, at the Paris Exhibition that named the First Growths, it was Margaux that came top of the tasting, with 20/20. Lafite and Latour both scored 19/20.
- Former technical director Philippe Bascaules was hired from Chateau Margaux by Oscar-winning film director Francis Ford Coppola to run his Inglenook estate in California.
Current owner: Corinne Mentzelopoulos. She is the daughter of André Mentzelopoulos, the Greek businessman who bought the property in 1977, when Corinne was just 24.
Most notable previous owner: As with all the First Growths, there have been a good number of notable past owners. But perhaps worth of a special nod is Olive de Lestonnac in the early 17th century, whose aunt founded dozens of convents across France, and who was herself one of the richest women in the region but who gave almost all of her money away to charity. She was the first owner to build a physical property that brought the vines together as one 'chateau'. We should also note here the Marquis de la Colonilla, who in 1810 commissioned the building of the current chateau building.
Other chateaux owned: None.
Commercial strategy: 100% sold by négociants, over 90% to export. Main markets Asia, US.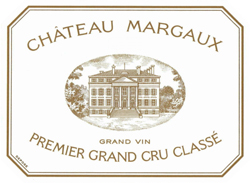 Through the centuries:
Taking a brief gallop through the illustrious history of Margaux… the estate can trace its history back to the 12th century, when it was known as La Mothe de Margaux, and it was owned by a series of wealthy lords, but vines were not seriously planted (or assembled by one owner) until the 16th century, when Olive de Lestonnac's father Pierre began buying local plots. It was one of the first Bordeaux chateaux to export its wines under its own name, and was regularly making an appearance at the London auctions of Christie's in the early 18th century. Vine cuttings were sent from Chateau Margaux (and Haut-Brion) to Pennsylvania, where they were experimenting with planting vineyards, just after the French Revolution, so not long after Thomas Jefferson's visit.
Consultant: Eric Boissenot, with Paul Pontallier as managing director of the estate, and Sébastien Vergne heading up the technical direction.
Plantation and vineyard work: The 82 hectares of vines are planted to 75% Cabernet Sauvignon, 20% Merlot, 5% Petit Verdot and Cabernet Franc, at a density of 10,000 vines per hectare. As with at all the First Growths, vineyard management is about understanding the differences between each row of vine, and each plant within each row – and to treat them accordingly throughout the growing season, and harvest. At harvest time, a team of over 250 hand-pickers move through the vines. An anti-frost system is in place for the white wine plot which involves sprinkling water over the vines as long as the frost lasts.
Vinification: The Foster project will see the building of both an underground wine library, an extension of the vinification facility room, a state of the art R&D cellar as well as a new white wine cellar which will bring the wine-making of the estate's renowned Pavillon Blanc, made from 100% Sauvignon Blanc grapes, into the main cellars. Since 2010, a series of small stainless steel vats of 25 hectolitres have been installed, able to take grapes from around ¼ of a hectare in each one, most typically young vines that need to be followed and understood. Traditional wooden vats are also used. A research & development team are working on various research projects at any one time – current ones include tests such as bottling the wine under screw-cap.
Terroir: Clay with limestone, and a topping of coarse and fine gravels. It is one of the most varied terroirs on the Margaux commune, with some plots being almost entirely gravel.
Recent improvements or changes: Recent changes in the vines include swapping the orientation of rows, increasing the density of plantation, matching the right grape varieties to the right terroir. Since 1989 all Margaux bottles are marked with a laser, and since 2011 the Prooftag system is used to verify authenticity on all bottles leaving the estate. Chateau Margaux also has four brand and business development managers in China (Fangyuan Zheng), Hong Kong and Asia (Thibault Pontallier) and the US and the UK (Alexandra Mentzelopoulos).
Recent Decanter scores (en primeur, other tastings):
2013 en primeur 18.25 points
2012 en primeur 18.75 points, 5 stars
2011 en primeur 18.5 points, 5 stars
2010 en primeur 20 points, 5 stars
2009 en primeur 20 points, 5 stars
2008 en primeur 18 points, 5 stars
Average bottle price in UK market: £150-£700 depending on vintage - although in 2013, a limited edition Balthazar (12-liter bottle) of the 2009 vintage went on sale in Dubai for £122,380 (€148,000).
All rights reserved by Future plc. No part of this publication may be reproduced, distributed or transmitted in any form or by any means without the prior written permission of Decanter.
Only Official Media Partners (see About us) of DecanterChina.com may republish part of the content from the site without prior permission under strict Terms & Conditions. Contact china@decanter.com to learn about how to become an Official Media Partner of DecanterChina.com.