Chateau Lafite Rothschild
1st Cru Classe, 1855
33250 Pauillac
+33 5 57 57 79 79
www.lafite.com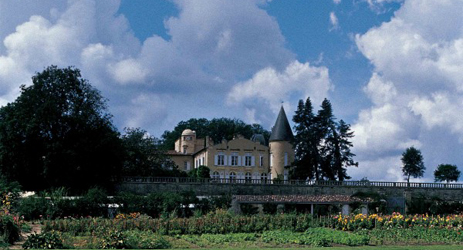 Location: AOC Pauillac, next to Chateau Mouton Rothschild in Pauillac, and Chateau Cos d'Estournel in AOC Saint Estephe.
Production: 112ha, Production is split between Chateau Lafite and the second wine, Carruades de Lafite. Grapes that are not used in Carruades or Pauillac DBR will go to the DBR collection, produced by parent company Domaines Barons de Rothschild (Lafite).
Five things you didn't know about Chateau Lafite-Rothschild:
- Although in AOC Pauillac, Lafite includes one 4.5 hectare plot of vines from AOC Saint Estephe (located near to Lafon Rochet) in its wines. The border between the two appellations lies just next to the Lafite vines, and the chateau has had the right (known as a dérogation) to include the cabernet sauvignon grown on this plot, known as Blanquet, since 1868.
- Even before Lafite's purchase at auction by Baron James de Rothschild in 1868, the estate was being held up as a shining example of a financially-successful enterprise. The sales catalogue at the time of the auction commented upon its ability to make '100,000 francs per year simply in wine sales'. It's safe to say that the Rothschilds have since assured its continued success.
- The estate has an onsite cooperage, which produces all the barrels needed by the Bordeaux estates of DBR (Lafite) and partially provides barrels for DBR (Lafite)'s other estates in Languedoc, Chile and Argentina – around 2,000 barrels per year.
- In the 1880s, Alphonse, Gustave and Edmond de Rothschild at Lafite and James Edouard de Rothschild at Mouton built a primary school in the local village of Mousset to teach, free of charge, the children of their staff and those of local villagers. The school still exists today.
- A second wine called Carruades has been made at Lafite for decades, but was called Moulin des Carruades until 20 years ago. The origin of the name comes from the Carruades plateau, the name of a plot of land next to the chateau's main vineyards, purchased in 1845 by Lafite. In the early 20th century, Carruades was marketed entirely separately from Lafite before being integrated into its production and becoming the source of its second wine. But it wasn't until the two names were linked – becoming Carruades de Lafite in the late 1980s – that it really caught the imagination of drinkers
Current owner: Baron Eric de Rothschild, who has headed up Lafite for 40 years. Christophe Salin is managing director of DBR Lafite, working out of Paris.
Most notable previous owner: Starting with Baron James in 1868, all the Rothschilds have been fairly notable. Nicolas-Alexandre, Marquis de Ségur in the 18th century was perhaps the most notable former owner, known as the 'Prince of Vines'.
Other chateaux owned: Chateau Rieussec, Chateau Duhart Milon, Chateau L'Evangile, Domaine d'Aussieres, Vina Los Vascos, Bodegas Caro, Chateau Paradis Casseuil, Chateau Peyre-Lebade. Plus the branded DBR Collection wines. Penglai Estate DBR-CITIC, Shandong province of China, joint venture with CITIC East China Group (the first commercial vintage is expected in 2016).
Commercial strategy: Wine is sold as a future through the En Primeur system. Négociants sell 100% of production, and 95% is exported. Major markets China, England, USA, Japan, Korea, but sold in over 70 countries worldwide.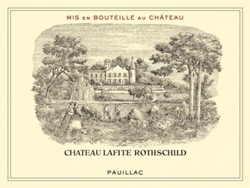 Through the centuries:
One of the oldest histories in the region, as you would expect, dating back to at least the 13th century. But serious winemaking didn't happen at the property until the 17th century, with the arrival of Jacques de Ségur, who began expanding the vineyards in the 1670s. Soon after, Lafite made its way to the English market, and almost immediately was distinguished by high prices and powerful friends. For one year from 1732, for example, British prime minister Robert Walpole bought a barrel of Lafite every three months. Fifty years later, and soon-to-be US president Thomas Jefferson was a fan.
Lafite was clearly always a powerful name, but it's fame was given a turbo charge when it became part of the Rothschild family in 1868, a decade after it had been named First Growth at the 1855 Universal Exhibition in Paris. Baron James, one of the five Rothschild brothers from Frankfurt, had arrived in Paris in 1812, where he became a successful financier. James invested heavily in railways, helped with the construction of the Gare du Nord station, and invested in mines, foundries, the general urbanization of Paris, besides investing in Pauillac vineyards. With the exception of a five-year occupation by German troops during World War II (when Baron Elie was held as a prisoner of war in Colditz Castle), the estate has remained within the Rothschild family ever since.
Wine consultant: Eric Boissenot, with Charles Chevallier as technical director
Plantation and vineyard work: Grapes (planted to 70% Cabernet Sauvignon, 25% Merlot, 3% Cabernet Franc and 2% Petit Verdot, are harvested by hand, sorted by hand in the vines before a final check once back at the winery. Some satellite imagery is used in the vines to measure ripeness, but most of the appraisal work is done by visual testing, and tasting ('we prefer tradition to technology' says Chevallier). Vines under 20 years of age are never used for the First Wine. Vines usually grow until around 80 years of age. The oldest plot, called La Graviere, was planted in 1886.
Vinification: Work in the cellars continues this philosophy – the malolactic fermentation is started naturally, with no added yeasts, and much of the First Wine is fermented in the same wooden vats which have been in place since the 1980s. There are a few new touches of course - an extension to the cellar has been in place since the 2011 harvest, with a range of stainless steel and cement tanks from 40 to 120 hectolitres to increase plot selection (most typically for grapes from the young vines, to ensure their progress is being meticulously tracked).
Terroir: Deep gravel, up to 10 metres in some sections, with aeolian sand and a subsoil of limestone.
Recent improvements or changes: In terms of the wine, Cabernet Franc has recently become increasingly rare in the first wine. In terms of the property itself, one of the key questions at Lafite is who will take over the family firm after Baron Eric, who is now in his 80s. He has three children, Saskia, Pietro and James, and of the three it is perhaps Saskia that is most likely to take over, as she has shown a great interest in the property while her brother Pietro is studying to be an architect in London. But Baron Eric said recently, 'There is not a monopoly of my branch of the family taking over. There are perhaps others who should be considered.' One thing for certain – it's going to be another Rothschild.
Recent Decanter scores (en primeur, other tastings):
2013 en primeur – 18.25 points
2012 en primeur – 18.5 points, 5 stars
2011 en primeur – 18.5 points, 5 stars
2010 en primeur – 20 points, 5 stars
Average bottle price in UK market: £200-£700 per bottle, dependent on vintage.
All rights reserved by Future plc. No part of this publication may be reproduced, distributed or transmitted in any form or by any means without the prior written permission of Decanter.
Only Official Media Partners (see About us) of DecanterChina.com may republish part of the content from the site without prior permission under strict Terms & Conditions. Contact china@decanter.com to learn about how to become an Official Media Partner of DecanterChina.com.