Chateau Latour1st Cru Classe, 1855
33250 Pauillac
+33 5 56 73 19 80
www.chateau-latour.com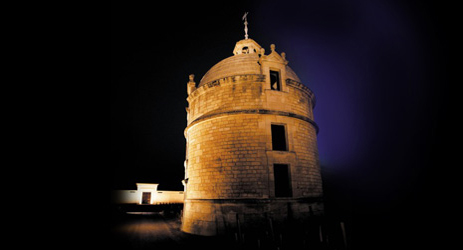 Location: AOC Pauillac, at southern border with Saint Julien. Located next to Chateau Pichon Comtesse de Lalande and opposite Pichon Baron de Longueville.
Production: Latour has 85 hectares of vines, and more than 750,000 individual vine plants. A low stone wall surrounds the main 47 hectare plot known as L'Enclos.
Five things you didn't know about Chateau Latour:
- Latour has very similar terroir to Petrus in Pomerol – a sticky clay known as 'argile gonflante'. At Latour there is also an extensive gravel on top of the clay.
- For much of the 18th century, the de Ségur family owned both Chateaux Lafite and Latour. For two years, from 1718-1720, Alexandre de Ségur owned Mouton also – so three of the current five First Growths.
- Each bottle that leaves the estate is individually wrapped by hand in silk paper. Two women are employed full-time to ensure this happens perfectly every time.
- There are seven horses working within the walled L'Enclos vineyard of Latour, used because they impact the soil less than a tractor would, and as part of the biodiversity and biodynamic programme. Similarly, vineyard workers use mountain bikes to get around the 85 hectares of vines, again because this is a low-impact form of transport.
- Owner Francois Pinault is one of France's most significant art collectors, with a collection of over 2,000 works, with a clear leaning towards contemporary artists including Jeff Koons, Robert Ryman and Bruce Nauman. Hanging in the tasting room at Latour is Swiss photographer Balthasar Burkhard's Zebre (1996).
Current owner: Francois Pinault, billionaire businessman of Gucci, Christie's and Palazzo Grassi fame. Latour is run by his son François-Henri Pinault (married to actress Selma Hayek), with CEO and president Frederic Engerer in charge in Bordeaux.
Most notable previous owner: The de Ségur family arrived here way back in 1670. Besides Alexandre de Ségur, the man who managed to gather together three First Growths (as they are now) at the same time, the entire family are worthy of note, as they and their descendants remained in charge until 1962.
Other chateaux owned: Domaine d'Eugenie (Vosne Romanée, Burgundy), Chateau Grillet (Rhone Valley), Araujo Estate (Napa). Pinault also owns vines in Le Montrachet and Bâtard Montrachet, two white Burgundy grand crus. July 2013, Francois Pinault also bought Araujo Estate in Napa Valley.
Commercial strategy: Chateau Latour caused a stir in Bordeaux in 2011 when it announced that it would no longer be using the En Primeur system. Instead the wine will be sold when deemed 'ready to drink' - so on average 10-15 years after vintage for the first wine, and seven to eight after vintage for Forts de Latour (the most recent vintages, sold in Mach 2015, were 2003 for the grand vin and 2008 for the second wine). The chateau says it will still sell its wine 100% through négociants. Over 95% of Chateau Latour is exported.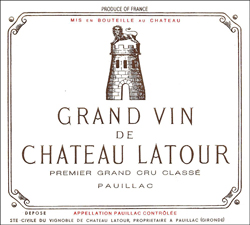 Through the centuries:
The first mention of Latour dates from 1331, with an authorization for a fortified tower to be built in the parish of Saint Maubert. The 10-metre-high tower in the vines today is not sadly this 14th century tower, but was formerly a dovecote (reportedly built from the original stones, although that sounds a little too romantic to be true). The site was used as a key battleground during the hundred Years War, and swapped ownership between various families for centuries. Perhaps the first ones of note were the Mullet family, who remained in charge until the 17th century, but nothing really happened in terms of fame and adulation until the de Ségur's arrived – first in the form of Alexandre de Ségur, and then his son Nicolas-Alexandre de Ségur. As with all the Firsts, acceptance in the English market played its part in the growing reputation, and in 1714 a barrel of Latour was worth four to five times that of a barrel of basic Bordeaux. By 1767 that ratio had risen to 20 times. The de Ségur family, and their descendants, managed to stay in charge here until 1962, when the property was bought by the English financial group Pearson, then Allied Lyons and finally, in 1989, by Francois Pinault via his holding company Artémis.
Consultant: Eric Boissenot
Plantation and vineyard work: This is the estate with the most Cabernet Sauvignon planted of all the Firsts – over 80% of the vines, with the remainder being 18% Mmerlot, and a small amount of Cabernet Franc and Petit Verdot. Vines are planted at 10,000 plants per hectare, with 750,000 plants in total. If any plots are uprooted, the soil is left for a minimum of five years to regenerate before new planting. Ploughing with horses was reintroduced in 2008. At the same time, natural methods of crop protection have been introduced, from insect hotels to sexual confusion, and no herbicides are used to maintain the soils. The biodynamic treatments are carried out per plot, and change each vintage, with tasks carried out in line with the lunar calendar. A massal selection programme protects the genetic heritage of its old cabernet sauvignon vines (the most recent of which were planted in the 1950s). The estate now has a gene bank containing several families of Cabernet Sauvignon.
Vinification: Attention to detail is the byword at Latour, and I imagine an unpolished pair of shoes would merit a stern word. The fermentation room was fully renovated in 2001 and contains 66 stainless steel vats ranging from 12 to 170 hectolitres. In the ageing cellar, the wine rests for 18 months in 100% new oak, with each barrel of the highest quality French oak, selected by 12 different cooperage houses. Just behind the cellar, the final touches include an on-site bottling line, where corks are tested and retested, and a certificate of provenance, marking the number of each bottle, and assuring that it has been bottled at the estate, is included in every case. Each bottle has a code on the neck to ensure full traceability. The first wine is invariably over 90% cabernet sauvignon.
Terroir: Most of Latour's vines stand on gravelly hilltops that stand 12 to 16 metres above the Gironde Estuary. Underneath the gravel is 'sticky clay' – and together they provide near perfect regulation of water to the vines.
Recent improvements or changes: Recent changes concentrate mainly on the method of farming in the vines, which is increasingly following biodynamic practices. Today there are around 25 hectares farmed biodynamically, with that figure rising all the time (and largely organic farming for the rest), with the intention to be fully biodynamic in the future. An underground cellar stores the wine that kept here following the new commercial policy.
An extremely comprehensive book, entitled Château Latour, was published by the property and Editions Xavier Barral in December 2013.
Recent Decanter scores (en primeur, other tastings):
2013 En Primeur 18.25 points
2012 En Primeur 18.75 points
2011 En Primeur 18.5 points, 5 stars
2010 En primeur 20 points, 5 stars
2009 en primeur 19.5 points, 5 stars
2008 en priemur 19.5 points, 5 stars
Average bottle price in UK market: £300-£900 per bottle, depending on vintage.
All rights reserved by Future plc. No part of this publication may be reproduced, distributed or transmitted in any form or by any means without the prior written permission of Decanter.
Only Official Media Partners (see About us) of DecanterChina.com may republish part of the content from the site without prior permission under strict Terms & Conditions. Contact china@decanter.com to learn about how to become an Official Media Partner of DecanterChina.com.