Chateau d'Yquem
1st Cru Classé Superieur, 1855
33210 Sauternes
www.yquem.fr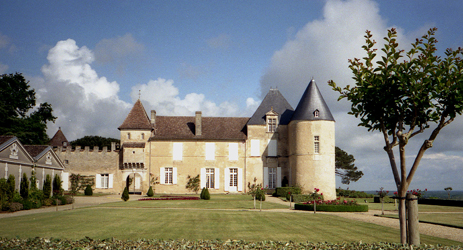 Location: At the highest point of AOC Sauternes, surrounded by Chateaux Guiraud, Rieussec, Suduiraut and Raymond Lafon.
Production: 113 hectares of vines, but only 100 hectares are in use at any one time. Average production is 10 hectolitres per hectare, but varies widely, so the estate bottles on average 60,000-100,000 per year.
Five things you didn't know about Chateau Yquem:
- One of the few Bordeaux estates to have a female oenologist, Sandrine Garbay arrived in 1994 in charge of quality control, and became cellar master in 1998.
- Yquem phonetic translation in Mandarin (or one of them) is 'drop of gold'.
- You won't find a signpost to Chateau d'Yquem in Sauternes – every time the local municipality puts one up, it gets stolen by enthusiastic wine lovers. They have now given up replacing them.
- The chateau was used as a military hospital during First World War, and the chestnut tree that grows just outside the main chateau walls was planted by French soldiers who had been sent there to recuperate. During the war, Marquis de Lur Saluces served as an officer in the army.
- Until the early 19th century, Sauternes made mainly dry white wine. In 1847, Yquem was the first and only Sauternes to deliberately stake its reputation on wine made from 'noble rot' grapes.
Current owner: Yquem is owned by luxury goods house LVMH (Moët Hennessy – Louis Vuitton), which bought the property in 1999 from Alexandre de Lur Saluces. Its director is Pierre Lurton. The Lur Saluces family still has a minority shareholding – 95,63%/4.37%.
Most notable previous owner: Romain Bertrand de Lur-Saluces in the 19th century, who reportedly was too busy hunting on the Russian steppes to return home in time for harvest… and his delay meant the grapes were left to await his arrival, so leading to the first discovery of noble rot. A good story, although almost certainly a myth, as a 17th century deed drawn up by a local notary for Francois Sauvage, lord of Yquem at the time, specified that 'in order not to be unworthy of said wine, the grapes should not be harvested until very ripe'.
Other chateaux owned: Chateau Cheval Blanc, Chateau La Tour du Pin, Chateau Quinault l'Enclos
Commercial strategy: Negociants sell 100% of production, and is largely exported. Major markets USA, Japan, Netherlands, UK, Germany, China.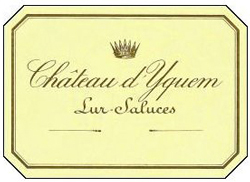 Through the centuries:
The estate dates back to a 16th century fortified farm that was extended during the 15th and 16th centuries and became eventually a manor house. Its official birthdate is given as 1593, when Jacques de Sauvage bought the estate, although it's likely there were vines here long before that. The winery was built by Francoise-Josephine de Sauvage, a descendant of Jacques and the widow of Louis-Amédée de Lur-Saluces, in 1826. She was also the first owner to dedicate the property entirely to wine, and lived there until her death (with the chateau itself) in 1851. Thomas Jefferson gave the wine a boost, as he did to so many Bordeaux estates, when he ordered 10 cases of the 1784 (or possible 1787) to be bottled at the chateau, and sent to him.
Wine consultant: Denis Dubourdieu, with Sandrine Garbay as Cellar Master at the estate.
Plantation and vineyard work: 80% sémillon and 20% sauvignon blanc. Vineyard work is all done by hand, and 140 to 180 grape pickers during harvest will visit each row of vine an average of five times, selecting only the berries that have reached the perfect state of 'noble rot'. Throughout the growing season, the vineyard manager prunes to limit the yield and thins out the grapes so that they overlap as little as possible, allowing the aeration that is so important for noble rot. It's then a question of waiting for the right combination of sunshine, mist and rain to kick start the noble rot, and for the grapes to reach sufficiently high sugar concentration, with a potential alcohol of 18-30°, or 300-600 grams per litre of sugar.
Winemaking: In the cellars, fermentation is very slow because of the high sugar content of the grape must, sometimes as long as six weeks, or double that of a dry wine. Each day's harvest is split up by vineyard plot and grape variety, and upon arrival at the chateau, the grapes will be gently pressed (usually three times) to extract the sugar-rich juice within. Each press produces a progressively higher level of alcohol and residual sugar concentration, and all three presses are combined and sent to barrel for fermentation in 100% new oak. Fermentation is closely followed in the temperature-controlled-cellar and only indigenous yeasts are used. This phase of winemaking comes to an end after two to three weeks when the yeasts have naturally stopped their activity. The final wine will be around 13-13.5°, with a residual sugar content of around 125 grams per liter. Its ageing abilities are legendary, easily hitting a century in the best vintages.
Terroir: Clay and gravel, on slopes that descend on all four sides from the chateau.
Recent changes: There was no 2012 Yquem vintage. The previously declassified vintages with no Yquem production were 1910, 1915, 1930, 1951, 1952, 1964, 1972, 1974, and 1992
Recent Decanter scores (en primeur, other tastings):
2013 en primeur 18.5 points
2012 no production
2011 en primeur 5 stars / 19 points
2010 en primeur 5 stars / 19 points
2009 en primeur 5 stars / 19.5 points
2008 en primeur 5 stars / 18.5 points
Michael Broadbent selected the 1921 Yquem as his Wine Legend in 2011.
Average bottle price in UK market: From £80 for half bottle.
All rights reserved by Future plc. No part of this publication may be reproduced, distributed or transmitted in any form or by any means without the prior written permission of Decanter.
Only Official Media Partners (see About us) of DecanterChina.com may republish part of the content from the site without prior permission under strict Terms & Conditions. Contact china@decanter.com to learn about how to become an Official Media Partner of DecanterChina.com.