Chateau Haut-Brion
1st Cru Classe, 1855
33600 Pessac
www.haut-brion.com
+33 5 56 95 53 50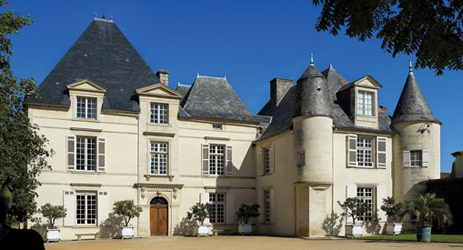 Location: AOC Pessac Léognan, opposite Chateau La Mission Haut-Brion (owned by the same family), a few miles from central Bordeaux in the commune of Talence. Doesn't quite have a Bordeaux 33000 postcode, but only misses out by a few streets.
Production: 51.5 hectares of vines and produces around 200,000 bottles per year, split between the first wine, and the second Le Clarence de Haut-Brion. A small amount of Haut Brion Blanc is also produced, made from 2.8 hectares of an almost equal mix of sauvignon blanc and sémillon. A second white wine, La Clarté de Haut-Brion, is taken from the production of both Haut-Brion Blanc and La Mission Haut-Brion Blanc.
Five things you didn't know about Chateau Haut-Brion:
- Haut-Brion is the only estate in Bordeaux to be at the top of two separate wine rankings; it's both an 1855 Premier Cru Classé and a Cru Classé de Graves.
- Château Haut-Brion is the oldest continual vineyard entity in Bordeaux. There is proof that vines have grown here, as part of the estate, since the 14th century. Even further back, the Roman tribe of Bituriges Vivisques almost certainly chose the Haut Brion site as one of its first vineyards around their new capital Burdigala as early as the 1st century AD.
- Haut-Brion has a fair claim on saying it invented modern fine wine, as it was here that 'New French Claret' was developed by Arnaud III de Pontac. This wine was the result of longer vatting and aging periods, and the use of new techniques such as topping-up (constantly filling casks to prevent the wine from being in contact with oxygen), and racking (emptying the wine from the barrel during ageing to eliminate the lees and begin the process of clarification). With the introduction of these techniques, wine had the potential of ageing in bottle.
- There are two family dynasties here: the owners (Dillon), and the winemakers (Delmas). Managing director Jean-Philippe Delmas took over from his father and grandfather before him. He's the third generation of Delmases to make the wine, since the arrival of Georges Delmas in 1923 (pre-dating the Dillons by 12 years).
- The Dillon family has a long history of politics and diplomacy. Clarence Dillon was active behind-the-scenes throughout World War II, acting as a liaison between the American and British governments, communicating on President Roosevelt's behalf with Prime Minister Chamberlain. His son Douglas Dillon became American ambassador to France, and also served in the US government under both Republican and Democrat presidents. In 1989, Douglas Dillon received the Presidential Medal of Freedom, the nation's highest civilian honour. Then-president Bush congratulated Dillon, 'for service to three presidents and for commitment to his fellow man. By fostering European economic and military unity, he furthered the cause of democracy. Through his leadership on economic issues, he helped make possible the material advance of a generation.'
Current owner: Today, Haut-Brion is owned by European Royalty in the form of president and CEO Prince Robert of Luxembourg and Nassau. First cousin of the sovereign Grand Duke of Luxembourg, Prince Robert is grandson to the American financier Clarence Dillon, who bought the estate in 1935.
Most notable previous owner: There have been many, including Napoloeon's foreign minister Charles-Maurice de Talleyrand. But perhaps this spot has to go to Jean de Pontac, known as the 'true father of Haut-Brion' for assembling over half of the plots of vines owned by the estate today. He bought the land in 1533, had three wives, 15 children, died when he was 101, and lived through the reigns of five kings - Louis XII, François I, Henri II, Charles IX and Henri III.
Other chateaux owned: Chateau La Mission Haut-Brion, Chateau Quintus
Commercial strategy: Sold as a future though the En Primeur system. Negociants sell 100% of production, and over 90% is exported. Main markets United States, Japan, China, United Kingdom.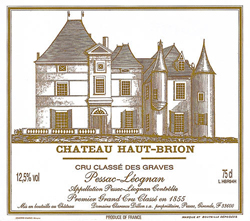 Through the centuries:

The smallest of the First Growths proves that size clearly isn't everything, as this was the first of the Firsts to come to international acclaim, with its wines being celebrated on the English market in the 1660s, a good half-century before Margaux, Lafite and Latour came to prominence. In fact, Haut-Brion wine was drunk by King Charles II in 1660. The cellar book (its official title was the Office of the Pantry, the Butler and the Cellar of the Lord King) records 'in the year of our lord 1660-1661', an order of '169 bottles, in a single shipment, of Hobrion [Haut-Brion] wine to be delivered by the estate, for the pleasure of His Royal Highness and His Majesty's invited guests, at the price of 21 shillings and 4 pennies per bottle, well filled.' In 1663 it received its famous mention in the diary of Samuel Pepys. To capitalize on all this, Haut-Brion then opened an upmarket tavern in the City of London. Called the Pontack's Head, it was opened by Arnaud III de Pontac just after the Great Fire of London in 1666.
Until recently, it was believed that King Charles' cellar book was the earliest written reference to Haut Brion, but an earlier mention was recently found in local Bordeaux archives, dating back to 1521. It detailed the sale of an annuity of Aubrion wine between Jean de Monque and Guilhem de Malois. A second mention was found, also in the local archives, dating to 1526, detailing the sale of two barrels of clairet red wine from 'Haulbrion'.
Basically, you could spend all day on the history of this property. Let's just say that at pretty much every significant French event over the past 500 years, Haut-Brion has been present in some way. Its owner Count Jospeh de Fumel lost his head during the French Revolution, it was served at the Congress of Vienna in 1814, it was a favoured wine of Thomas Jefferson, it was first a rest home for French officers and then for Luftwaffe pilots during World War II.
Consultant: Haut-Brion has no outside consultant. Jean-Philippe Masclef is the oenologist and technical director, who works closely with managing director Jean-Philippe Delmas, who is also an oenologist and winemaker.
Plantation and vineyard work: It's terroir is more varied than in the gravelly Médoc soils that lies underneath the other four First Growth wines, resulting in a more even split of 50% Cabernet Sauvignon, 40% Merlot, 9% Cabernet Franc and 1% Petit Verdot. They are slowly but surely upping the cabernet sauvignon, at least in the blend of the first wine. This was one of the first Bordeaux properties to have nursery for private clonal selection (and in fact remains one of the very few to have one) that back to 1970, when Jean-Bernard Delmas pioneered the idea. Today the estate uses one dozen clones per plot to be sure of complexity for all its red grapes, and enlists six trainees for the two months before harvest to test the ripeness of the grapes in each plot at least four or five times across the whole vineyard.
Vinification: Another first here, as Haut-Brion was the first chateau in Bordeaux to introduce stainless steel tanks for winemaking in the early 1960s, and one of the first to have an onsite oenology laboratory, headed up today by Jean-Philippe Masclef. And as with Margaux and Lafite, there is also an onsite cooperage, this time in partnership with Seguin-Moreau barrel makers, producing around 70% of the estate's requirements and ensuring an aromatic but gentle toast. The balance is made up with barrels from Demptos and Taransaud, which add a slightly more austere edge to the final wine. Blending happens early at Haut-Brion, with the final blend usually decided by December or January following vintage.
Terroir: Speciaist Olivier Trégoat carred out terroir studies to classify the different soils present on the property. Haut-Brion used the results of these to help decide which varietals, clones, and rootstocks to plant where, and they work each year to harvest accordingly, in 'lots' more or less homogenous in terms of soil type, varietal, rootstock, and vine age.
Recent improvements or changes: The estate just finished a full restoration project, with new offices, receptions rooms (including a Salle Pontac in honour of the original owner) and a circular library for 2,000 rare and first edition wine and food books. The library is open for research students on application.
Recent Decanter scores (en primeur, other tastings):
2013 en primeur – 18.25 points
2012 en primeur – 18.5 points, 5 stars
2011 en primeur – 18.5 points, 5 stars
2010 en primeur – 19.5 points, five stars
2009 en primeur – 19.5 points, 5 stars
2008 en priemur – 19 points, 5 stars
Average bottle price in UK market: £90-£250 per bottle depending on vintage
All rights reserved by Future plc. No part of this publication may be reproduced, distributed or transmitted in any form or by any means without the prior written permission of Decanter.
Only Official Media Partners (see About us) of DecanterChina.com may republish part of the content from the site without prior permission under strict Terms & Conditions. Contact china@decanter.com to learn about how to become an Official Media Partner of DecanterChina.com.