2nd Cru Classe, 1855
33250 Saint Julien
www.chateau-ducru-beaucaillou.com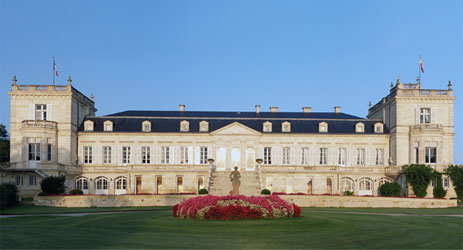 Location: AOC Saint Julien, next to Chateau Beychevelle, Chateau Léoville Barton and Chateau Léoville Las Cases.
Production: 75 hectares. 50% go into the first wine, Ducru-Beaucaillou, and 50% into Croix de Beaucaillou.
Five things you didn't know about Chateau Ducru-Beaucaillou
- The vines lead right down to the river Garonne, and the proximity to water means a low frost risk. In 1991, when many neighbouring estates lost up to 70% of their production because of a particularly severe frost, Ducru lost just 30%.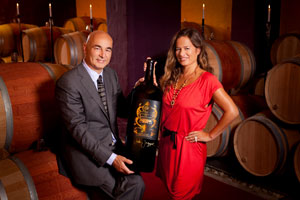 - Owner Bruno Borie (pictured on the left) bought then-ailing Bordeaux aperitif brand Lillet in 1981, when he was working for a wine export company. He later sold it to the Ricard family of Pernod-Ricard in 2008 (after having seen it successfully placed in two James Bond films: Casino Royale in 2006 and Quantum of Solace in 2008 – restarting a tradition that dated back to 1955, when Ian Fleming used Lillet for the martini in his first ever James Bond novel). Borie rejoined the family wine estates in 1998 and now runs Ducru full-time (and says his experience with Lillet gave him a global world view that has helped him see beyond the small world of Bordeaux).
- Different generations of families from Valdepeñas de Jaén in Andalucia have been bringing in the grapes for over 50 years at all three Borie family properties (Ducru, Grand Puy Lacoste and Haut-Batailley).
- A vast array of flags from over two dozen different countries fly outside of Ducru-Beaucaillou at all times.
Current owner: The charismatic Bruno Borie heads things up, the third generation of his family at the helm since grandfather Francis bought the place in 1941.
Most notable previous owner: The name Ducru comes from the 18th century owner Bertrand Ducru who commissioned a Parisian architect to build the chartreuse style chateau.
Other chateaux owned: Chateau Lalande-Borie, Saint Julien and Chateau Fourcas-Borie, Listrac. The Borie family (headed up by his brother Francois-Xavier) also own Chateaux Grand Puy Lacoste and Chateau Haut-Batailley. His mother Monique also owns Chateau Ducluzeau in Listrac-Médoc.
Commercial strategy: 100% négociants, 85% exports (main countries United States, Japan, Hong Kong, UK)

Second wine: Croix de Beaucaillou. Borie doesn't like to think of this as a second wine, as it comes from an entirely separate plot of vines (hence the makeover). A 'third' wine, Chateau Lalande-Borie, comes from a separate estate which was created in 1970 by his father Jean-Eugene Borie, who bought the vines from neighbouring classified properties.
Through the centuries:
The estate dates back to the 13th century, but its history can be more effectively traced from 1720, when Chateau Beaucaillou was purchased by the Bergeron family (and was known particularly for its welcoming of Scandinavian visitors). In 1795, after the French Revolution, the property was bought by Bertrand Ducru who added his name to the title, making Ducru-Beaucaillou. He asked architect Paul Abadie to improve the existing chateau building, and also spent money on both the vineyard and cellar. It was the Ducru family who got to celebrate its 1855 success as being named a Second Growth. Bertrand Ducru's daughter also married the Speaker for the French parliament, and the story goes that he switched the politicians' customary glass of water for a glass of Ducru-Beaucaillou…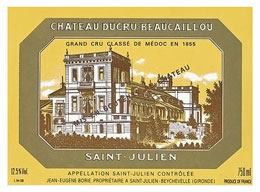 Next up, from 1866, came the Irish Johnston family (led there by Nathaniel Johnston's French wife Lucie-Caroline Dassier who bought the property for one million francs). Johnston (who was himself French, his family having emigrated from Ireland in the 17th century) became mayor of Saint Julien from 1903 to 1908, and built a creche and a hospice in the village. Johnston also experimented with various solutions to the vine diseases that were affecting the Médoc in the late 19th century, and is credited with the discovery – with his vineyard manager Ernest David - of the copper-based 'Bordeaux Mixture' that saved the vines from mildew. Two years after his first wife died, Johnston remarried Princess Marie Caradja of Constantinople, who redesigned the entire chateau, adding to its structure Victorian tower and wings, and the huge park stocked with rare and exotic species of plants and trees.
The Johnstons were forced to sell during the Economic Crisis on 1929 to the Desbarats family, but Nathaniel and Marie Caradja's daughter, who was born in Beaucaillou, asked to be buried in Saint Julien cemetery on her death in 1971, so she could still see the chateau's park.
The Desbarats (also wine merchants) stayed for just 12 vintages, until the war again forced a sale. In 1941, Francis Borie – again a wine merchant, and already owner of several vines in Pauillac, bought Chateau Ducru-Beaucaillou, handing it down to his son, and now his grandson. The estate was divided between the three Borie siblings when Bruno rejoined the family business in 1998. But his brother Francois-Xavier had three children of his own, and felt the only way to protect future generations was for the estates to be divided. In 2003, it was agreed that Francois Xavier would keep 100% of the Fifth Growth Grand Puy Lacoste, Bruno would become managing director of the more prestigious Second Growth Ducru-Beaucaillou, but would share ownership of it equally with his sister.
Consultant: Jacques and Eric Boissenot
Plantation and vineyard work: The vines are planted at mainly 10,000 feet per hectare to 70% Cabernet Sauvignon and 30% Merlot, with complete plot-by-plot harvesting and vinification. Sorting takes place in the vines on small tables, to avoid any mixing of healthy and unhealthy grapes even on the short ride to the cellars. Average age of vines is 35 years. In five years, Borie says the goal is to manage the vines cluster by cluster, using GPS and electrode technology to track growth, disease and sugar content. The various plots are planted according to topography (so some are east/west, and others run north/south). Rootstocks at Ducru are 3309, Riparia Gloire de Montpellier and 101-14. Grapes are harvested manually and sorted in the vines.
Vinification: Unusually for Bordeaux, the Ducru chateau is built directly over its barrel cellars. As in the vineyard, all plots are treated separately in the cellar, with fermenation taking place according to terroir, yield and grape variety. Gentle extraction, moderate temperatures, malolactic fermentation carried out in vats, then press wine drained directly into barrel. After vinification, the wine is aged in 90% of new oak. For Croix de Beaucaillou, 60-70% of new oak barrels are used. Not only are several different barrel makers used, but cork makers also, to ensure the best quality.
Terroir: The name gives you a hint – beaucaillou means 'beautiful stones', and the estate is renowned for its large stony terroir, giving excellent drainage.
Recent improvements or changes: Bruno Borie is known for his love of cooking (he often has clients into the chateau kitchen and will cook for them himself), so no surprise that a recent venture is a partnership with a Périgord truffle maker, Pierre-Jean Pebeyre. In 2013, they cooked for 40 guests at the residence of the French ambassador in Tokyo. Back in Bordeaux, the most recent changes have centred around the relaunch of La Croix de Beaucaillou, and the intense vineyard work preparing ever-more detailed plot-by-plot selection.
Recent Decanter scores:
2012 en primeur – 18.25 points/20 2011 en primeur – 18 points/20
2010 en primeur – 19 points
2009 en primeur – 18.5 points
2008 en primeur – 18.5 points
Average bottle price in UK market: £70-£200 depending on vintage.
All rights reserved by Future plc. No part of this publication may be reproduced, distributed or transmitted in any form or by any means without the prior written permission of Decanter.
Only Official Media Partners (see About us) of DecanterChina.com may republish part of the content from the site without prior permission under strict Terms & Conditions. Contact china@decanter.com to learn about how to become an Official Media Partner of DecanterChina.com.