Chateau Lascombes
2nd Cru Classe, 1855
33460 Margaux
www.chateau-lascombes.com
+33 557 88 70 66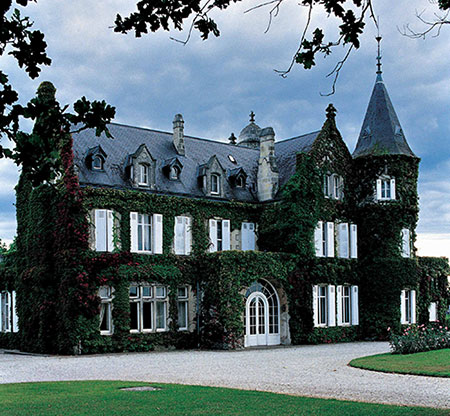 Location: AOC Margaux, next to Chateau Margaux and Chateau Durfort-Vivens
Production: 118 hectares, producing 300,000 bottles annually of the first wine. Plus 200,000 of Chevalier de Lascombes and 20,000 of AOC Haut-Médoc.
Five things you didn't know about Chateau Lascombes:
- Lascombes vineyard has gone from 27 hectares in 1866 to a tiny 12 hectares in 1951, up to 50 hectares in 2004. The last decade has seen serious planting and purchasing, as well as renting 27 hectares of AOC Margaux from neighbouring Chateau Martinens, bringing it up to 118 hectares today. The estate also comprises 6 hectares of AOC Haut-Medoc.
- In the late 1600s, Chateau Margaux records that its wine was blended from not only its own vines, but those that came in the form of feudal dues from tenants across its wider lands in Margaux. The best plots, according to documents in the archives of Margaux, came from a close neighbour Antoine de Lascombes.
- Awarded a ranking just one below Margaux in 1855, this Second Growth (Deuxième Cru Classé) has the highest production of any Margaux estate (and one of the biggest of all 1855 properties). Its 118 hectares accounts for 12% of the whole Margaux appellation.
- Former owner, Russian-American Alexis Lichine was known as the 'Pope of Wine' for his books Wines of France, and Encyclopdiea of Wines and Spirits, and his tireless work in promoting wine. In the 1960s, he was the biggest importer of wines into the US. He fought for the US Army during World War II, and reportedly was the first American to have a drink at the Carlton Hotel Bar in Cannes after the city was liberated.
- Director Dominique Befve spent 10 years as technical director of Chateau Lafite Rothschild and Duhart Milon, followed by Chateau l'Evangile in Pomerol.
Current owner: In July 2011, Lascombes was sold for €200 million, and after 50 years in English or American ownership, passed back into French hands in the form of insurance group MACSF. At the time, new owner Marcel Kahn made a lot of locals happy when he said, 'We are an entirely French company, and are happy to have invested in a piece of French heritage – we see this as a long-term investment, and are interested in ensuring continuity and future growth.' The company has an annual turnover of €2.12bn, and the purchase figure represents just 1% of MACSF assets, as they have €19.7 billion in assets under management.
Most notable previous owner: Perhaps it should be Antoine de Lascombes, a knight born in 1625 who was the founder member of the Lascombes dynasty, but I think I'll go with Alexis Lichine, wine writer, wine merchant and general bon viveur. Lichine was the son of a Moscow banker and lawyer who moved to the United States in 1917 bought the estate in 1952, and was one of the key figures of 20th century Bordeaux – particularly for his role in popularizing Bordeaux wines in the United States. It was thanks to his tireless travelling and promotion that Lascombes reputation shot up in the 20th century, to regain the renown it had enjoyed in 1855.
Other chateaux owned: None, this was the first chateau purchase for MACSF.
Commercial strategy: 100% négociants. 30% is sold in the United States, 40% in Asia, and 20% in Europe. France remains a minority market, although the new owners may be keen to change that.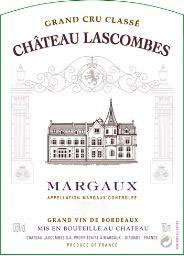 Second wine: Chevalier de Lascombes
Through the centuries:
The chateau can trace its roots back to the 17th century and Count Durfort de Duras (as with its neighbour Durfort-Vivens). But it was really Antoine de Lascombes who can be seen as the true father of this property. We know he was born in 1625, and we know that by 1700 it was fully separate from Durfort-Vivens, but the exact date that it separated is not clear. It stayed in the Lascombes family until just after the French Revolution in 1789, then passed through a good dozen owners (including Gustave Chaix d'Est-Ange, secretary to the Gironde senate, who built the current chateau in 1867). The modern era began with its purchase by American wine writer Alexis Lichine in 1952 (with investment from financier David Rockerfeller), then UK drinks giant Bass Charrington in 1971, and American investment group Colony Capital in 2001. All have made their mark, most notably Colony, who invested heavily in the vineyard expansion and in fully renovating the cellars, installing a four-level, gravity-led vat room and barrel cellar that remains one of the most modern in Bordeaux. A usual blend is 50% Merlot, 45 % Cabernet Sauvignon and 5% blend of Cabernet France and Petit Verdot, aged for 18 months in oak, that ranges from 80-100% new.
Consultant: Michel Rolland, with managing director Dominique Befve.
Plantation and vineyard work:Cabernet Sauvignon (45%), Merlot (50%), Cabernet Franc (1%) and Petit Verdot (5%), planted to 10,000 vines per hectare. Average age of vines 40 years. Harvests are carried out by hand, into small baskets. Rootstock 101-14, Riparia Gloire de Montpellier and 3309C.
Vinification: The grape must undergoes one week of cold pre-fermentation (also known as a cold soak) before fermentation in stainless steel and wooden vats for 30-40 days depending on vintage. Plot-by-plot vinification. After malolactic fermentation in barrel, the wine is left on its lees for four months, rotated regularly using the Oxoline system to keep the lies in suspension (smoothing out the wine and reducing risk of oxidation). The winery is almost entirely gravity-led. For ageing, Chateau Lascombes spends 18 months in oak, ranging from 80-100% new oak. Chevalier de Lascombes spends 16 months in one-year old barrels. During vinification, they don't taste each vat every day here, they taste two or three times per week as they believe that you can lose objectivity if you taste every day, and can become distracted by tiny daily changes... an interesting thought, although every chateau will have a different opinion on this.
Terroir: Three main areas of different soils. A gravelly elevation, where cabernet sauvignon and petit verdot is planted, clay-gravel areas where merlot and cabernet sauvignon are, and several plots of clay-limestone, given over to merlot. Unusually (and due to this terroir), merlot accounts for over 50% of the plantings, unlike many cabernet-dominated Médoc wines.
Recent improvements or changes: Colony Capital is believed to have invested around €35m in Lascombes, following its purchase of the property for €50m (this included the high-tech gravity-led winery that is spread over four floors, and a full geological study and replanting programme). MACSF CEO Marcel Kahn said, 'We have enormous respect for all the work and investment that has been put into Lascombes, which has returned it to its Second Growth status.' Since the purchase in 2011, Michel Rolland has agreed to stay on as wine consultant, as has the rest of the team, and a programme of improvements is underway, in both the cellar and vineyard. Some cabernet franc has been planted in the vineyard since 2011, and will be trialled to see if it is a good addition to the wine (it should be at least the 2014 harvest before any results can be assessed).
Recent Decanter scores:
2011 en primeur – 17 points/20
2010 en primeur – 17.5 points
2009 en primeur – 17 points
2008 en primeur – 15.5 points
Average bottle price in UK market: £50-£120
- Follow us on Weibo @Decanter醇鉴

and Facebook

for most recent news and updates -
All rights reserved by Future plc. No part of this publication may be reproduced, distributed or transmitted in any form or by any means without the prior written permission of Decanter.
Only Official Media Partners (see About us) of DecanterChina.com may republish part of the content from the site without prior permission under strict Terms & Conditions. Contact china@decanter.com to learn about how to become an Official Media Partner of DecanterChina.com.