Chateau Beychevelle
4th Cru Classe, 1855
33250 Saint Julien Beychevelle
+33 (0) 556 73 20 70
www.beychevelle.com
Location: AOC Saint Julien.
Production: 90 hectares, producing 40,000-50,000 cases per year.
Five things you didn't know about Chateau Beychevelle:
- The chateau's Louis XV architecture has led it to being called the 'Versailles of the Médoc'.
- The boat on the label is an integral part of the chateau's history – as is the river Gironde. The estate has a terrace and an underground cellar that both overlook the river, and its own port lying at the foot of the gardens. The label refers to a practice during the early 17th century, during the time of then-owner Duc d'Epernon, Govenor of Guyenne. He was a supremely self-confident and authoritarian man, and asked that boats lower their sails as they passed his chateau as a mark of respect. The chateau name comes from this practice, known in French as 'baisse voile'.
- Beychevelle was sold in 1875 to Armand Heine, and so became part of the influx of great banking families that were flocking to Bordeaux during these years, so aware were they of money to be made in the (Liquid) Gold Rush Lands of the Médoc. Others included the Rothschilds in Pauillac, and the Pereire brothers at Palmer.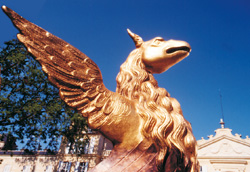 - Château Beychevelle's emblem, a ship with a griffon figurehead and a lowered sail, was sculpted in bronze in 1989 by Roberto Gnozzi, Professor at the Rome Academy of Fine Arts. The figurehead can be seen at the chateau itself.
- The estate uses sophisticated anti-counterfeiting technology, including a system called tesa PrioSpot since 2010, where each bottle has a unique code that checks not only authenticity but also its distributed path (useful information for chateaux to know in Bordeaux, where dozens of négociants sell each property's production, and many bottles can start off in one market and end up in another entirely).
Current owner: Grands Millésimes de France (a subsidiary company created by Castel and Suntory, who both own 50% of the shares in the company). Director is Philippe Blanc and president Aymar de Baillenx.
Most notable previous owner: This may have to go with the Duc d'Epernon – although Beychevelle has been owned by dukes, duchesses, bishops and barons. Besides giving the name to the estate through his nautical demands, the Duke was a wily man, involved in various plots throughout his life, the most famous of which was that he was somehow involved in the assassination of King Henri IV. But he was also one of the key players in the draining of the Médoc, thus preparing the land for planting of vines – and was a distant ancestor of actress Audrey Hepburn.
Other chateaux owned: Depends of course if you are talking about Suntory, Castel or the Suntory-Castel alliance. Jointly, Grand Millésimes de France owns both Beychevelle and Chateau Beaumont in Bordeaux, along with négociant company Barrieres Freres and Vins-Fins.com. The Suntory Group also own Chateau Lagrange, and other drinks-related companies such as PepsiCola, Orangina Schweppes, Morrison Bowmore distillers and ASC wine merchants in China. Back in Japan, Suntory owns Akadama Sweet Wine, and vineyards in the Tomi no Oka region of Yamanashi Prefecture, and since 1988, has co-owned Weingut Robert Weil in Rheingau, Germany with Wilhelm Weil. On the Castel side, you have (among many other wine and beer brands) Chateau du Lort, Chateau d'Arcins, Chateau Cavalier, Chateau de la Botiniere, Chateau Barreyres, Domaine de la Clapiere, Chateau de Goelane, Chateau Tour Prignac and Chateau Ferrande. It's fair to say that there are two heavy hitters, with investment money to spare.
Commercial strategy: 100% négociants, sold en primeur through the Place de Bordeaux. All bottles sold are marked with codes to ensure full traceability.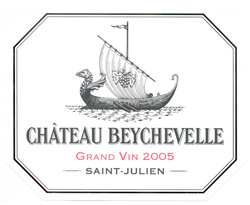 Second wine: Amiral de Beychevelle, first bottled in 1974. The estate also produces as AOC Haut-Médoc called Brulières de Beychevelle.
Through the centuries:
In the reign of King Henri III, Beychvelle belonged to the Dukes of Epernon, firstly with Bishop Francois de Foix-Candale, who had the chateau built in 1565, then Duke Jean-Louis Nogaret de la Valette, Grand Admiral of France (who married Marguerite de Foix-Candale, owner of Chateau Mouton, in the days before it was Mouton Rothschild). The last of the Foix-Candales to own Beychevelle was the Duke of Randan, who remained at the estate until 1701. From here, it passed to the Baron of Lamarque and Beychevelle, Jean-Baptiste d'Abadie, who also happened to be president of Bordeaux parliament. He replanted the vineyard after the devastating 1709 frost. His nephew Etienne-Francois de Brassier inherited the domain in 1717, and it was he who built the port at Beychevelle that remains in place today (although sadly unused), before passing it on to his son, who also left his mark by remodeling the chateau to pretty much the exact building that stands today.
During the French Revolution, Beychevelle was in the hands of Etienne's daughter, Delphine-Catherine de Brassier, Baroness of Beychevelle, and she held on to it through the French Revolution, although her daughter then was forced to sell up in 1801 to shipowner and privateer Jacques Conte. He was clearly pretty successful, and he was known as the 'King of Privateers', probably because he owned at least eight ships and was extremely proficient at taking goods from enemy ships and 'repatriating' them for his clients – so much so he swiftly became a millionaire, and bought Beychevelle with the proceeds. His sister went on to marry the lawyer Francois Guestier, father of the man who founded Barton & Guestier négociant house, but he didn't manage to keep his fortune, and sold Beychevelle in 1825 to Piette-Francois Guestier, his son-in-law and a wine merchant. It was the Guestiers who owned Beychevelle in 1855, when it was given the ranking of Fourth Growth.
The Guestiers sold Beychevelle in 1875 to Armand Heine, cousin of famous German poet Heinrich Heine. The Heines were also one of the great banking families that were flocking to Bordeaux during these years (others would include the Rothschilds in Pauillac, and the Pereire brothers at Palmer). Among their influence on the chateau was the building of the north wing, and replantation of the vineyard after the Phylloxera crisis. Heine died in 1883, but his wife Marie-Amelie Kohn (an American from Louisiana), took over the estate, followed by his daugher Marie Louise and her husband Charles Fould. Together with their son Armand Fould, the Foulds steered Beychevelle through both the first and second world war, and eventually hired Emile Peynaud to give winemaking advice, who suggested among many other things the creation of a second wine.
In 1970, Aymar Achille-Fould took over. He was also French Postmaster General, and moved the phone book printing facility from Paris to Saint-Laurent Médoc, creating 300 jobs in the process. But he also needed a partner to help run the estate, and sold a minority shareholding to the GMF Group, which then bought 89% of the chateau when Aymar Achille-Fould died in 1988. The remaining 11% belonged to the insurance arm of Société Génerale bank (then Ethias insurance company). In 1988, the GMF group joined with the Japanese Suntory Group, and in 2011 the shares changed hands again to today's configuration of 50% Suntory and 50% Castel.
Consultant: Eric and Jacques Boissenot, with Philippe Blanc as Technical Director as well as Managing Director.
Plantation and vineyard work:Cabernet Sauvignon (62%), Merlot (31%), Cabernet Franc (5%), Petit Verdot (2%), planted to 10,000 vines per hectare. Hand-harvesting. Sustainable agriculture is employed throughout the vines, with all waste disposals collected and fully traced, with no disposal back in to the evironment, chemical herbicides replaced with mechanical weed control and grass growing between rows. Recently new hedges have been planted to encourage biodiversity, and since 2008, one third of the vineyard has been farmed organically.
Vinification: Traditional vinification, followed by 18 months ageing in oak barrels, with around 50% new each year. Cellar master is Romain de Ducolomb. As part of its quality control, Beychevelle uses refrigerated trucks to transport all its wines directly from the chateau.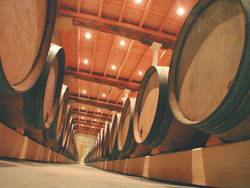 Terroir: Deep Garonne gravels.
Recent improvements or changes:
The 2011 purchase/reorganization that gave equal shares to Suntory and Castel is still recent enough that the changes are just starting to have an impact (these include a new winery, which is due to be ready for the 2016 vintage, at an estimated cost of €16 million).
This is a popular estate for wine tourism, with around 30,000 visitors per year, ad around 30% of those from outside of France.
Beychevelle has been one of the estates most influenced by the 'China Effect' over recent years, helped in no small part by its 'dragon boat' label, and its relative affordability (although its release price doubled in 2009 and has not returned to its 2008 level since).
Blanc is currently planting more Cabernet Sauvignon, as he would like to increase its percentage in the blend.
Recent Decanter scores:
2012 en primeur – 16.75 points/20
2011 en primeur – 16.5 points
2010 en primeur – 17.5 points
2009 en primeur – 17 points
2008 en primeur – 16 points
Average bottle price in UK: £40-80, depending on vintage.
All rights reserved by Future plc. No part of this publication may be reproduced, distributed or transmitted in any form or by any means without the prior written permission of Decanter.
Only Official Media Partners (see About us) of DecanterChina.com may republish part of the content from the site without prior permission under strict Terms & Conditions. Contact china@decanter.com to learn about how to become an Official Media Partner of DecanterChina.com.