Chateau d'Issan
3rd Cru Classe, 1855
33460 Margaux
+33 (0)5 57 88 35 91
www.chateau-issan.com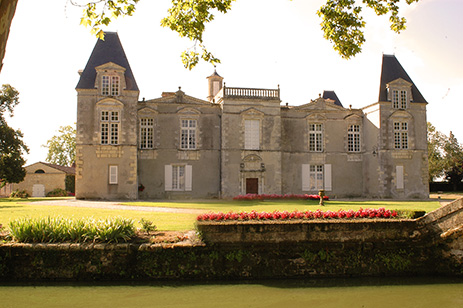 Location: AOC Margaux, in the village of Cantenac.Production: 45ha in AOC Margaux, 160,000 bottles average. The estate has 53 hectares of vines in total, with 45 hectares in AOC Margaux, and the rest in AOC Haut-Médoc and AOC Bordeaux Superieur.
Five things you didn't know about Chateau d'Issan:
- This is one of the oldest properties in the Médoc, dating back to the 12th century, and continually producing wine since then, something that is enormously rare in the Médoc, where most vines were not planted until the 17th century.
- Co-owner Jacky Lorenzetti is also owner of Paris rugby club Racing Métro 92, and made his money through property group Foncia. His fortune was estimated by Challenges magazine in 2012 at €245 million.
- The estate's other co-owner, Emmanuel Cruse, is a well-known figure in Bordeaux. Not only is he Grand Maitre of the Commanderie du Bontemps de Médoc et des Graves Sauternes et Barsac, he is also Grand Maitre of all the international chapters of the Commanderie around the world, and of the Grand Conseil du Vins de Bordeaux, which oversees the 15 wine brotherhoods within Bordeaux, of which the Commanderie de Bontemps is one. Got it??
- Reportedly Issan (as the La Mothe-Cantenac at the time) was the wine that celebrated the marriage of Eleonor of Aquitaine to Henri Plantagenet in 1152, although frankly I would like to see better evidence of this. More plausibly, it was stocked in the cellars of the Prince of Wales in 1723, and was the favourite at the court of Emperor Franz Joseph of Austria in the late 1800s.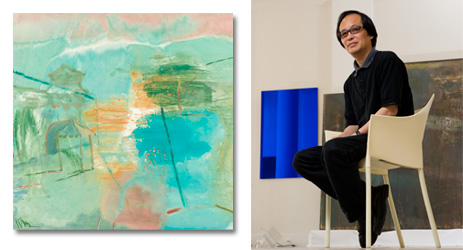 - This summer, the estate held an exhibition of original works by Chinese artist Leng Hong, who spent time in Bordeaux in 1986 and is now living back in his home town of Shanghai. The regular art exhibitions are organized by Emmanuel Cruse's wife, Virginie.
Current owner: Emmanuel Cruse and his younger brother and sister, the 3rd generation of the Cruse family to run d'Issan, together with Jacky Lorenzetti. Each side has a 50% stake.
Most notable previous owner: Le Chevalier d'Essenault who was a councillor to the Bordeaux parliament, and who took down the original castle when he became owner of La Mothe Cantenac, replacing it with the current building. It was Essenault who gave his name to the current estate, but shortened from Essenault to Issan.
Other chateaux owned: The Cruse family, who arrived in Bordeaux as Danish merchants at the start of the 19th century, have over the centuries owned or run a dizzying number of Bordeaux estates, but Emmanuel Cruse today is only involved with Chateau d'Issan. He does also work as managing director of the other chateaux owned by Jacky Lorenzetti; Chateau Lilian Ladouys in Saint Estephe, Chateau Pedesclaux and Chateau Béhéré in Pauillac.
Commercial strategy: 100% négociants, sold largely en primeur each Spring.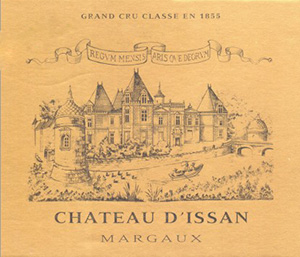 Second wine: Blason d'Issan, from young vines under 18 years old. The estate also produces Le Haut-Médoc d'Issan (AOC Haut-Médoc), and Le Moulin d'Issan (AOC Bordeaux Superieur).
Through the centuries:
One of the oldest properties in Margaux, it began life as a stronghold in the 12th century, when Bordeaux was part of the English crown and was owned by various families through the Middle Ages from the de Ségurs to the Vergnes. It was known at this time as La Mothe-Cantenac. Its current name comes from a 17th century knight Le Chevalier d'Essenault (Issan) and also a councillor to the Bordeaux parliament. He took down the original castle when he became owner of La Mothe Cantenac, replacing it with the current building (which is still one of the more feudal chateaux in Bordeaux, complete with a moat around its outer walls).
The Roy family in the 19th century were the next to make a serious impact on the property, taking over from the Essentaults after the French Revolution and building new cellars and vat houses, and it was confirmed as a Third Growth in the 1855 classification. From here though, the property changed hands several times and with each new owner fell a little deeper into benign neglect.
In early 20th century it went through a bumpy few years, until 1945 when Emmanuel Cruse (grandfather of today's Emmanuel Cruse) bought the property. At the time, only two hectares were left in production. Brothers Lionel and Roland Cruse took over from their father, followed by their children in turn, with Lionel's son Emmanuel, who trained in both oenology and law, installed as director since 1998. The last few years have seen differences of opinion between the cousins as to how the chateau should be run, and in March 2013, Jacky Lorenzetti stepped in to take over the 50% belonging to the Roland Cruse side of the family.
Consultant: Eric and Jacques Boissenot.
Plantation and vineyard work:Cabernet Sauvignon (65%), Merlot (35%) planted to 9,000 vines per hectare, with an average yield of 40 hecolitres per hectar. There are some old vines in the vineyard, up to 65 years old.
Vinification: Fermentation takes place in two vat houses with stainless steel temperature controlled vats, with all grapes treated by plot and by terroir. Blending takes place at the beginning of the ageing process, usually between December and January following harvest. Malolactic fermentation in barrels. 18 months in oak barrels (with around 50-55% new oak for the first wine), racking by gravity, fining with egg whites. The second wine uses around 35% new oak barrels. Technical director Eric Pellon.
Terroir: The heart of the estate is the walled L'Enclos, where the best terroir is found. The property has 120ha in total, with 45 hectares in AOC Margaux. The majority of the soil is gravel, with clay.
Recent improvements or changes:
Issan suffered from decades of underinvestment till Emmanuel Cruse arrived, aged 27, in 1995. He became director in 1998 and since that has overseen more than €10 million worth of upgrades in both the cellars and vineyards. Major investments were made, from replanting on better rootstock, terroir studies and drainage work, to the construction of new cellars, the complete refurbishment of the vat-house, and new offices.
In the 2007 land revision, Issan had 10 hectares of vines upgraed from AOC Haut Médoc to AOC Margaux.
Each summer, classical music concerts are held in the cellars and gardens of Issan.
Recent Decanter scores:
2012 en primeur – 17.25 points/20
2011 en primeur – 17 points
2010 en primeur – 18 points
2009 en primeur – 17.5 points
2008 en primeur – 16 points
Average bottle price in UK: £30-£77.
- Follow us on Weibo @Decanter醇鉴

and Facebook

for most recent news and updates -
All rights reserved by Future plc. No part of this publication may be reproduced, distributed or transmitted in any form or by any means without the prior written permission of Decanter.
Only Official Media Partners (see About us) of DecanterChina.com may republish part of the content from the site without prior permission under strict Terms & Conditions. Contact china@decanter.com to learn about how to become an Official Media Partner of DecanterChina.com.