Chateau Duhart-Milon
4th Cru Classe, 1855
33250 Pauillac
+33 (0) 5 56 59 66 68
Location: AOC Pauillac.Production: 76 hectares of vines (on an estate that measures 152 hectares in total). Average yearly production 220,000 bottles of the first wine, 60,000 bottles of the second wine and 40,000 of the third wine.
Five things you didn't know about Chateau Duhart-Milon:
- When the Rothschilds bought Duhart-Milon in 1962, there were only 17 hectares of vines. This has today been expanded nearly five-fold.
- The vines are right next door to Lafite Rothschild, with one part on the plateau of Carruades, and another near the village of Milon, although winemaking takes place in the centre of Pauillac town, just a few minutes' walk from the quayside. There are wine cellars, but no actual chateau building.
- The house on the wine's label belonged to a former owner Sir Duhart, and was known as 'the pirate's house due to his rather dubious connections with smuggling on the high seas. Sadly, it no longer exists.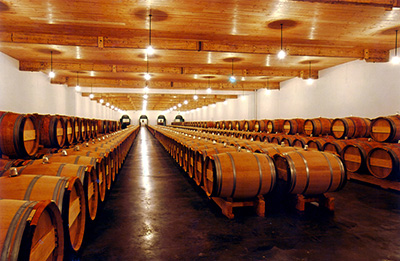 - All wine barrels are made onsite by the DBR (Lafite) cooperage, as for all the Rothschild Pauillac estates. This makes them one of only a handful of Bordeaux wine estates to produce their own barrels.
- Duhart-Milon is the only 1855 classified 4th growth in Pauillac.
Current owner: Baron Eric de Rothschild, with Christophe Salin as CEO.
Most notable previous owner: The Castéja family, who were owners of Duhart for more than a century, are among Bordeaux's most significant wine traders. However, I think a special mention should go to Sir Duhart, who gave the estate his name, and is rumoured to have been a pirate and gun-runner for Louis XV. He settled in Pauillac when he retired from the high seas, and his house on the quayside was known as the 'pirate's house' right up until it was torn down in the 1950s.
Other chateaux owned: Chateau Rieussec, Chateau Lafite Rothschild, Chateau L'Evangile, Domaine d'Aussieres, Vina Los Vascos, Bodegas Caro, Chateau Paradis Casseuil, Chateau Peyre-Lebade. Plus the branded DBR Collection wines. And the as yet unnamed Chateau DBR-CITIC estate in Penglai, Shandong province of East China, which is expected to produce 120,000 bottles per year, starting in 2016.
Commercial strategy:Négociants sell 100% of production, and 90% is exported. Major markets China, England, USA, Japan, Korea, but sold in over 70 countries worldwide.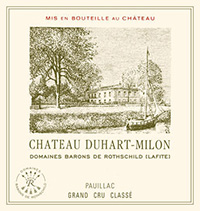 Second wine: Moulin de Duhart (created in 1986). The estate also produces Baron de Milon from the youngest vines, aimed at early drinking.
Through the centuries:
It seems fitting that Duhart-Milon should be back in the Rothschild clan, as the vines were used for the second wine of Chateau Lafite right back in the early 18th century, when Nicolas-Alexandre de Ségur was owner. Known at the time as Milon, and then Mandavy-Milon, the wine served as additional income for Lafite on a 'fermage' basis, as Ségur did not own the land but rented the vines. In 1815, courtier Guillaume Lawton was talking about Mandavy-Milon from the Milon hills as a fourth growth wine (he wrote that it 'has a firm taste, a fine colour, and a pronounced sap'). Sometime in the 1830s, both Mandavy-Milon and Sir Duhart's Pauillac vines were left to the Castéja negociant family, who unifed them to form Chateau Duhart-Milon.
The Castéja family remained owners when it was declared a Fourth Growth in the 1855 Classification, and during the early 20th century, ensured that it was one of the largest Pauillac estates with around 50 hectares. From 1937, however, and the start of World War II, the property went through five different owners in just 25 years, splitting the vineyard each time for inheritance reasons, and the wine quality began to decline. When the Rothschilds bought in 1962, there was 110 hectares on the estate, but only 17 hectares were being used for vineyards. As you would expect when a Rothschild gets involved, the investment situation was then set to change – drainage, uprooting and replanting in the vineyards, trading plots with neighbours to get the right mix for the wine, and new cellars and barrel rooms.
And why, you might ask, did the Rothschild family decide to buy? Well, according to Baron Eric de Rothschild, 'It would have been nonsense not to acquire such a great neighbouring vineyard.'
Consultant: Eric Boissenot, with Charles Chevallier as Technical Director.
Plantation and vineyard work:Cabernet Sauvignon (67%), Merlot (33%), average age 30 years. Hand-harvesting. Vineyard manager Regis Porfilet. The Rothschild family has carried out extensive replanting work on the vineyards, and put a drainage system in place.
Vinification: Charles Chevallier is director of winemaking, as he is at all the DBR (Lafite) properties, with onsite oenologist and winemaker Christophe Congé. The first wine has up to 85% of cabernet sauvignon in some years, and spends on average 14 months in barrel (50% new oak). The second wine is usually around 55% cabernet sauvignon, and spends around 10 months in barrel (usually two year old oak, so with far less influence on the taste of the wine).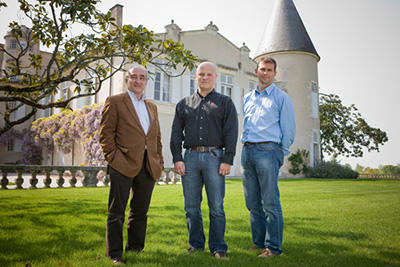 Terroir: The soils rare fine gravel mixed with Aeolian sands on a bedrock of limestone. The elevation of the vineyard is fairly low, and much of the vines have a northerly exposure, creating this robust, earthy style that Duhart-Milon is known for, although recent improvements have fine-tuned things, bringing more finesse to the tannins and depth to the fruit.
Recent improvements or changes:
Main improvements started here from 2003, with a new winery and new equipment.
As the vineyards were so fully replanted in the 1960s, young vines meant the wines lacked complexity during many years of the 70s and 80s – even early 90s, but mid-1990s the quality of the wine has really started to rise. And with its links to Lafite Rothschild, it has become more and more popular in China, with subsequent price rises clear. The price of Duhart-Milon from 1990 to 2010 rose by 227% at its peak (August 2013), with the 2009 vintage seeing particularly strong price rises in recent months.
Recent Decanter scores:
2012 en primeur – 17.5 points/20
2011 en primeur – 17.5 points
2010 en primeur – 18 points
2009 en primeur – 18 points
2008 en primeur – 17 points
Average bottle price in UK: £45-£85, depending on vintage.
- Follow us on Weibo @Decanter醇鉴

and Facebook

for most recent news and updates -
All rights reserved by Future plc. No part of this publication may be reproduced, distributed or transmitted in any form or by any means without the prior written permission of Decanter.
Only Official Media Partners (see About us) of DecanterChina.com may republish part of the content from the site without prior permission under strict Terms & Conditions. Contact china@decanter.com to learn about how to become an Official Media Partner of DecanterChina.com.