4th Cru Classé, 1855
33180 Saint-Estephe
+33 (0)5 56 59 32 06
www.lafon-rochet.com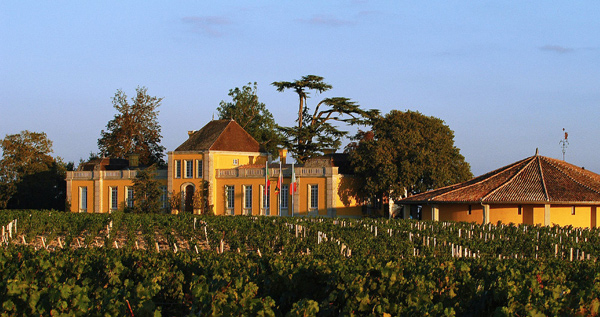 Location: AOC Saint Estephe, close to both Chateau Lafite Rothschild (particularly its Saint Estephe plot of vines) and Chateau Cos d'Estournel.
Production: 42 hectares, producing 12,000 cases per year of the first wine and 8,000 cases of the second wine.
Five things you didn't know about Château Lafon-Rochet:
- The canary yellow on the label reflects the colour of the château building itself. The Saint Estephe property was painted yellow in 2000 by owner Michel Tesseron. At the same time the bottle design and capsule were also changed to reflect the new lick of paint. By happy coincidence, the yellow colour – imperial rather than canary, perhaps – proved a hit with Asian consumers, and today the estate sells 60% of its production in China, Hong Kong, Korea, Japan and Singapore.
- Jean-Claude Berrouet, winemaker at Château Petrus for 44 years, is the consultant oenologist at Lafon-Rochet.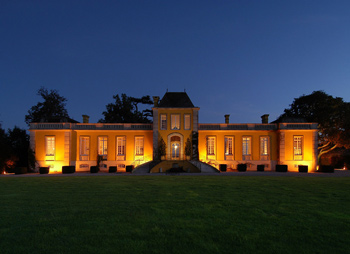 - Lafon-Rochet recently became the first Bordeaux estate to team up with Google's Streetview and film images inside the winery and cellars of the estate, as well as outside views of the château building. It means that online visitors to Streetview will be able to view 3D images of where the wine is produced, meaning that, according to owner BasileTesseron, 'clients will be able to get closer to us'.
- The estate is in conversion to organic and biodynamic viticulture (10ha), but is not looking to be certified in the upcoming years.
- When the Tesseron family bought Lafon-Rochet in 1960, there were almost none of the original buildings left on the property, except a small chapel in the park that was once used as a resting point for pilgrims on the Route de Compostele, and probably dated back to the 1500s. Tesseron took this as an opportunity and constructed an entirely new château – the only owner of an 1855 classified Médoc estate to build a château from scratch in the 20th century.
Current owner: Michel Tesseron, his sister Caroline and his son BasileTesseron. BasileTesseron is managing director.
Most notable previous owner: I think a special mention should go toJean Lafon, who changed his name by the 19th century equivalent of the deed poll to Jean Lafon-Rochet, showing true dedication to his chateau. However the entire Lafon family was hugely important at this property, and were owners for a full 230 years in total, from 1650 to 1880.
Other châteaux owned: The Tesseron family own Château Pontet Canet (which they bought in 1975), but the two estates are entirely separate, and are run by different branches of the family (BasileTesseron is the nephew of Alfred Tesseron at PontetCanet). Ironically, the 5th growth Pontet has slightly eclipsed the 4th Growth Lafon-Rochet in recent years. Basile's wife also owns Château Larrivaux in AOC Haut Médoc.
Commercial strategy: 100% négociants, sold 90% en primeur through the Place de Bordeaux (the remaining 10% is kept back by the château to be either used for promotional purposes, for their own library of back vintages, or for releasing on to the market when slightly older).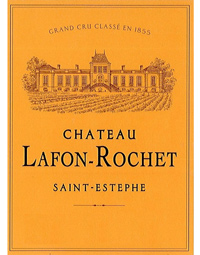 Second wine: Les Pélerins de Lafon-Rochet
Through the centuries:
The property dates back to the early 1600s, known at first as Domaine de Rochet (apparently because of its rock-filled terroir). The name Lafon was added in 1660 when Antoinette de Guillemote married Etienne Lafon and brought the domain to the marriage as part of her dowry. The Lafons remained in charge – first through their son Pierre Lafon, then grandson Jean Lafon (who changed his last name to Lafon-Rochet, so fully laying claim to their ownership of the property). At this point, in 1789 on the eve of the French Revolution, Lafon-Rochet became one of the largest producers in Saint Estephe.
Its reputation was still strong by 1855, when it was named a Fourth Growth at the Paris Exhibition, but it suffered through the Phylloxera crisis at the end of the century, and in 1897 was sold to Frédéric Audon for 110,000 francs. The Audons kept hold of the property until 1924, when it was sold at auction to Marcel Ricard, and then sold at auction again in 1938 to Elie Naffrechoux. Just two years later it was bought by Charles Louis Duquesnoy-Legry who kept it for 20 years until 1960, when cognac owner Guy Tesseron (who would 13 years later buy Château PontetCanet in Pauillac) purchased Lafon-Rochet. By 1970 he had brought the size up from 26 hectares to 45 hectares, and built a new château in the style of a 19th century chartreuse, as well as building an entirely new winery. In 1999, together with his sister Princess Caroline Poniatowska, Guy's eldest son Michel Tesseron (who had been a wine merchant in Bordeaux for over 40 years with firms Barton & Guestier, and Chantecaille) took over management of the family estate. From 2006, at the age of 27, his son Basile joined him. He now runs it entirely (and has done so since 2007), and says that his father wanted him to take over at a young age. 'My father told me that he wishes he has run this property from the age of 30, so he could have watched it develop and grow.
Consultant: Jean Claude Berrouet, formerly winemaker of Château Petrus in Pomerol (they have, incidentally, been through the gamut of consultants here in recent years, with Denis Dubourdieuand Eric Boissenot passing through the doors at various points). The château is also working with soil expert Xavier Choné.
Plantation and vineyard work: Cabernet Sauvignon (55.5%), Merlot (38%), Cabernet Franc (2.5%), Petit Verdot (4%), average age 35 years, planted to 9,800 vines per hectare. Two oldest Merlot plots in the vineyard were planted in 1938. Grapes have been manually harvested by the same team of people for the past 20 years. Converting to organic and biodynamic viticulture, so no chemical products used. Female chef de culture, who started in 2012 aged 26.
Vinification: Optical sorting technology is used during harvest, and the wines then made in one of 40 stainless steel tanks (reflecting the 40 plots in the vines) in the rather spectacular circular winery. Wines aged in 50-60% new oak barrels for 16 to 20 months depending on vintage. Final blend made in March, so just before the en primeur tastings.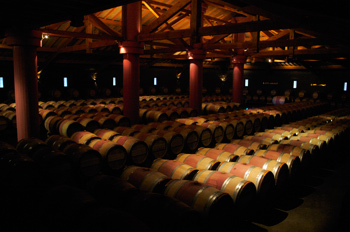 Terroir: The 42 hectares of Lafon-Rochet lie in a single block, with a mix of sticky clay and gravel.
Recent improvements or changes:
Jean-Claude Berrouet, winemaker at Château Petrus for over 40 years, was hired as consultant at the estate in 2012. BasileTesseron says that the appointment makes sense, because '50% of our soils are similar sticky clay structure to those at Pétrus'. Berrouet has been credited with increasing the precision of the blend in the final wine. 'We no longer calculate in terms of 2% to 5% of one cuvee or one grape variety,' says Tesseron, 'but more like 0.1% or 0.3%.'
The percentages of Cabernet Sauvignon in the vineyard and first wine have increased over the past decade.
Recent Decanter scores:
2012 en primeur – 17 points/20
2011 en primeur – 17 points
2010 en primeur – 17.5 points
2009 en primeur – 17.5 points
2008 en primeur – 16 points
Average bottle price in UK: £30-£55, depending on vintage.
All rights reserved by Future plc. No part of this publication may be reproduced, distributed or transmitted in any form or by any means without the prior written permission of Decanter.
Only Official Media Partners (see About us) of DecanterChina.com may republish part of the content from the site without prior permission under strict Terms & Conditions. Contact china@decanter.com to learn about how to become an Official Media Partner of DecanterChina.com.