Chateau Langoa Barton
3rd Cru Classe, 1855
33250 Saint Julien
+33 (0) 556 590 605
www.leoville-barton.com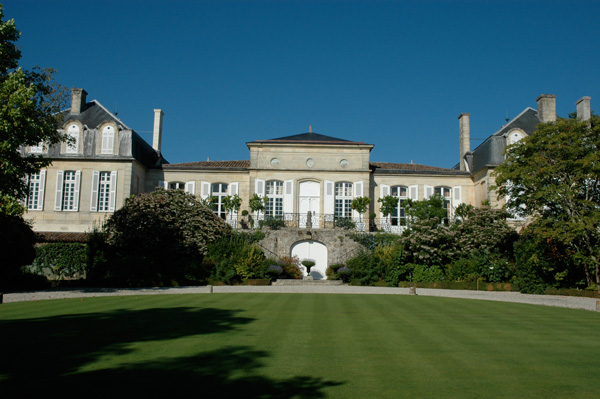 Location: AOC Saint Julien, opposite the Chateau Léoville Barton.Production: 17 hectares, with an average yield of 42 hectolitres per hectare, producing around 80,000 bottles per year.
Five things you didn't know about Chateau Langoa Barton:
- Owned by the Barton family since 1821, no other 1855 chateau has been in the hands of one family for so many years.
- Born in County Kildare, Ireland, and educated at Jesus College Cambridge, owner Anthony Barton has lived in Bordeaux for 60 years, and headed up his family's Third Growth Saint Julien chateau for approaching 30 years. The Bartons links to the region go back even further, with Anthony's ancestor Thomas Barton first landing on the docks of Bordeaux in 1722 (after stints in Marseille and Montpellier), and quickly becoming a successful negociant, creating Barton & Guestier in 1725, although he never bought a chateau (that would be left to his grandson Hugh).
- Mélanie Barton-Sartorius, Lilian's daughter, is becoming more involved with the running of the estate, having finished four years studying viticulture and oenology in Bordeaux and Burgundy, and five months at Caiarossa Estate in Tuscany (owned by Eric Albada of Chateau Giscours).
-The chateau at Langoa Barton was built in 1758 when the land was owned by Bernard de Pontet, and possesses a superb park planted with oak trees. At the time it was known as Pontet Langlois, and sometimes simply as Pontette.
- The wine cellar is filled with large 200 hectolitre wooden vats, some dating as far back as 1963 (although now fitted with thermoregulation to control temperatures). 'They are still used as long as they are clean and don't leak too much!' Lilian says.
Current owner: Anthony and Eva Barton and their daughter Lilian Barton-Sartorius. The estate has been transferred to Lilian, along with her children Mélanie and Damien, but father and daughter continue to run it together.
Most notable previous owner: Hugh Barton, born in 1766 and began working in wine at aged 20, in 1786. When he started working in the family business, it's turnover was estimated at £2.5 million, and he continued to build it up until the French Revolution (and also found the time to marry Anna Johnston, daughter of another English-Irish dynasty in Bordeaux). Together, they were arrested during the Revolution, and their property seized, although they manage to escape and flee to Ireland with their lives. Hugh didn't give up on Bordeaux though, and kept trading with the country, continuing the business so successfully that he was able to buy Langoa in 1821. He died in 1854.
Other chateaux owned: Chateau Léoville Barton, and the négociant company Les Vins Fins Anthony Barton. The family also own Chateau Mauvesin in Moulis-en-Medoc, now known as Mauvesin-Barton.
Commercial strategy: 100% négociants, , sold through the annual En Primeur system, 90% export.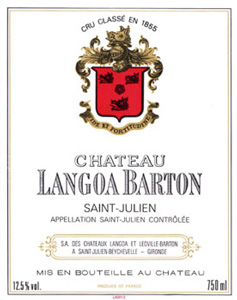 Second wine: Lady Langoa.
Through the centuries:
In the early 1700s, the land where the chateau now stands was purchased by Bernard de Pontet, who built the chateau that still stands today. It was known at the time as Pontet-Langois, and was mentioned as a Third Growth in the classification recorded by Thomas Jefferson.
The estate sold by Pierre Bernard to Hugh Barton in 1821(grandson of Thomas Barton, and again a successful wine shipper, by this point recovered from his arrest during the French Revolution, and his escape back to Ireland for several years). Now returned to Bordeaux, Barton bought Langoa in 1821, followed by Léoville in 1826, and gave them both his name. Six generations have followed.
Ronald Barton, Hugh's great great grandson, inherited the property after his father was killed in a hunting accident in the 1920s. He also enjoyed a colourful and heroic life, fighting in the Free French Forces during World War II, and remaining in charge of both estates until 1983, when his nephew Anthony took over full time. After studies in Ireland and in England, Anthony came to settle in France in 1951.
The war had meant many years when exports to traditional markets had come to a complete stop and the lack of demand resulted in such low prices that Langoa and Léoville Barton were running at a loss. The first vintage that Anthony witnessed was 1951, so awful that his Uncle Ronald told him 'another vintage like this and I will have to sell'. Fortunately there were two good years to follow, and although Anthony concentrated mainly on the family's négociant business until the 1980s (which saw its own ups and downs), by the time he came back to the chateau, it was back on its feet.
Consultant: Eric Boissenot.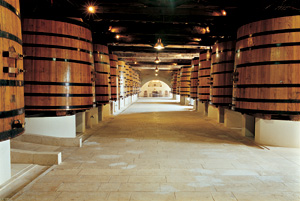 Plantation and vineyard work:Cabernet Sauvignon (57%), Merlot (34%), Cabernat Franc (9%), with an average age of 35 years, planted to a density of 9,100 vines per hectare. This is a low-intervention approach to viticulture, with minimal use of treatments, and an approach to picking that favours avoiding over-ripe flavours. They have many older vines in the vineyard, which give great complexity to the wines, but when the yields head down too low (usually when over 40 years old) they are replaced at an average of two hectares per year.
Vinification: Langoa Barton follows traditional methods of large oak vats, fermentation between 28 and 30 degrees, minimal intervention, egg white fining and racking every 3 months before the fining.
They do practise co-innoculation, which is when the alcoholic and malolactic fermentation happen at the same time. 'We found that has been enormously successful, and are very happy with the results,' says Barton. The wine is aged in 50/70% new oak.
Terroir: Langoa Barton is situated in the centre of St Julien, opposite to Léoville Barton, with its vineyards situated to the south of those of Léoville, on slightly cooler soil. Both are largely gravely soil with a subsoil of clay, but most of Langoa vines are north facing.
Recent improvements or changes:
All wines leave the chateau with Prooftag anti-fraud closures.
Recent Decanter scores:
2012 en primeur – 17.5 points/20
2011 en primeur – 17 points
2010 en primeur – 18 points
2009 en primeur – 18 points
2008 en primeur – 16 points
Average bottle price in UK: £30-£60, depending on vintage.
- Follow us on Weibo @Decanter醇鉴

and Facebook

for most recent news and updates -
All rights reserved by Future plc. No part of this publication may be reproduced, distributed or transmitted in any form or by any means without the prior written permission of Decanter.
Only Official Media Partners (see About us) of DecanterChina.com may republish part of the content from the site without prior permission under strict Terms & Conditions. Contact china@decanter.com to learn about how to become an Official Media Partner of DecanterChina.com.