2nd Cru Classe, 1855
33250 Saint Julien
www.leoville-barton.com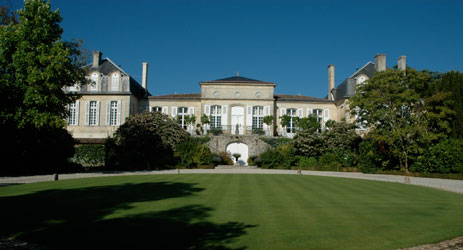 Location: AOC Saint Julien, located directly opposite Chateau Langoa Barton, with the chateaux on either side of the D2 road.
Production: 48 hectares, making around 20,000 12-bottle cases each year, including the second wine La Reserve de Léoville Barton (usually around 250,000 bottles of Léoville, 80,000 bottles of Reserve).
Five things you didn't know about Chateau Léoville Barton: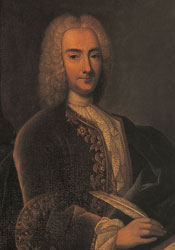 - Born in County Kildare, Ireland, and educated at Jesus College Cambridge, owner Anthony Barton has lived in Bordeaux for 60 years, and headed up his family's Second Growth Saint Julien chateau for approaching 30 years. The Barton's links to the region go back even further, with Anthony's ancestor Thomas Barton first landing on the docks of Bordeaux in 1722, and quickly becoming a successful negociant, creating the company Barton (later Barton & Guestier) in 1725. He first came to Bordeaux as a shipper, and lived at Chateau le Boscq in Saint Estephe.
- Léoville Barton carries out no green harvesting in the vines, something which is widely done at most other estates. 'We tried it in 2004,' says (Anthony's daughter) Lilian Barton, 'but weren't convinced. You need really specialist people in the vines to do it properly, which is not always possible, and we feel that it alters the natural balance of the vines. The berries that are left behind compensate, as does the vine itself the next year by producing more fruit. You end up having to extract more from the remaining fruit, which can lead to bitter flavours. We believe in severe pruning early in the season instead.'
- The chateau has one of the most beautiful gardens in the Médoc, with manicured lawns, English roses and an array of dogs belonging to both Anthony and Lilian.
- When Thomas Jefferson visited Bordeaux, all Léoville estates (Las Cases, Barton and Poyferré) were still together under one owner, and he referred to them as 'Lionville'. Although they had been divided by 1855, all three were given 2nd Growth status in the ranking.
- Chateau Léoville Barton was occupied by German soldiers during World War II, and wasn't renovated following the war until the 1980s, when Anthony Barton took over full time from his uncle Ronald. During the war, Ronald joined the Royal Inniskilling Fusiliers and fought with the Free French forces.
Current owner: Anthony and Eva Barton and their daughter Lilian Barton-Sartorius. The estate has been transferred to Lilian, along with her children Mélanie and Damien, but father and daughter continue to run it together.
Most notable previous owner: The Bartons have been here for so long that it's hard to pick anyone with a different surname, but perhaps we should give a nod here to Marquis de la Cases, who first planted the vines on this land.
Other chateaux owned: Chateau Langoa Barton (Saint Julien), Chateau Mauvesin-Barton (Moulis-en-Médoc). The family also have their own négociant company, Les Vins Fins Anthony Barton (created in 1968).
Commercial strategy: : 100% négociants (biggest market UK and Ireland).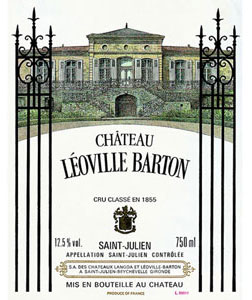 Second wine: La Réserve de Léoville Barton
Through the centuries:
The estate was once the largest property in Saint Julien (even the whole Médoc), combining the current Léoville Las Cases and Léoville Poyferré. It was broken up during the French Revolution, when the Marquis de la Cases, who owned the property, fled France. The Barton family bought their two Saint Julien estates a century after arriving in Bordeaux from Ireland; Hugh Barton first bought Langoa in 1821 and Léoville in 1826. Six generations have followed. Ronald Barton, Hugh's great great grandson, inherited the property after his father was killed in a hunting accident in the 1920s. He was joined by his nephew Anthony In the late 1940s (at first, he would be the first to admit, somewhat grudgingly), and from 1983 Anthony took over full time. Because there is no chateau building at Léoville, the two estates vinify their wine in the same cellars in Langoa, although in totally separate areas, while the offices are over the road in Léoville.
Although it is no longer true to say that Anthony Barton has resisted all pressure to raise prices in line with his neighbours, his reputation gained over the years is such that most drinkers seem to be able to forgive him for his recent convserion to higher prices– just. For the Queen of England's Golden Jubilee in 2003, Chateau Léoville Barton 1989 was served during the banquet at London's Guildhall. Barton wines were also on the menu for the Queen Mother's 100th birthday celebrations.
Consultant: Jacques and Eric Boissenot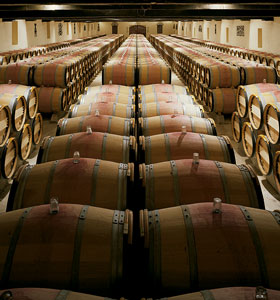 Plantation and vineyard work: Cabernet Sauvignon (72%), Merlot (20%), Cabernet Franc (8%), planted to 10,000 vines per hectare. Average age of vines 40 years. This is not an estate that leaves its grapes on to the last legs of ripening.
'I don't believe in the tendency towards late picking,' says Barton. 'I don't understand it. Don't understand why people say 'they had the courage to hang on'. We like to pick while the fruit is still alive. Like every fruit they reach a certain stage and after that they degrade.'
Vinification: With Jacques and Eric Boissenot as consultant, Léoville Barton carries out the alcoholic and malolactic fermentation at the same time, known as co-innoculation. This has been a slow process of testing over several years, but they have now decided to make the switch for all their vats. 'We found that has been enormously successful, and are very happy with the results. The shorter the fermentation, the better in terms of avoiding any potential issues' The fermentations are carried out in large wooden vats of around 200 hectolitres, with the oldest dating from 1963 and the newest from 2000. After fermentation and maceration, the wine is run off into barrels for ageing. The amount of new oak for the barrels depends on the year, between 50-70%, with medium toast, and the oak is often seasoned for 3 to 5 years before being made into the barrels (unlike the more usual 2 years).
Terroir: Leoville Barton is situated in the centre of St Julien and has gravely soil with a subsoil of clay.
Recent improvements or changes: All wines leave the chateau with Prooftag anti-fraud closures.
Recent Decanter scores:
2011 en primeur – 17.5 points/20
2010 en primeur – 18.5 points
2009 en primeur – 19 points
2008 en primeur – 16.5 points
Average bottle price in UK market: £35-£80.
All rights reserved by Future plc. No part of this publication may be reproduced, distributed or transmitted in any form or by any means without the prior written permission of Decanter.
Only Official Media Partners (see About us) of DecanterChina.com may republish part of the content from the site without prior permission under strict Terms & Conditions. Contact china@decanter.com to learn about how to become an Official Media Partner of DecanterChina.com.