They may have their own identities but, as Jane Anson discovers, the unique trio of châteaux that form the magical Léoville estate in Bordeaux also have much in common
THE ST-JULIEN APPELLATION might not be in possession of a first-growth château, but that really doesn't seem to hold it back unduly. It manages all the same to be among the most alluring stretches of land in Bordeaux, running from the Juillac stream to the north that serves as the tiny border (you could wade across it in pretty much one step) between St-Julien and Pauillac, down 5km southwards to the Jalle du Nord. The area is noted for its extremely regular and deep Günzian gravel dating from the last ice age, when woolly mammoths roamed and the continents finally settled into their current positions.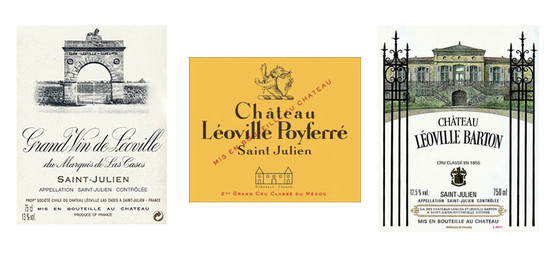 Within the northern stretches of the appellation, covering a full 228ha (hectares) of land, are three estates that share one powerful name: Léoville. When you drive through here, the land looks almost flat. You have to walk down to the bottom of the vineyards near to the Garonne river and look back up towards the D2 road to realise just how far this is from the truth; these are serious slopes, billowing up like freshly washed sheets.
René Pijassou in his 1978 treatise Le Médoc wrote that 'all the terroirs of St-Julien are remarkable… but the best are those located on the river's edge, because of the steep slopes that offer excellent drainage'. The Léoville plateau has long been recognised as one of the very best spots on the whole of the Left Bank for producing long-living, complex and powerful wines. The gravel here can be as deep as 10m in some places, with excellent drainage potential.
As Léoville-Las Cases owner Jean-Hubert Delon says: 'There are not many great Cabernet Sauvignon terroirs, even in the Médoc. But you know one when you see it, and you can unquestionably taste it in the wine.' A stone lion sitting along the top of a 4m-high arch stands as a reminder that until almost 200 years ago this was one of the largest single properties in the region. Today Léoville comprises three 1855 second growths (three of the five in the appellation and among the 14 second growths in the Médoc). Château Léoville-Las Cases is the largest, at 98ha, then Château Léoville-Poyferré (80ha), followed by Château Léoville-Barton (50ha).
I got to drive around the entire stretch of the three estates in a battered 1970s Land Rover belonging to Damien Barton-Sartorius (no prizes for guessing which of the three estates he belongs to) – even heading cross country right down to the water's edge, where today a fisherman's jetty has replaced a pontoon for local boats that, until the 19th century, would take the barrels of Léoville wine to the Chartrons quays in downtown Bordeaux, before they were shipped off by merchants to the rest of the world.
Early history
The Léoville estate itself dates back to around 1740 and Alexandre de Gascq-Léoville. He was a nobleman from Gascony who married the great-granddaughter of Jean de Moytié, the man who first planted vines on the site in 1638. It was de Gascq who changed the name of the estate from Mont-Moytié to Léoville.
Back in the 1700s, Domaine de Léoville was among the very first properties in Bordeaux to trellis its vines (with pine stakes) and also among the first to begin rinsing the barrels with a sulphur solution to protect the wine from bacterial spoilage before transportation. When soon-to-be US president Thomas Jefferson visited the region in 1788, he praised the wine and referred to it as 'Lionville'.
The heirs of de Gascq-Léoville kept the large estate intact until the French Revolution, after which Hugh Barton acquired part of it and established Château Léoville-Barton in 1826. The rest of the Léoville vineyard was subsequently divided between Pierre-Jean de Las Cases, who founded Château Léoville-Las Cases in 1840, and his sister Jeanne Las Cases. Her daughter married Baron Jean-Marie Poyferré de Cerès and Château Léoville- Poyferré was created.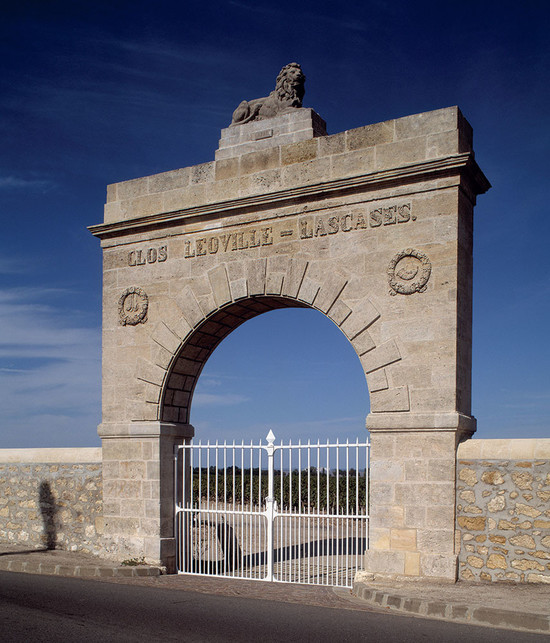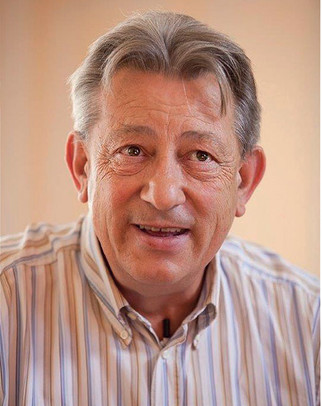 In the classification year of 1855, a négociant called Pierre Charles Fournier de Saint-Amant recorded his impressions of the now-separated property, writing: 'Mr Barton possesses the smallest third of the famous Léoville vineyard. Baron de Poyferré and Monsieur le Marquis de Las Cases have the rest. But whatever the name of the owner, it's always Château Léoville. Little to separate them and everything of the highest quality.'
This is still unquestionably true, even though the three châteaux have fairly different geographical spreads. Léoville-Las Cases is laid out almost entirely in one large plot. Grapes for its first wine are contained mainly within the 55ha of the walled L'Enclos, which mirrors that of neighbouring Château Latour. This is the heart of the former Domaine de Léoville and most of the later plantings, which were carried out by Delon's father, go into the wine Clos du Marquis. The vineyard of Léoville- Poyferré is split into many parcels across the appellation, something that owner Didier Cuvelier suggests accounts for the complexity of the wine, as he has examples of every soil type in St-Julien. Meanwhile, Léoville-Barton is somewhere between the two, with three main blocks of vines and some smaller plots.
Common ground
Despite these differences there are still links between the properties. A courtyard and a château building, for instance, are split between Las Cases and Poyferré, as a hangover from what may have been the rather messy division between de Las Cases and his sister back in 1840.
There's a shared wine consultant in the shape of Eric Boissenot for Léoville-Barton and Las Cases. And all three are in the private hands of families who live locally; something that is increasingly rare for classified estates such as these.
Anthony Barton of Léoville-Barton is the fifth generation of his family and still lives in St-Julien with his wife Eva at Château Langoa- Barton, in whose cellars the wines of both properties are produced. Today his daughter Lilian Barton-Sartorius, with her husband and her children, Damien and Mélanie – all of whom also live in the Médoc, although a little further away in Moulis – run Léoville-Barton.
The other two families live in Bordeaux, but they travel up to their châteaux daily. At Léoville-Las Cases it is Delon who presides, although he leaves much of the public-facing role to director Pierre Graffeuille (giving Delon, it must be said, a mysterious allure that borders on legend). At Léoville-Poyferré, Cuvelier (who calls himself 'the builder' as much of the estate has been transformed during his tenure) has been in charge since 1979, although just this year he handed over the day-to-day running to his niece Sara Lecompte-Cuvelier, joining her sister Anne Cuvelier who remains in charge of the growing wine tourism offer at the property.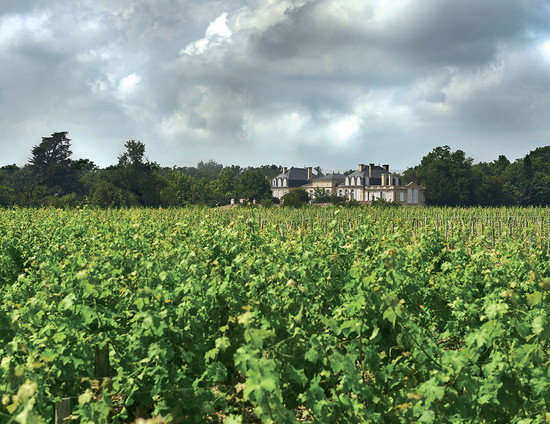 All three owners also had different lives before joining their family estates. Barton was born in County Kildare, Ireland, and educated at Jesus College, Cambridge before ending up with his uncle Ronald in St-Julien. Delon was a lawyer before returning to the family estate in 1994, taking over after his father's retirement in 2000, while Cuvelier trained as a chartered accountant before studying at the Bordeaux faculty of oenology in 1976. His lecturer at the time was Professor Emile Peynaud, who became his mentor and consultant at the estate, when he took over at the age of 26.
Individual style
But this is where things diverge. Stylistically, each estate has its own distinct approach. Léoville-Poyferré is perhaps the most voluptuous in style, with the highest proportion of Merlot in the first wine (although the blend is still dominated by Cabernet Sauvignon), and the only one with the exotic spice of Petit Verdot. It is utterly unafraid to flex its muscles and Cuvelier has worked with Michel Rolland as consultant since 1994: 'I didn't want the same oenologist for the three châteaux,' he smiles.
The Cuveliers vinify in stainless steel after a cold soak to focus on vibrant fruit flavours, and were among the first – since Rolland's first year as consultant – to practise malolactic fermentation in oak barrels. Isabelle Davin, the château oenologist, now works with 56 vats (up from 35 in 2010) to ensure plot-by-plot vinification, with new oak use between 70%-80%. Optical sorting was introduced in 2011 and yields tend to be relatively low – 35hl/ha average compared to the Médoc's more usual 45hl/ha.
Over the road at Léoville-Las Cases, Delon's father was one of the pioneers of green harvesting on the Left Bank in the late 1980s, and today L'Enclos is farmed almost entirely organically, with no herbicides or pesticides. Vinification takes place in a mixture of stainless steel, wood and cement, with tanks varying in size from 40hl up to 216hl. An on-site laboratory was built about 15 years ago. The blend of the first wine is often at least 80% Cabernet Sauvignon and it spends 18-20 months in barrels, with 60%-80% new oak depending on the vintage. This is a wine that is often compared to its Pauillac neighbours in profile, and is known for its ability to age, and then age some more.
Meanwhile, over at Léoville-Barton where the new generation is in place, they rarely green harvest and prefer to stick to a more classical St-Julien profile (read power with elegance) for the wine. Mélanie describes their philosophy as 'to never over-complicate things' and Lilian adds: 'We never followed the fashion of picking in December.' Léoville- Barton carries out alcoholic and malolactic fermentation at the same time, known as co-inoculation, as does Las Cases; but not Poyferré. The fermentations at Léoville-Barton are carried out in large wooden vats of 200hl, with the oldest dating from 1963 and the newest from 2000. The amount of new oak for the barrel-ageing depends on the year, usually between 60%-70%. Just one cooper provided the barrels here until 2010, but now there are four, compared to the nine different coopers supplying barrels at Las Cases. These differences are part of the magic of Léoville – they all offer pleasure and the potential for return on investment if you buy when young.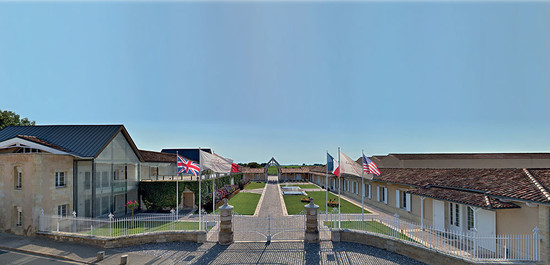 The days when Léoville-Barton priced below its neighbours are behind us – in 2015, opening prices were €138 ex-Bordeaux per bottle for Las Cases (£1,475 for a case of 12), €54 ex-Bordeaux for Léoville-Barton and €55 ex-Bordeaux for Léoville-Poyferré (£570 for a case of 12).
If you had bought the 2005 vintage (in sterling), Léoville-Poyferré would have earned you a return of 81%, Las Cases 45% and Léoville-Barton 38%. You have to look at the 2014 vintage to see them closer – as things stand, Léoville-Poyferré is 29% up, Las Cases 31% and Barton 27%.
High initial prices of Las Cases don't always deliver in the short term – the 2010 is 4.6% down on opening price according to Wine Owners. But even this is unlikely to convince anyone that the Léoville trio is not among the surest bets in the world of fine wine.
Translated by ICY
All rights reserved by Future plc. No part of this publication may be reproduced, distributed or transmitted in any form or by any means without the prior written permission of Decanter.
Only Official Media Partners (see About us) of DecanterChina.com may republish part of the content from the site without prior permission under strict Terms & Conditions. Contact china@decanter.com to learn about how to become an Official Media Partner of DecanterChina.com.