Chateau Léoville-Las Cases
2nd Cru Classe, 1855
33250, Saint Julien
+33 (0)5 56 73 25 26
www.leoville-las-cases.com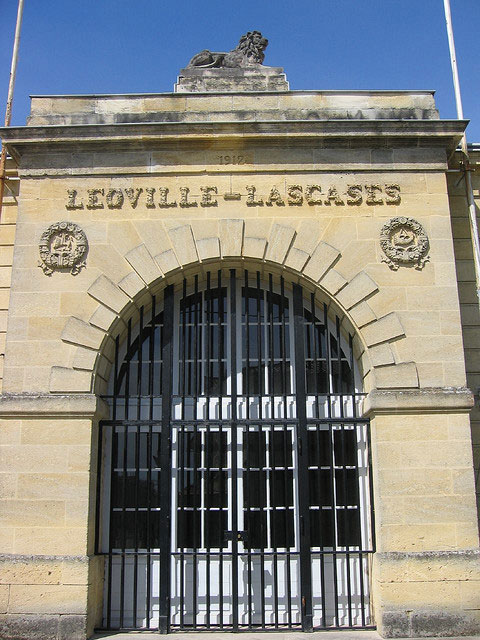 Image: Chateau Leoville Las Cases Entrance by BillBl,
and adapted underCreative Commons BY 2.0 Generic license .
Location: AOC Saint Julien, located next door to Chateau Léoville Poyferré, and Chateau Latour (over the border in Pauillac, but the vines are right next door).
Production: 98 hectares, exclusively red wines. 100,000-180,000 bottles for the Grand Vin, and 50,000-120,000 for Clos du Marquis and 50,000-120,000 for Le Petit Lion du Marquis de las Cases (second wine since 2007)
Five things you didn't know about Chateau Léoville-Las Cases
- Léoville-Las Cases is the largest of the three Léoville properties (Léoville Barton and Léoville Poyferre being the other two). It also contains the heart of the former Domaine de Léoville, in the form of the famous 55-hectare walled area of vines known as Clos de Léoville-Las Cases (it is here where the gated entrance displays the carved stone lion).
- Once seen as the second wine, Clos du Marquis is now considered as an entirely separate wine. Since the introduction of Le Pietit Lion, the plots for Clos du Marquis have been re-organised and the wine now comes only from old vines planted on land that was not part of the original Domaine de Léoville estate (but still in Saint Julien, close to Léoville Poyferré, Léoville Barton, Pichon Longueville Comtesse de Lalande).
- A 1953 Léoville-Las Cases has a starring role in iconic French film L'Aile ou La Cuisse (Wing or Thigh), when the star Louis de Funès, alias Charles Duchemin, recognises it from a single glance, even when he has lost his sense of taste.
- Owner Jean-Hubert Delon was a lawyer before returning to the family estate in 1994, and taking over after his father's retirement in 2000. He is known for his love of hunting, as well as his love of wine, He has a collection of antique English Boss guns that were owned by his father.
- In 1998, Delon resigned Léoville-Las Cases from the Conseil des Grands Crus Classés 1855, and remains the only estate to have done so (a few others have left the other major marketing body for classified Bordeaux; the Union des Grand Crus). Reportedly Delon decided to resign because he believes that he should be among the First Growths, not Seconds – and does not want to be a part of the organisation until then.
Current owner: The Delon family – Jean-Hubert Delon and his sister Genevieve d'Alton. The Delon family fortune has been estimated at €320 million, putting them at 14th wealthiest wine family in France, according to the 2013 Challenges magazine listing. Pierre Graffeuille is director.
Most notable previous owner: A few names to consider here, including Jean de Moytié, who planted the first vines on the property in 1638 (when it was known as Mont-Moytié), or Pierre Jean de Lascases, who gave the estate its current name when it divided from its neighbouring Léoville in 1840.
Other chateaux owned: Chateau Potensac (Médoc) and Chateau Nenin (Pomerol).
Commercial strategy: 100% négociants, sold as a wine future in the En Primeur system.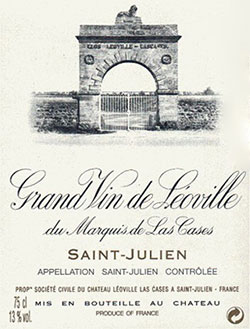 Second wine: Petit Lion since the 2007 vintage.
Through the centuries:
The estate began in 1638. First up was Jean de Moytié, who planted vines on Mont Moytié on a gravelly slope leading down to the river Garonne. One century later, in 1740, it passed to the Maison de Gascq, when Alexandre de Gascq married Jean de Moytié's great granddaughter. He then renamed Mont-Moytié as Léoville (or Lionville). Over the next 35 years he built the estate up, until it had become by his death the biggest estate in the Médoc, covering 300 acres. His heirs kept the property together, but gradually through marriages the wines were sold under four different family labels. Part of the estate (that became Léoville Barton) went after the French Revolution, and the final split came in 1840, when Pierre Jean de Lascases received one part, and his sister Jeanne another. The buildings of Chateau Léoville Poyferré and Chateau Léoville-Las Cases were officially two separate estates from this point, but still share a courtyard today. After being named 2nd Growth in 1855, and surviving the vineyard diseases of the late 19th century, the estate was purchased from Jean de Lascases in 1900 by wine trader Théophile Skawinski (he was at first one of 13 different investors). Skawinski was the great-great-grandfather of current owner Jean-Hubert Delon, and he passed his shares down to his son-in-law André Delon, whose family became majority shareholders over time.
Consultant: Eric Boissenot, with Bruno Rolland as the third generation Cellar Master at the property. He is known as 'Monsieur Barriques'.
Plantation and vineyard work:Cabernet Sauvignon (66%), Merlot (23%), Cabernet Franc (11%), planted to 9,000 vines per hectare. Age of vines varies between 30-78 years. Back in the 18thth century, Léoville was among the very first properties in Bordeaux to trellise the vines in the vineyard (with pine stakes) – something that is taken for granted today but was very unusual at the time. They were also among the first to begin rinsing the barrels with a sulphur solution to protect the wine that would be transported inside the barrels from bacterial spoilage – so Léoville wines were among the first in Bordeaux to improve with ageing. A terroir study was carried out by Xavier Choné around 10 years ago, with plantings altered to ensure all grapes were on the right terroir. Hand-harvesting, of course.
Vinification: Vinification takes place in a mix of stainless steel, wood and cememt, with tanks varying from 40 hectolitres right up to 216 hectolitres. Grapes are fermented from 6-8 days, followed by around 12-28 days maceration. Malolactic fermentation takes place during fermentation (co-innoculation). There are a few modern touches here – not least the reverse osmosis machine, which helps extract excess water from vines in rainy years. An onsite oenology laboratory was built around 10 years ago. The wine spends 18-20 months in barrels, with between 60-80% new oak depending on vintage. This is a wine to age, and then age some more. In the best vintages, you don't even need to approach it for 25 years. If you want to wait only 10 years, go for a 'double carafe' – pour into one jug, and then another – to fully aerate, and let it breathe for a good few hours. Le Petit Lion is produced from the younger vines, and is intended to be drunk younger – the 2007 vintage, for example, was 85% merlot and 15% cabernet sauvignon.
Terroir: The Léoville plateau has long been rightly recognised as one of the best terroirs in Bordeaux – the gravel (from various geological eras) here goes up to 10 metres deep in some places, with excellent drainage potential. The walled L'Enclos contains the best, most complex terroir.
Recent improvements or changes: The introduction of Le Petit Lion as the official second wine in 2007. There have been various plans over the years to regroup the buildings so that all of Léoville-Las Cases and Léoville Poyferrés are fully separate, but nothing has yet been decided.
Recent Decanter scores:
2013 en primeur – 18.25 points/20
2012 en primeur – 18.25 points/20
2011 en primeur – 17 points/20
2010 en primeur – 19.5 points
2009 en primeur – 19 points
2008 en primeur – 19 points
Average bottle price in UK 5market: £60-£200.
- Follow us on Weibo @Decanter醇鉴

and Facebook

for most recent news and updates -
All rights reserved by Future plc. No part of this publication may be reproduced, distributed or transmitted in any form or by any means without the prior written permission of Decanter.
Only Official Media Partners (see About us) of DecanterChina.com may republish part of the content from the site without prior permission under strict Terms & Conditions. Contact china@decanter.com to learn about how to become an Official Media Partner of DecanterChina.com.