Classification: 2nd Cru Classé, 1855
Contact:
33250 Saint Julien
www.leoville-poyferre.fr
Location: AOC Saint Julien, located next door to Château Léoville-Las Cases.
Production: 80 hectares.
Five things you didn't know about Château Léoville Poyferré:
- The buildings of Château Léoville Poyferré and Château Léoville-Las Cases are still joined, as they were when the estate was split in the 19th century. They even share a courtyard.
- Léoville was among the very first properties in Bordeaux to trellises the vines in the vineyard (with pine stakes) – something that is taken for granted today but was very unusual at the time. They were also among the first to begin rinsing the barrels with a sulphur solution to protect the wine that would be transported inside the barrels from bacterial spoilage. So Léoville wines were among the first in Bordeaux to improve with ageing.
- Co-owner Didier Cuvlier trained as a chartered accountant before passing the DUAD (a university diploma in wine tasting at the Bordeaux faculty of oenology) in 1976. His lecturer at the time was professor Emile Peynaud, who rapidly became his mentor and consultant at the château. In 1979, at the age of 26, Didier took over the running of Châteaux Léoville Poyferré, Moulin Riche and Le Crock.
- Didier Cuvelier carried out a huge restructuration and replanting programme completed in 1998, taking the vineyard from 48 hectares up to 80 hectares, affecting mainly Moulin Riche vineyard.
- The appellation Saint Julien has just 24 wine growers and is 80% 1855-classified vines (the highest propotion of any Médoc village), and has the highest percent of cabernet sauvignon, with 63.3% - just more than neighbouring Pauillac. Saint Julien was also the first village in France to create a water treatment and recycling plant for both domestic and vineyard waste water.
Current owner: The Cuvelier family has been here since the 1920s. The current director, Didier Cuvelier, has been leading the team since 1979.
Most notable previous owner: Léoville has seen great continuity of its owners – with just five families (and a few name changes for marriage) since its early years of the 17th century. Pride of place should go to either Jean de Moytié, who planted the first vines on the property, or Baron Jean-Marie Poyferré de Ceres, who gave the château its current name. It was sold at first as Baron de Poyferré.
Other châteaux owned: Château Moulin Riche (Saint Julien), Château le Crock (Saint Estephe). Plus wine merchants H Cuvelier & Fils, and Bodega Cuvelier Los Andes in Mendoza, Argentina.
Commercial strategy: 100% négociants.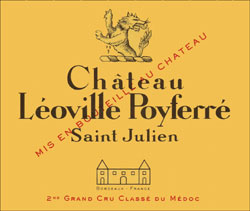 Second wine: Pavillon de Léoville Poyferré
Through the centuries:
There have been very few owners of Léoville Poyferré, with just a handful since the estate began in 1638. First up was Jean de Moytié, who planted vines on Mont-Moytié on a gravelly slope leading down to the river Gironde. One century later, in 1740, it passed to the Maison de Gascq, when Alexandre de Gascq married Jean de Moytié's great granddaughter. He then renamed Mont-Moytié as Léoville (or Lionville). Over the next 35 years he built the estate up, until it had become by his death the biggest estate in the Médoc, covering 300 acres. His heirs kept the property together, but gradually through marriages the wines were sold under four different family labels. Part of the estate (that became Léoville Barton) went after the French Revolution, and the final split came in 1840, when Pierre Jean de Lascases received one part, and his sister Jeanne another. She passed it on to her daughter, who was married the Baron Jean-Marie Poyferré de Ceres – and the name Léoville Poyferré was born. All parts of it were named Second Growth in 1855, neatly avoiding any recriminations over the split. The Poyferré family remained until 1865, after which it passed to a family of powerful wine brokers, or courtiers, the Lalandes, and (again through marriage, not sale) the Lawtons. Then the Cuveliers (who were wine merchants from Lille, and had been in the wine business since 1804) took over in 1920, and have been there ever since.
Consultant: Michel Rolland, working with Isabelle Davin, the château oenologist.
Plantation and vineyard work: Cabernet Sauvignon (65%), Merlot (23%), Cabernet Franc (4%) and Petit Verdot (8%), planted to 9,000 vines per hectare. These are recent planting figures, with the Merlot coming down slightly, and the Cabernet Franc rising, and will be fully in production by 2015. Average age of vines 30 years. Over recent years, there is also plenty of definition work going on, from soil analysis to adjustments of canopy cover, and vineyard work is carried out according to integrated agricultural methods, with natural fertilisers and humus of vegetal origin. A permanent monitoring system has checked underground water movements for over ten years, ensuring water stress to the vines is fully understood, and so ensuring vineyard work can be planned accordingly. The Chef de Culture, Bruno Clenet is very attentive to the vines and their needs, treating only when necessary.
Vinification: The estate now has 56 vats (up from 35 in 2010) to ensure more plot-by-plot vinification. Optical sorting was introduced in 2011, when it removed 10% of the crop, so the yields moved from a potential 35 hl/h to 32 hl/h. 'But it was absolutely the right vintage to begin this kind of drastic selection,' says Anne Cuvelier, 'and we are very happy with the result.'
Terroir: The Léoville plateau has long been rightly recognised as one of the best terroirs in Bordeaux – the gravel (from various geological eras) here goes up to 10 metres deep in some places, with excellent drainage potential.
Recent improvements or changes: A vast number of gradual refinements brought in over the past decade have all contributed to the strong performance of Leoville Poyferré. Viticultural and technical improvements abound, from replanting two hectares of merlot with cabernet franc, stainless steel double-skin vats to optical sorting, and latest-generation de-stemming machines. More recently, they have a new wine shop, and have employed a part-time Chinese assistant to help with the increasing numbers of Chinese visitors to the château, as well as an American guide to assist Anne Cuvelier, Didier's cousin.
Recent Decanter scores:
2012 en primeur – 17.5 points/20
2011 en primeur – 17.5 points/20
2010 en primeur – 18.5 points
2009 en primeur – 18.5 points
2008 en primeur – 16.5 points
Average bottle price in UK 5market: £40-£140.
All rights reserved by Future plc. No part of this publication may be reproduced, distributed or transmitted in any form or by any means without the prior written permission of Decanter.
Only Official Media Partners (see About us) of DecanterChina.com may republish part of the content from the site without prior permission under strict Terms & Conditions. Contact china@decanter.com to learn about how to become an Official Media Partner of DecanterChina.com.